New Zika outbreak declared in Miami Beach after five people are infected by local mosquitoes
Florida is the first US state where native mosquitoes are confirmed to have spread the virus, which has now been found in 70 countries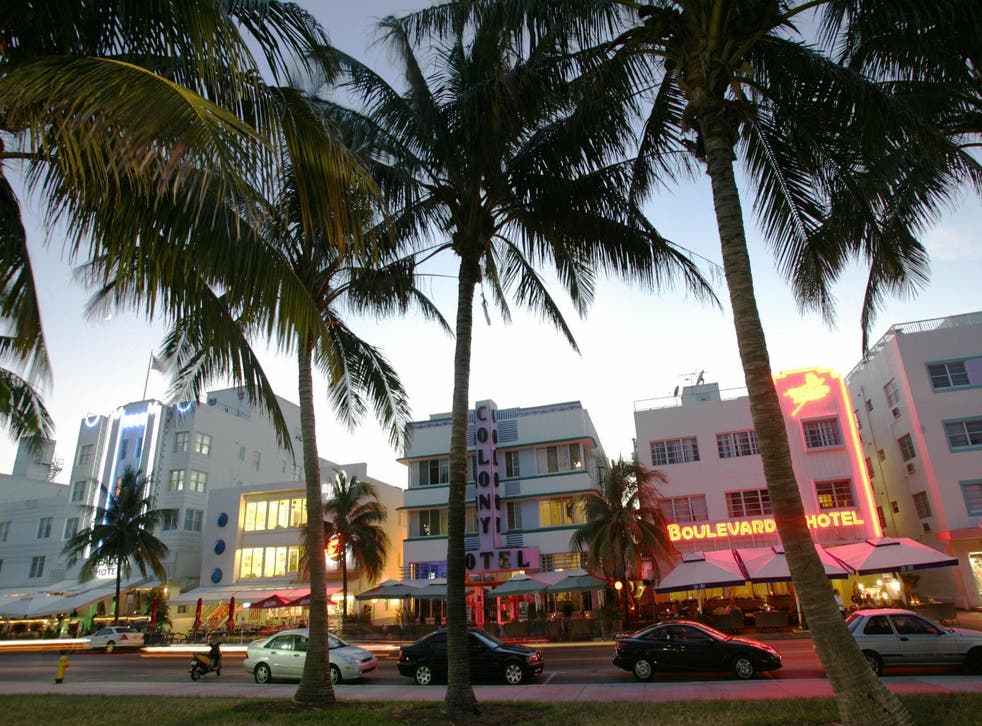 The Centers for Disease Control and Prevention (CDC) has advised pregnant women to avoid a section of Miami Beach in Florida, after five people were found to have been infected with the Zika virus in the tourist hotspot.
Florida's Republican Governor Rick Scott said on Friday that the new patients were infected by local mosquitoes in a 1.5-square mile section of the Miami Beach neighbourhood, known for its Art Deco architecture. Of the five, two were from Miami Beach and three were visitors from New York, Texas and Taiwan.
Florida is the first US state where native mosquitoes are confirmed to have spread the Zika virus, which has now been found in 70 countries. CDC workers are already working to contain the virus in Wynwood, another Miami neighbourhood.
The five new cases bring the total number of infections from local mosquitoes in Miami to 36, and the insects may be spreading the disease elsewhere in Miami-Dade County, according to CDC director Thomas Frieden, who said on Friday that there were "undoubtedly more infections that we're not aware of".
Pregnant women and their sexual partners are being advised to avoid the county altogether if they are concerned about the virus, which can cause microcephaly in babies if their mothers are infected during pregnancy.
Pregnant women who have travelled to the area since 14 July should be tested for Zika, while men with a pregnant sexual partner who have visited the area in the same period "should consistently and correctly use condoms to prevent infection during sex or avoid having sex for the duration of the pregnancy," the CDC said.
The CDC says more than 500 pregnant women have been infected with Zika in the continental US and Hawaii, though the vast majority of the country's 2,200 total cases were caused not by local mosquitoes, but by travel to other affected countries or sex with those carrying the virus.
The CDC is using pesticides to kill mosquitoes in Miami, with workers spraying the pesticide from backpacks. Dr Frieden said it would be preferable to spray the affected areas from the air, but the high-rise buildings in Miami Beach made it impossible for planes to spray from the optimum altitude: approximately 100 feet.
Mr Scott, whose office disputed reports that mosquitoes were spreading Zika in Miami Beach as late as Thursday, has now requested 5,000 new Zika testing kits from the CDC and 10,000 Zika prevention kits from the Obama administration. Speaking on Friday, he insisted Florida remained a "safe state".
"We have two small areas [affected by Zika]," he said. "One less than a mile, and we've already been able to reduce the footprint. We have another area now that's 1.5 miles on Miami Beach. That's out of a state that takes 15 hours to drive from Key West to Pensacola, so let's put things in perspective."
Register for free to continue reading
Registration is a free and easy way to support our truly independent journalism
By registering, you will also enjoy limited access to Premium articles, exclusive newsletters, commenting, and virtual events with our leading journalists
Already have an account? sign in
Register for free to continue reading
Registration is a free and easy way to support our truly independent journalism
By registering, you will also enjoy limited access to Premium articles, exclusive newsletters, commenting, and virtual events with our leading journalists
Already have an account? sign in
Join our new commenting forum
Join thought-provoking conversations, follow other Independent readers and see their replies