Zonkey: Zoo welcomes the birth of a rare cross between a zebra and a donkey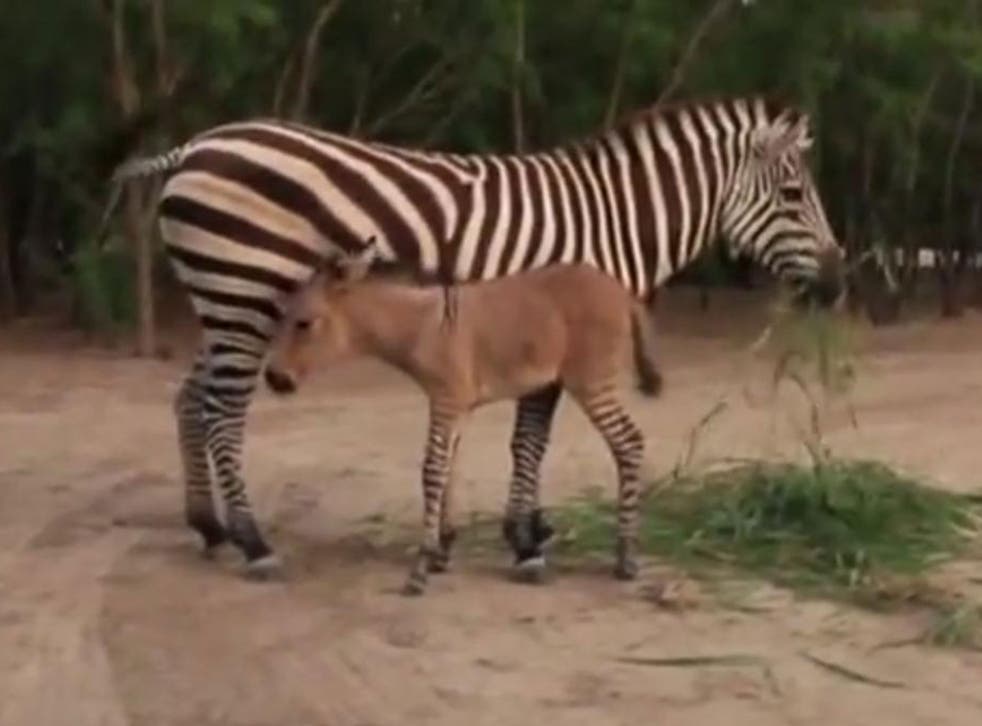 A zoo in Northern Mexico has welcomed its latest arrival this week – a rare cross between a zebra and a donkey.
The 'zonkey' was born on 21 April at the Reynosa Zoo to a zebra who had mated with a dwarf, blue-eyed albino donkey named Ignacio.
The animal, called Khumba by staff, was born after its mother Rayas visited Ignacio, who lives on a nearby farm.
Video footage captured by the zoo shows Khumba with stripes on its legs running around an enclosure with its mother.
The zoo said such a cross is rare because zebra and donkey chromosomes were once not thought to be compatible, according to WTVY.
A zonkey called Ippo quickly became a tourist attraction when he was born in Florence, Italy last year after his father, a zebra, jumped over a fence and into a donkey enclosure.
Zonkeys have also been reported in China, the United States and Japan.
Register for free to continue reading
Registration is a free and easy way to support our truly independent journalism
By registering, you will also enjoy limited access to Premium articles, exclusive newsletters, commenting, and virtual events with our leading journalists
Already have an account? sign in
Register for free to continue reading
Registration is a free and easy way to support our truly independent journalism
By registering, you will also enjoy limited access to Premium articles, exclusive newsletters, commenting, and virtual events with our leading journalists
Already have an account? sign in
Join our new commenting forum
Join thought-provoking conversations, follow other Independent readers and see their replies