Ancient Japanese shrine damaged and 'cherry blossom gate' destroyed by earthquake
The towering entrance gate and worshipping hall of Aso Shrine in Kyushu, southern Japan, have completely collapsed
Katie Forster
Saturday 16 April 2016 15:54 Comments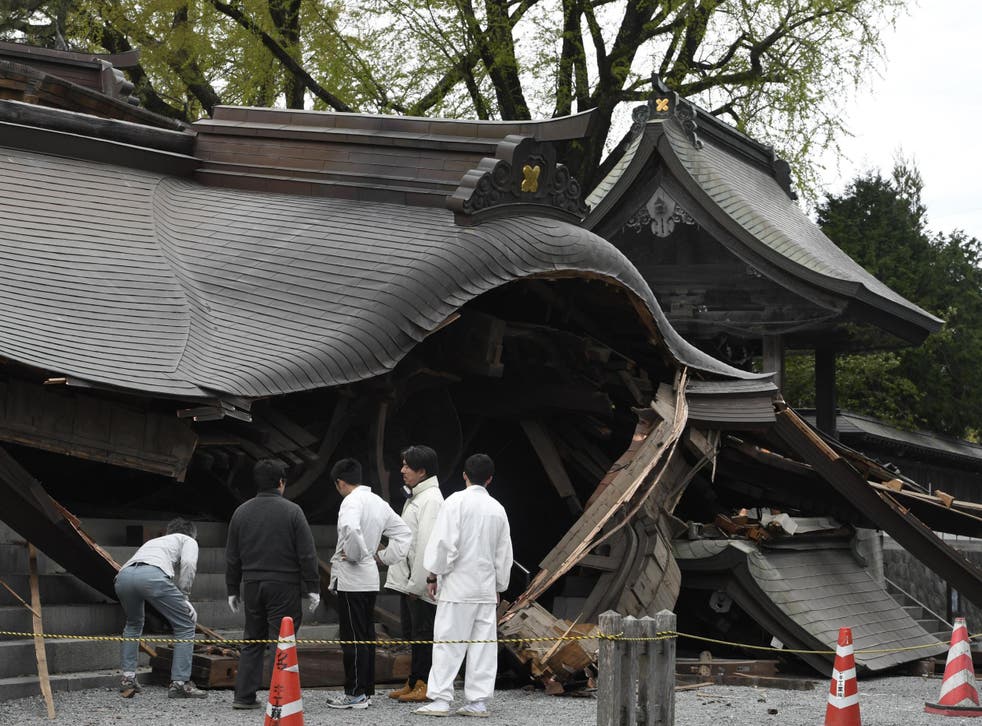 One of the oldest shrines in Japan has been seriously damaged in the devastating earthquake.
The towering wooden entrance gate and hall of Aso Shrine in Kyushu, southern Japan, which has been a place of worship for 1,700 years, completely collapsed during the tremors.
"It's a famous gate, a very big one. I think it was the third highest in Japan," said Hiroaki Uchimura, 37, who has been a priest at the Shinto shrine for 14 years.
"Everyone here is very, very sad. We really miss it," he said.
The structure was known as the 'cherry blossom gate' because of its grand appearance in spring, according to the Press Association.
Mount Aso, an active volcano near the shrine, had a small eruption after the violent earthquake of magnitude 7.3.
The walls of Kumamoto castle also crumbled during Saturday's earthquake and another the day before.
No one was inside the shrine at the time of the quake, and no injuries have been reported.
However, the electricity supply to the area has been cut off by the disaster.
Japanese castles and shrines are often rebuilt after natural disasters.
Register for free to continue reading
Registration is a free and easy way to support our truly independent journalism
By registering, you will also enjoy limited access to Premium articles, exclusive newsletters, commenting, and virtual events with our leading journalists
Already have an account? sign in
Join our new commenting forum
Join thought-provoking conversations, follow other Independent readers and see their replies