23 killed and over 10,000 pilgrims stranded along mountain pass in northern India
Torrential downpours in northern states wash away roads, buildings and vehicles
Andrew Buncombe
Tuesday 18 June 2013 10:46 Comments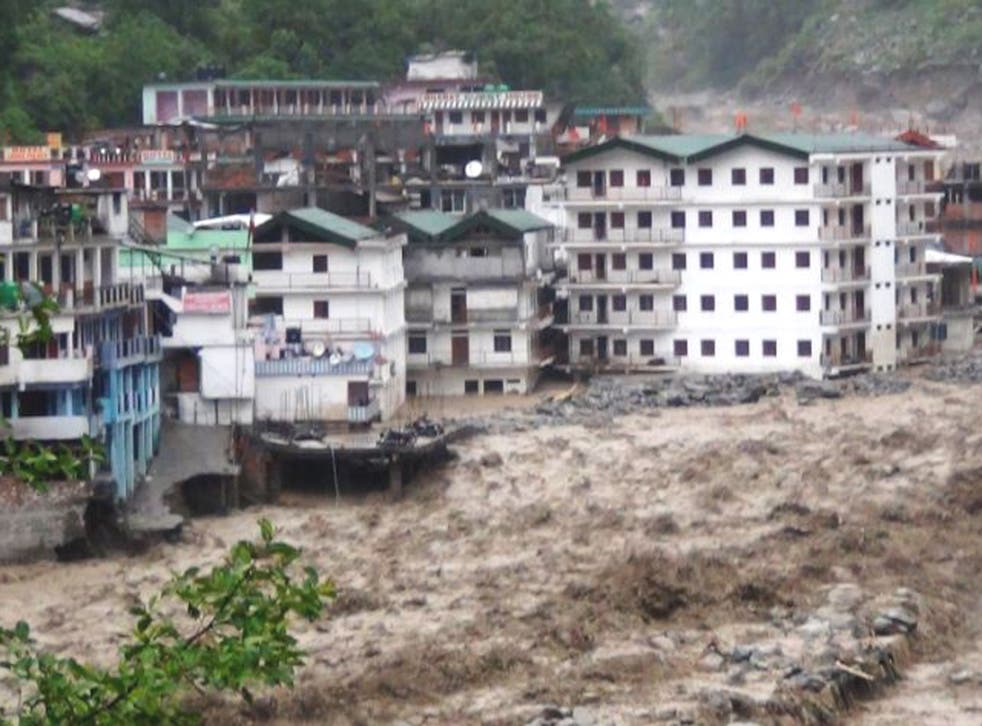 More than 10,000 pilgrims stranded along a mountain pass in northern India were being evacuated by helicopter after roads leading to the Hindu pilgrimage site were swept away by landslides caused by powerful monsoon rains.
At least 23 people were killed and many more remain missing after torrential downpours in the northern states washed away roads, buildings and vehicles.
The annual monsoon was not due to reach northern India for another 10 days but it struck over the weekend, having spread at a speed not seen since 1961.
The arrival of the rains brought cheer to farmers and relief to people battered by the 45C temperatures of the Indian summer. But they have also brought with them, as they do every year, misery and death.
The focus for much of the chaos was in the state of Uttarakhand, one of a number of places where where the Ganges river and its tributaries were flowing above the safety mark. In the state's Rudraprayag district alone, more than a dozen people were killed and 50 were missing. Meanwhile in the Almora district, a landslide buried a bus, killing three people.
Army and paramilitary troops were leading efforts to rescue scores of people from the rooftops of their flooded homes. The state government was readying food parcels and drinking water pouches to be air dropped to villages cut off after roads were washed away.
"The situation is very grim. The meteorological office has predicted that the rain will continue for another three days at least," said Amit Chandola, a government spokesman, told the Associated Press.
A high alert and flood warnings have been issued across Udhampur district and in the Hindu holy city of Haridwar as rivers breached their banks.
The monsoon was due to hit Delhi on June 29. But the rains came at the weekend and stretched to the far ends of north-west India, where they were not meant to arrive until July 15. Reports said the last time the rains moved this quickly was 48 years ago.
Register for free to continue reading
Registration is a free and easy way to support our truly independent journalism
By registering, you will also enjoy limited access to Premium articles, exclusive newsletters, commenting, and virtual events with our leading journalists
Already have an account? sign in
Join our new commenting forum
Join thought-provoking conversations, follow other Independent readers and see their replies