At least 15 killed by suicide bomber at polling station during Afghanistan parliamentary election vote
The Taliban has issued numerous statements warning people not to take part in the 'foreign-imposed' process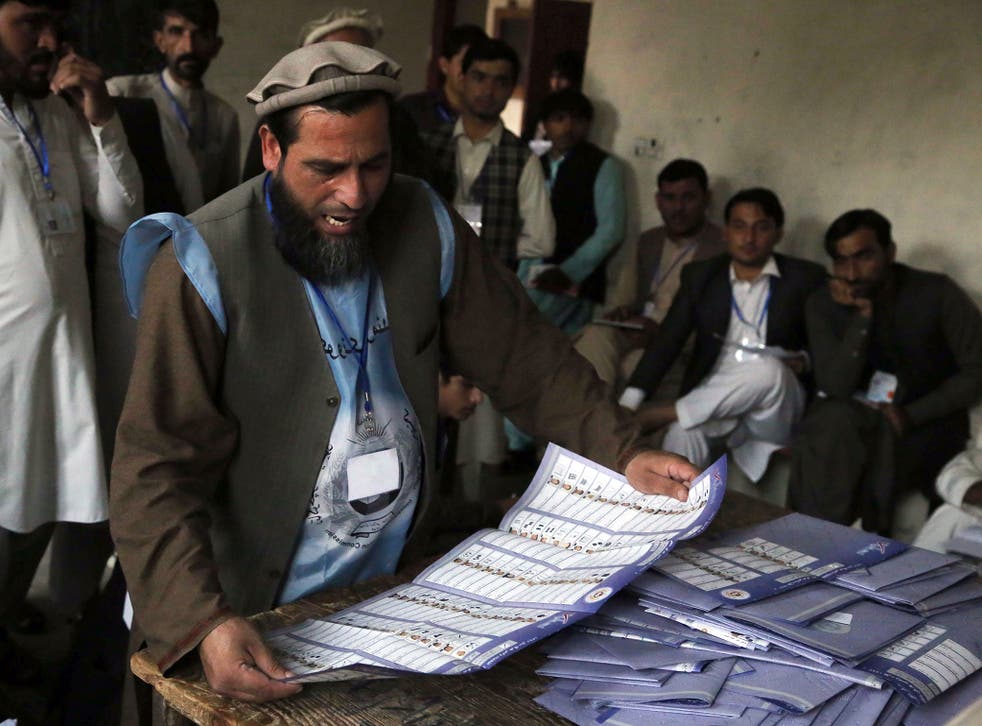 At least 15 people have been killed after a suicide bomber blew himself up in front of a polling station in Kabul as voting concluded in Afghanistan's parliamentary elections.
Voting hours had been extended thanks to technical issues and a larger-than-expected turnout, as well as several attacks across the country.
The dead in the Kabul attack, at a school in the northern neighbourhood of Khair KhanaIn, included five police according to authorities.
There was no immediate claim of responsibility, but the elections have been plagued with threats of violence by Taliban militants warning people not to take part in the "foreign-imposed" process and that election centres may be attacked.
Thousands of police and soldiers were deployed across the country in a bid to stop the violence, however at least nine candidates were assassinated in the lead-up to the vote with hundreds of others killed and wounded in election-related attacks.
At a polling station in west Kabul, 55-year-old voter Khoda Baksh, said he arrived nearly two hours early to cast his vote, despite the Taliban's threats of violence. "We don't care about their threats. The Taliban are threatening us all the time".
Election authorities had originally planned 7,355 polling centres but only 5,100 will open due to security concerns, according to the Independent Election Commission.
Security officials said there were more than 120 hand grenade or improvised explosives attacks, according to Reuters. However, they said many of these did not target voting centres but were aimed nearby, apparently with the aim of frightening voters away rather than causing casualties.
Aside from the threat of violence, widespread allegations of voter fraud challenge the legitimacy of the election process in Afghanistan.
"Fraud, the abuse of power and corruption are going to be the main challenge, much more than security," said Aziz Rafiee, a political analyst and executive director of the Afghan Civil Society Forum.
World news in pictures

Show all 50
Of the approximately 8.8 million people who have registered to vote, up to 50 per cent are believed to be fraudulently or incorrectly registered.
In a bid to combat this, biometric voter registration technology has been introduced at the last minute.
The new biometric machines meant to curtail fraud had not been tested in the field and workers had not had more than a few weeks to learn the system.
This has further delayed the process as poll workers struggle to locate names on voter lists. In some polling stations in Kabul, voting started considerably late, leaving voters frustrated.
"The biggest problem is with the biometric machines, there are some sites where they're not working and a lot of voters have been discouraged and have gone home," said Nasibullah Sayedi, a voter in the western city of Herat.
As the extent of the delays worsens, Independent Election Commission chairman Abdul Badi Sayad has promised that everyone who wants to vote will have an opportunity.
Mr Sayad said dozens of teachers who had been trained in the new biometric system had not shown up for work at the polling stations.
As a result, he extended voting till 8pm at polling stations, which had opened late. For those that are still unopened, voting will begin on Sunday.
However, there appeared to be a high turnout, particularly in big cities. "I want candidates to serve the country and hear the voices of the disabled and the poor," Abdullah, a wheelchair-bound voter in Herat told Reuters. "People ask what difference one person's vote will make but I say, if a million disabled people come out to vote, don't you think that will make a difference?"
Support free-thinking journalism and attend Independent events
Voting began at 7am today with President Ashraf Ghani one of the first to mark his ballot.
In a televised speech afterward, he congratulated Afghans on another election and praised the security forces for getting ballots to Afghanistan's most remote areas.
A commissioner member of the Independent Election Commission, called voters "very, very brave" and said a turnout of five million people will be a success.
About 2,450 candidates are competing for places in the lower house, which has 250 seats, including one reserved for a candidate from the Sikh minority. Under the constitution, parliament reviews and ratifies laws but has little real power.
Commission deputy spokesman Aziz Ibrahimi said results of Saturday's voting will not be released before mid-November and final results will not be out until later in December.
Join our new commenting forum
Join thought-provoking conversations, follow other Independent readers and see their replies