Afghan graffiti artist Shamsia Hassani shortlisted for Artraker Award - but she still has to dodge landmines to create her work
Hassani has been shortlisted for the prize, which is announced in London this week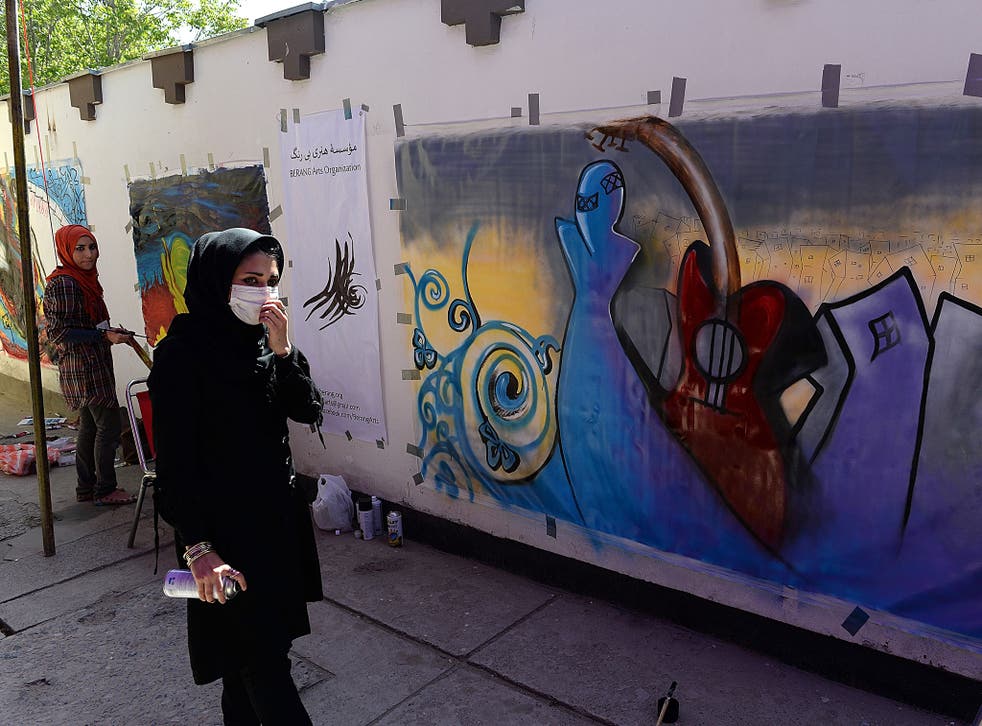 Kabul's only female graffiti artist not only has to avoid bombings and landmines to bring her pioneering work to the city's walls, but she regularly receives abuse from passers-by.
Yet Shamsia Hassani's determination to continue developing the art form across a city in turmoil, as well as campaign for women's rights, has resulted in her being nominated for a prize in London this week.
"It is difficult-to-impossible to continue with street art in Kabul, but I'm not put off by the risk," she said. "As a woman it's difficult to be out on the street by myself. Women often get harassed and it's not very comfortable."
Hassani, 26, is in the running for the Artraker Award, which seeks to support artists working in conflict zones or whose works deals with issues of conflict. She hopes the nomination will widen her audience. "I can share my ideas and explain about the situation my country's in."
While graffiti artists work under the cover of darkness in the UK, Hassani cannot go out at night, and bombings rule out the early mornings. Some of the deserted locations perfect for street art are believed to be riddled with mines. "It is scary," she said.
Street art is not illegal and Hassani has never had a run-in with the police. But the abuse from members of the public who condemn the art as "un-Islamic" or because she is a woman, means she only has 15 minutes to complete a work before moving on.
Afghan graffiti artist Shamsia Hassani shortlisted for Artraker Award

Show all 5
"People surround me and shout at me to stop or say bad words. Many don't agree with this form of art," she said. "Modern art is a new concept here. Afghans are against it. They say it's what a Westerner does. I don't see that, if the artist is Afghan and the concept is Afghan."
Hassani graduated from the Faculty of Fine Arts in Kabul University, the institution at which she now lectures, in 2009. A workshop four years ago introduced her to urban art and changed her life. "I'd never seen such a thing before. The word 'graffiti' is a new one in Afghanistan.
"I want to bring this art to my country and I want people to be more educated and open-minded about it."
Hassani's project being considered for the award is called The Magic of Art is the Magic of Life. She uses street art to highlight the situation facing women in Afghanistan. She talks of wanting to paint the women "to take them out from their old clichéd form".
"Women's issues are always on my mind so I try and reflect their problems," she said. "I think art can change society. I can't do it on my own, but I want to bring change even I just changed people's thoughts one per cent on something."
The issue, she said, is not the burqa. "In Afghanistan women have much bigger problems: no equality, no education. We should focus on the big problems. The burqa is just a symbol."
The artist also seeks to help the healing process of a city torn apart by conflict. "Literally, my graffiti paintings cover the destructive effects of war, derelict surfaces and bullet holes. People look at those buildings differently," she said.
Hassani has vowed to continue her street paintings and she is also setting up street art workshops to encourage others to get involved.
"I'm hopeful, although at times I see the state of the country and think maybe I shouldn't be," she said. "I see Afghanistan like a person who died during the war – yet now, after the war, it's been reborn and is like a child that needs everyone's help. After a year I am hopeful – you have to be."
The Artraker Awards were set up last year, and this year's will be held at the London gallery a/political. Hassani will not be present as she was unable to secure a visa.
The 12 finalists for the 2014 award come from across the globe and were selected from 250 submissions from 75 countries and on Wednesday three awards will be handed out. An exhibition of the artists' work will travel to Paris, Colombo and Kabul before returning to London.
A spokeswoman for the prize said: "It recognises new ways to raise awareness, communicate, stimulate debate and transform our understanding of war, violent conflict and social upheaval".
Among the other artists shortlisted are San Zaw Htway, who created collages from material taken from his time imprisoned in Burma, and Tania El Khoury, who used sound installation to tell the story of dead activists in Syria.
Join our new commenting forum
Join thought-provoking conversations, follow other Independent readers and see their replies