These women and girls are fighting to become Afghanistan's Shaolin martial art ambassadors
Kung fu is empowering a group of women in Afghanistan who hope to represent the country at an international level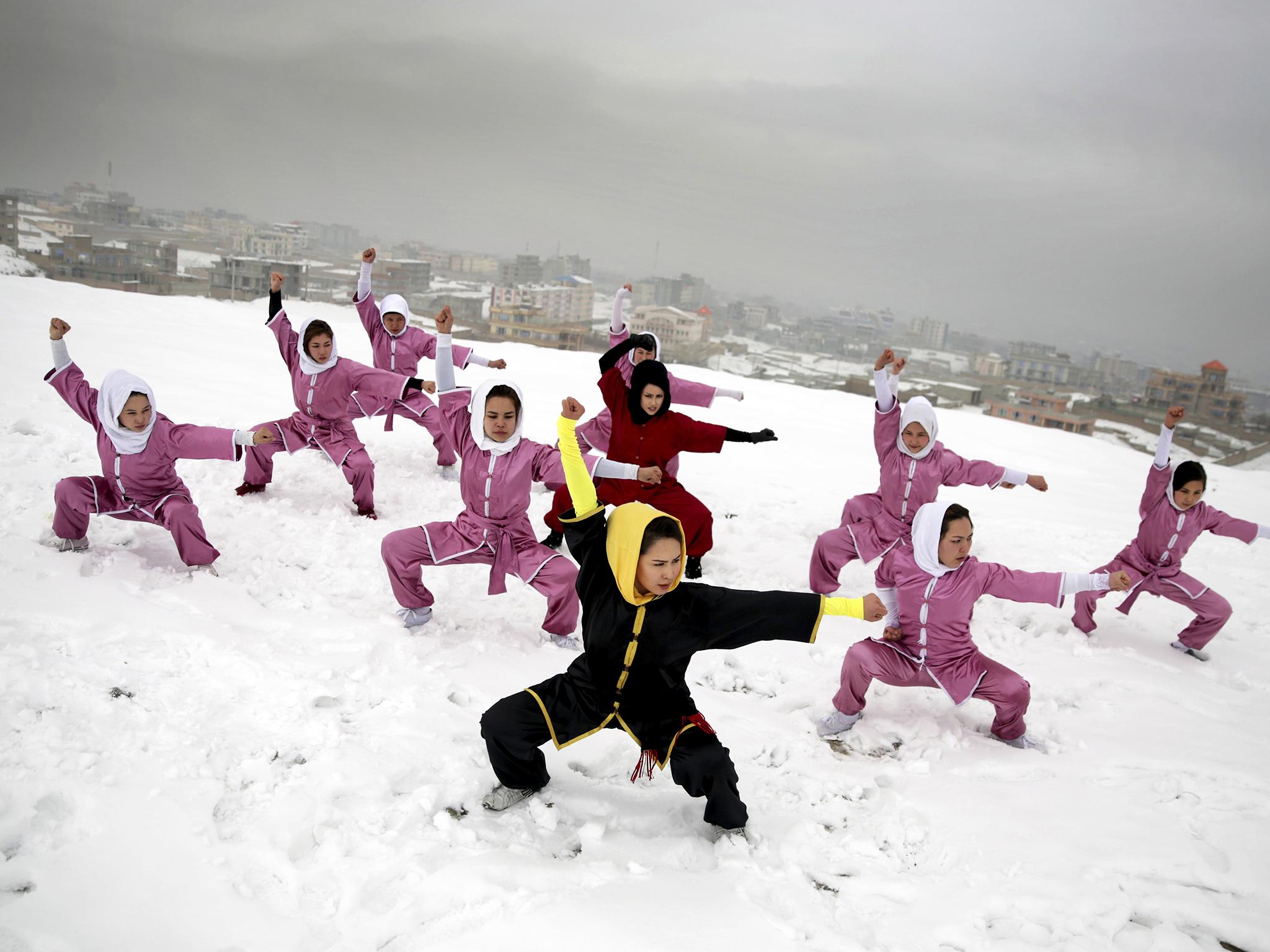 While Buddhists in Afghanistan were carving giant sandstone statues in Bamiyan around 500AD, their counterparts at the Shaolin Temple were honing a martial art.
Fast-forward 1,500 years: 10 ethnic Hazara women and girls are practising "wushu" kung fu on a hilltop in the west of Kabul. They are preparing for the day that Afghanistan can send its women's wushu team to an international tournament – while women's sports teams are allowed to represent the country, they suffer a chronic shortage of funding.
Sima Azimi, a 20-year-old from Jaghori in central Afghanistan, is undeterred, however. The skills she is equipping her nine students with will also serve them on the streets of Kabul where women are routinely harassed. Azimi recalls an incident in which a thief tried to snatch her purse; using her martial arts skills she fought back and got to keep it.
Raihana Amiri, who is also 20, hopes to participate in international wushu competitions and "bring honour and pride" to Afghanistan, a country scarred by decades of war.
When they aren't on the snow-covered hills that surround Kabul, Azimi trains her students in a grungy, dark club financed by a young film actor. She says it was difficult to find all the tools needed to train. She had to order a Shaolin sword from Iran, where she studied the art for three years. For Shaolin uniforms, they courted the skills of a Kabul tailor.
The Shaolin women of the Afghan mountains
Show all 13
In Iran, Azimi picked up a gold and bronze medal after taking part in two competitions. Back home, she made it her mission to train young girls who lived in the Hazara-dominated neighbourhoods of the capital. Azimi charges the schoolgirls and university students who attend her class $2 to $5 a month, depending on what they can afford.
"Some of my students' families had problems accepting their girls studying wushu," she says. "But I went to their homes and talked to their parents."
In this ultra-conservative society girls are discouraged from contact sports in case an accident results in an individual's hymen being broken; a huge stigma for unmarried women.
While there are some signs of progress for women in the country, Azimi says there's still much to change. She firmly believes that girls and women can stand toe-to-toe with boys in martial arts. In a competition organised by the National Olympic Committee competition in Kabul, Azimi was the top female contender in kung fu.
Reuters
Join our commenting forum
Join thought-provoking conversations, follow other Independent readers and see their replies