Afghan president Hamid Karzai hands India weapons 'wish list'
Request is likely to spark anxiety in neighbouring Pakistan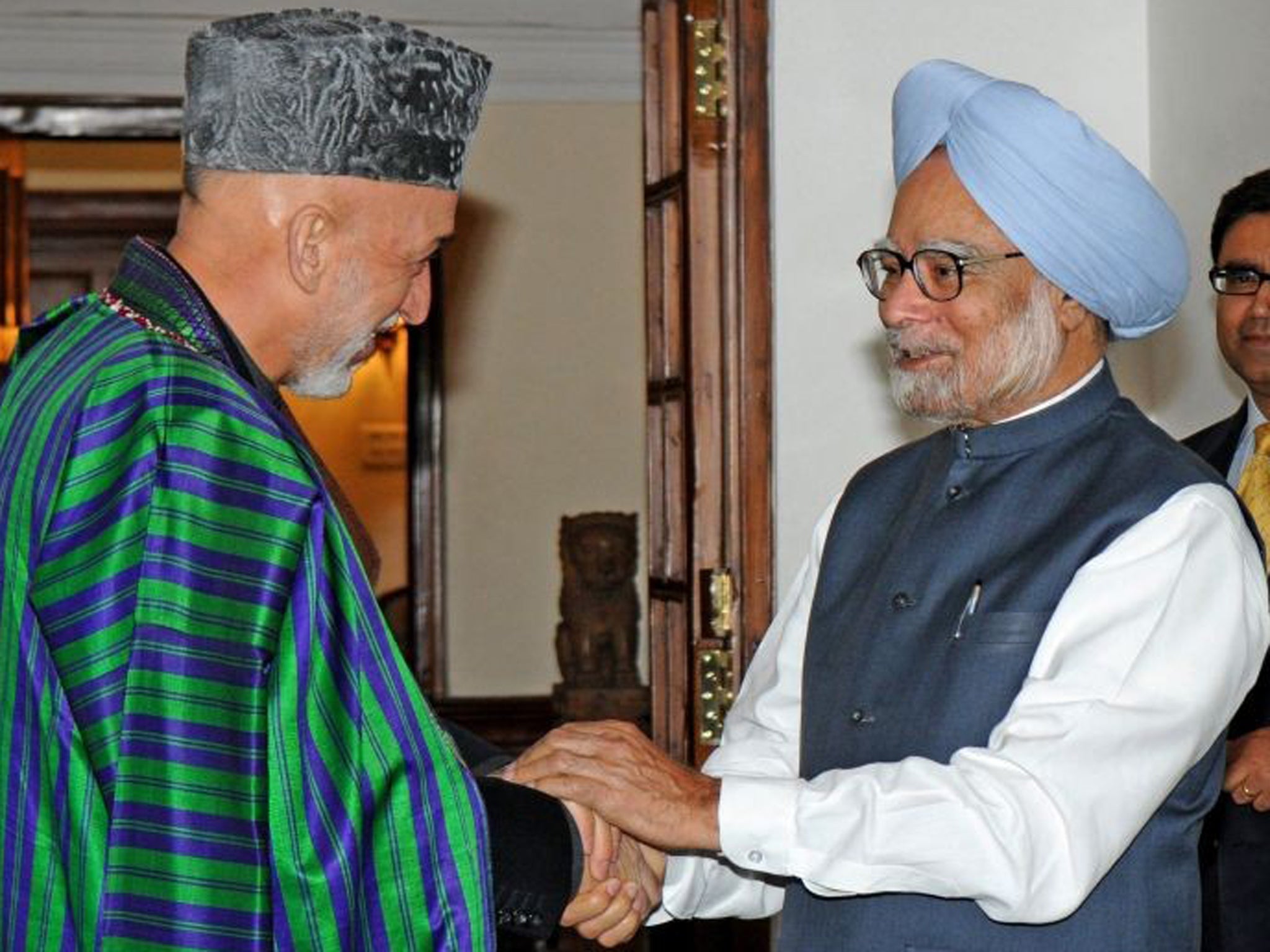 Afghanistan's president, Hamid Karzai, today said he had handed a "wish list" to India seeking greater military and civilian support to fill the vacuum created by the withdrawal of Western next year – an undertaking that is likely to spark anxiety in neighbouring Pakistan.
On a two-day visit to India during which he has sought to build on an agreement signed in 2011, the Afghan leader claimed he was not permitted to go into specific details of the military hardware what he had asked for.
"We have a wish list that we have put before the government of India and it's up to the government of India [to decide]," he added.
India already has an extensive, $2bn cooperation programme with Afghanistan and has supported road-building and the establishment of hospitals. It also trains Afghan police and army officers at military colleges in India. Mr Karzai said he wanted to "broaden" India's support to fill the vacuum when up to 100,000 Western combat troops leave next year.
Mr Karzai is aware that India's involvement in Afghanistan is of intense concern to Pakistan, a country that has always had a tense relationship with Kabul but whose role in liaising with the Taliban will be crucial to a peaceful transition – something he again acknowledged.
Afghanistan's relationship with Islamabad has faced particular challenges in recent weeks, following border skirmishers between Afghan and Pakistani troops along the disputed Durand Line.
Speaking today to a group of Indian and international journalists, he again sought to reassure Pakistan that Afghanistan's relationship with India should not be of undue concern.
"Afghanistan is a sovereign country and like all sovereign countries has the right to choose its own friends," he said. "Pakistan is a neighbour, it is a close neighbour and the people of Pakistan have given us refuge for thirty years. India is a traditional friend and ally, particularly so over the last ten years."
He added: "As we expand this relationship with India...our relationship with India will not be to the [detriment] of Pakistan or a cause of anxiety for Pakistan."
Asked if the issue of deploying Indian troops in Afghanistan has been discussed during his two-day visit, he said it had not. But he said he had discussed maintaining India's training of Afghan security forces and the sales of equipment. He said that once the establishment of a "Sandhurst-style" officers training college in Kabul is completed, Indian officers would be welcome to join US and British troops.
Mr Karzai repeated his claim that the situation in Afghanistan would improve once Western forces left. He said those forces attacking Afghanistan would find it more difficult to do so sand that the Afghan people would unite more effectively against them.
Asked about repeated allegations of corruption within his administration, he said he would take the claims seriously if they were made by Denmark or Norway. "But if it is the US, then I simply laugh about it," he said, saying contracts involving the Western military were responsible for spreading corruption.
According to reports in the Indian media Mr Karzai held a meeting with Indian prime minister Manmohan Singh on Tuesday evening when he formally outlined his desire to expand defence ties that were initially signed in 2011. He also briefed his counterpart on the ongoing efforts to train Afghan security forces.
Mr Karzai also insisted he will not run for office again, saying he was "really, totally exhausted" and that it be damaging for both him and his country if he were to have another term. He said any attempt to seek a third term would harm his country's democratic institutions and his legacy.
Under Afghanistan's constitution the president is limited to two terms but there has been repeated speculation – always denied by him – that he might seek to amend the rules ahead of elections due to be held next year.
"No circumstances should allow me to stay as president," he said. "And I will not allow it to happen."
Vishal Chandra, a Delhi-based analyst with the Institute for Defence Studies and Analyses, said he believed the Afghans were particularly in need of strengthening their air capacity. He said they required planes and helicopters.
"This is something that is very important to the sort of counter insurgency they will be doing," he said.
India's firstpost.com website said among the items requested by Mr Karzai were 105 mm artillery, medium-lift aircraft, bridge-laying equipment and trucks.
Join our commenting forum
Join thought-provoking conversations, follow other Independent readers and see their replies