The battle for the Kabul Nandari cinema
The 'Kabul Nandari' cinema was built in the 1960s during the reign of Zahir Shah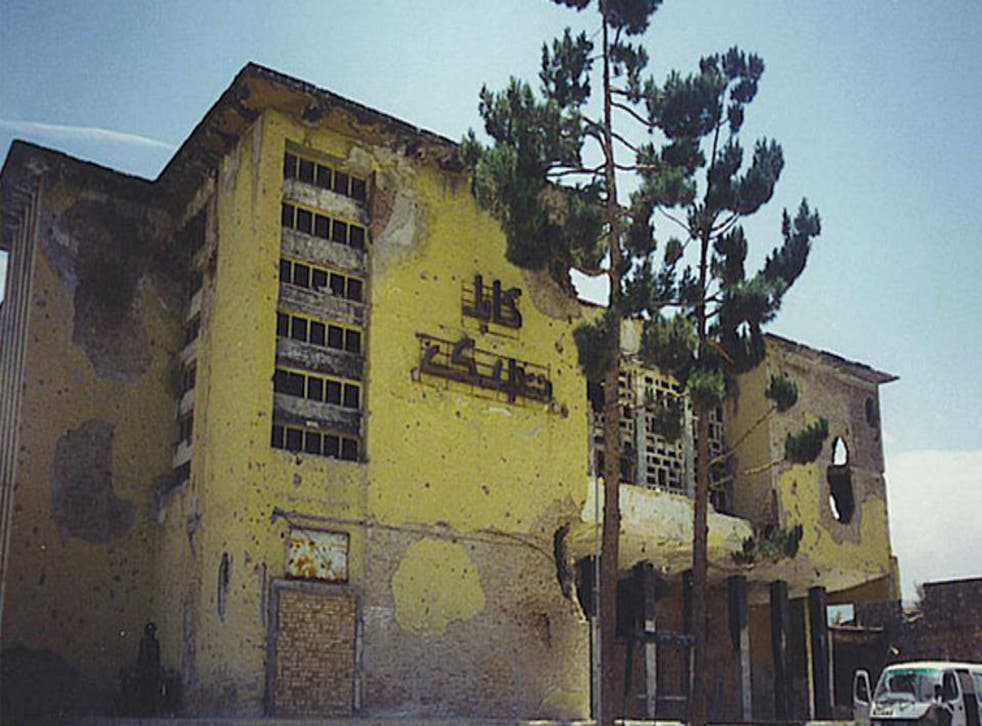 This article first appeared on our partner site, Independent Persian
After the controversial demolition of 'Cinema Park', a historic 70-year old movie house in Kabul, Afghanistan's government has announced a decision to potentially restore the city's Kabul Nandari cinema which had also fallen into disrepair. 
It is calling on the country's filmmakers, artists as well as the public to send in proposals for how to rescue the old building.
The decision to demolish Cinema Park was ordered by the vice president, Amrullah Saleh. In its place was built a cultural centre. But the decision was met with anger, opposed by the country's artistic community - including Sahraa Karimi, chair of the Afghan Film Organisation, and the only woman in Afghanistan with a PhD in cinema and filmmaking - as well as members of the general public.
"We gave a notice of eleven days and announced that the Cinema Park in Shahr-e-Naw that was beyond repair and corroded would be taken down to make way for a new cultural centre. Nobody came to us with evidence that this building was a historic site," said Amrullah Saleh to critics, a day after the controversial demolition of Cinema Park.
Now, attention has turned to the fate of Kabul Nandari. The vice president has posted a question on his official Facebook page, asking the public what should be done.
Shah Hussain Murtazavi, cultural advisor to the President of Afghanistan, said any decision should learn lessons from what happened with Cinema Park and called on experts in culture, cinema, theatre and art to share their views.
"The voice of all artists should be heard. It is hoped when the High Council of Educational, Cultural and Human Capital – plans for which have been finalised – begins operating, grounds will be laid for the cooperation of artists more than ever before and cultural problems and issues will be addressed by the Council comprehensively," he said.
Ramin Anwari, a lover of cinema in Afghanistan, told Independent Persian: "I was opposed to the demolition of Cinema Park but sadly it was taken down. Cinema Park was a historical and cultural monument of Afghanistan and of our beautiful Kabul, but it was destroyed without consultation. Now, that the fate of Kabul Nandari is in the air, the government must consult filmmakers, artists, and the people of Afghanistan, in particular the citizens of Kabul, before it takes action. In my opinion, Kabul Nandari should not be demolished, it should be restored if not as a cinema then as a cultural centre. We do not support the destruction of Kabul Nandari cinema."
Another resident of Kabul, Shiraz Faizi, said: "Cinemas in Afghanistan, and Kabul in particular, should not be destroyed. We have great Afghan movies with meaningful stories that should be shown in these cinemas."
The Kabul Nandari, also known as Kabul National Theatre, was built in 1964, during the reign of Mohammad Zahir Shah, the last monarch of Afghanistan. At that time, it was host to films and plays, and was Asia's second largest theatre. Now the cinema lies empty and films and plays no longer feature in its halls.
Translated by Tooba Ali, Edited and proofread by Celine Assaf
Register for free to continue reading
Registration is a free and easy way to support our truly independent journalism
By registering, you will also enjoy limited access to Premium articles, exclusive newsletters, commenting, and virtual events with our leading journalists
Already have an account? sign in
Register for free to continue reading
Registration is a free and easy way to support our truly independent journalism
By registering, you will also enjoy limited access to Premium articles, exclusive newsletters, commenting, and virtual events with our leading journalists
Already have an account? sign in
Join our new commenting forum
Join thought-provoking conversations, follow other Independent readers and see their replies