Afghanistan's multimillion 'highway to nowhere'
New road is a white elephant, Foreign Office insider says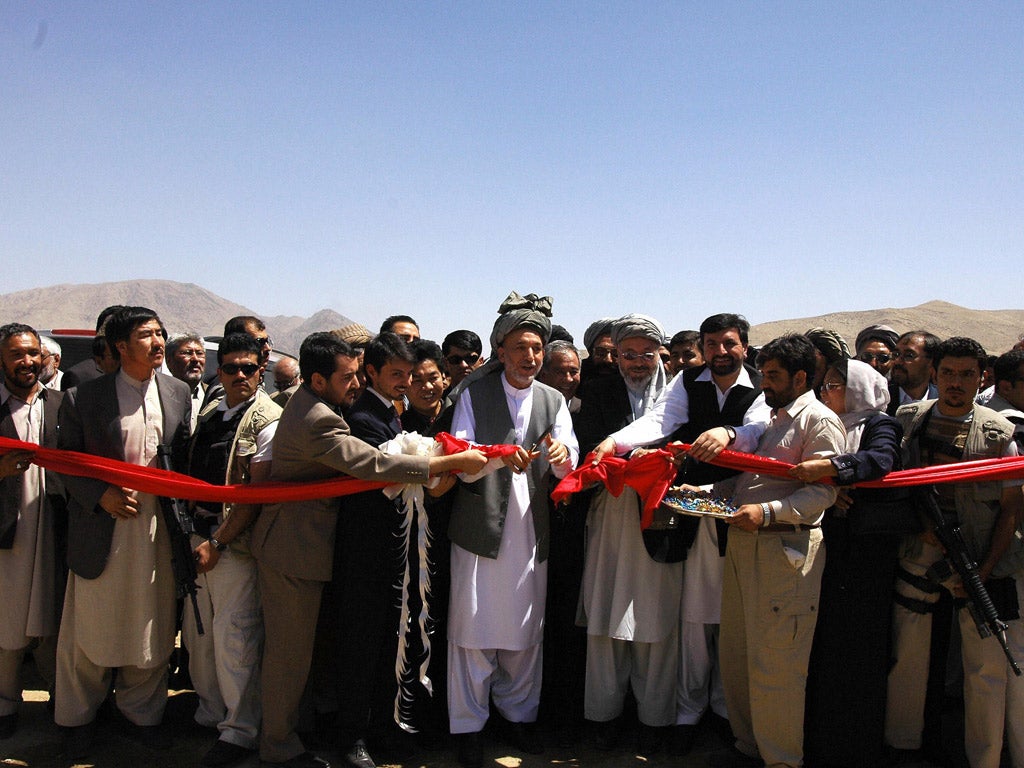 A flagship multimillion-pound highway linking Afghanistan's major cities is of no use to the majority of the population and at risk of crumbling during the winter, a secret report presented to British ministers has warned.
The 2,700km "Highway 1", largely bankrolled by American and Saudi millions, was seen as a symbol of Afghanistan's emergence as a modern democratic nation after decades of oppressive rule and conflict. But senior figures within the Foreign Office (FCO) have questioned the priority given to the project – and the standard of the finished road.
A confidential paper under discussion in the department, seen by The Independent on Sunday, claims the road is not completely "metalled" with a durable surface, and has a layer of tarmac too thin to last an Afghan winter, leaving lengthy stretches in danger of disintegration. The document also complained that the highway was "of no value at all" to the vast majority of Afghans, who need better local roads to help them travel to towns closer to home.
Highway 1, it seems, is the road to nowhere, a metaphor for costly, ill-planned development projects which have acted as a bran tub of kickbacks for corrupt officials. The US spending watchdog, the Special Inspector General for Afghanistan Reconstruction, has claimed that Washington cannot account for billions of dollars spent on aid projects in the country.
The white elephants include: six Afghan National Police buildings so poorly constructed they were unusable; the Kabul Power Plant, built at a cost of $300m (£194m) to the US taxpayer, and beset by delays, cost increases and fit now only as an expensive back-up facility; and a project to upgrade the Kajaki Dam on the Helmand River which is years behind schedule, and for which a huge generator transported in pieces through a bitter fire fight with insurgents remains unassembled and rusting, partly because the concrete needed for its foundations was never delivered.
The shortcomings of Highway 1 have emerged as more than 70 nations prepare to rubber-stamp almost £10bn in additional aid to the country over the next five years. The International Development Secretary, Andrew Mitchell, said the donors' conference in Tokyo today will demand that Afghanistan slash its budget shortfall in return.
But the record of development aid ploughed into Afghanistan so far is questioned by the leaked report on the country's future. The paper, written by a senior figure in the FCO, labels Highway 1 as "a classic illustration of the challenges that continue to hinder a swifter economic recovery".
It adds: "This major road system, started in 2002, is still not fully metalled due to a combination of siphoning away of funds, and contracts being outsourced through layers of companies. Once everyone has taken their cut, the layer of tarmac put down is too thin to last an Afghan winter. For the 91 per cent of Afghans who venture no further than their neighbouring town, it is of no value at all. More hearts and minds would have been won if a strategy was followed that linked together towns and the regional economic hubs, allowing market routes to open up."
USAid (the US Agency for International Development) lists the road as one of its "major accomplishments" in Afghanistan, "giving Afghans better connections to their country's major transportation routes, and facilitating their access to markets, schools, health clinics and government services". But locally based critics have complained that the road is expensive to maintain, largely used by foreign military and aid traffic, and that it has become a magnet for roadside bomb attacks, Taliban offensives and illegal roadblocks.
Thomas Ruttig, co-director of Afghanistan Analysts Network, said: "The international community has been throwing money at problems without making sure that it is used effectively. I would suggest that a group of key ambassadors be invited to travel by road from Kabul to Kandahar, then ask them again how many kilometres of road have been built and asphalted. In other words, counting kilometres doesn't say anything about how the roads can be used."
The criticism of the roads strategy was reflected in a World Bank report earlier this year which concluded that Afghanistan's road network was crumbling away due to lack of maintenance over the past decade, with most donors more interested in building roads than keeping them in good order. The report, Afghanistan in Transition: Looking Beyond 2014, calculated it would cost £1.9bn to put the country's network into a maintainable state
The £17.4m budget allocated for road maintenance this year – a fraction of the £187m needed – is "far too little to meet the road network's maintenance needs", the report states.
The Department for International Development has pledged to improve monitoring of the £178m ploughed into Afghanistan every year, amid concerns that money intended for vital aid programmes is being diverted into the hands of local officials. Mr Mitchell last night told the IoS that the Tokyo conference aimed to "nail down" support for the Afghan leadership among ordinary citizens as foreign forces prepare to leave.
Afghan President Hamid Karzai is expected to outline new anti-corruption and accountability measures, as he tries to win support for a funding package his officials have drawn up with the World Bank. Mr Mitchell said: "It is very important that our commitment continues. We are in Afghanistan in pursuit of Britain's national interests, so that it can no longer be a haven for terrorists."
Of the criticisms of Highway 1, he said: "All these projects are difficult to deliver. Often we are working in extremely difficult circumstances."
Additional reporting by Denise Cheuk
Join our commenting forum
Join thought-provoking conversations, follow other Independent readers and see their replies