Ahmedabad fire: Eight coronavirus patients killed as blaze engulfs ICU ward at major Indian hospital
Fire begins with electrical short-circuit and rips through ward full of oxygen tanks, as chief minister promises urgent inquiry into what went wrong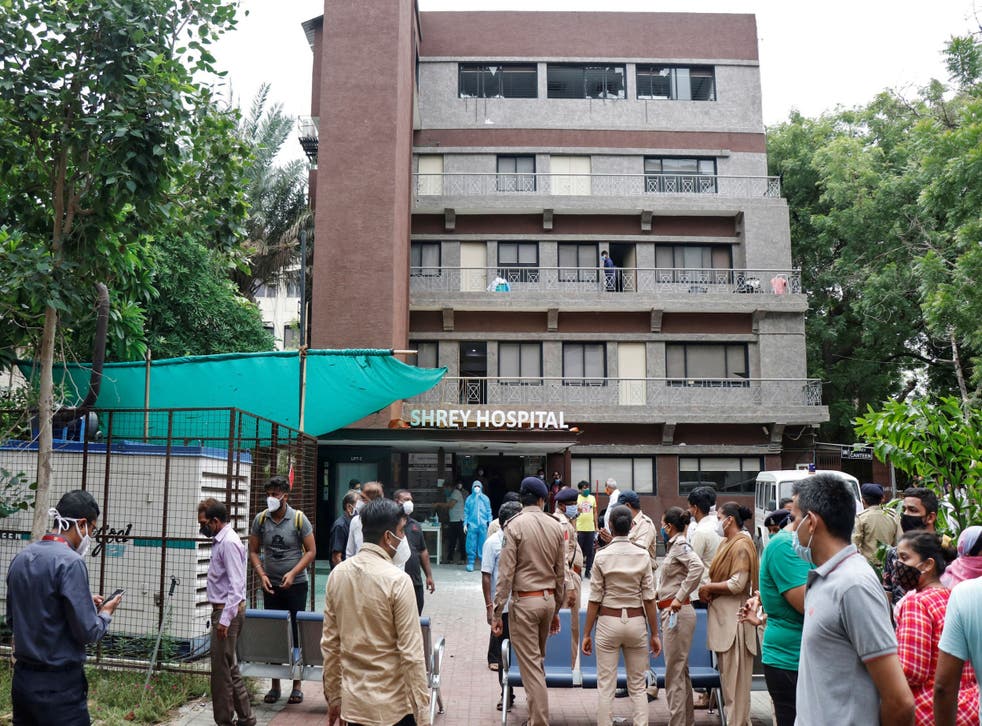 Eight coronavirus patients have died after a major fire broke out at the main Covid-19 hospital in India's Ahmedabad city.
The fire began in the small hours of the morning with an electrical short-circuit in the Shrey Hospital's intensive care unit (ICU), where dozens of patients were being treated with high-flow oxygen.
Firefighters and 15 fire engines were called and the blaze was contained and extinguished within half an hour, officials said, but the ICU was already gutted.
"A staffer whose PPE (personal protective equipment) caught fire ran out of the ward to douse it but the fire spread rapidly to the whole ward," fire official Rajesh Bhatt told the Reuters news agency.
"Five men and three women, who were undergoing treatment for the novel coronavirus were not in a position to escape... they died due to smoke and heat caused by the fire," he said.
Thirty-five patients have been moved to other hospitals, and there was a large police presence outside the hospital on Thursday to prevent angry relatives from entering the facility.
Prime minister Narendra Modi announced that compensation of Rs 200,000 (about £2,000) would be given to the families of those killed, a figure which was later doubled by the Gujarat chief minister Vijay Rupani.
An additional Rs 50,000 (£500) would be given to anyone injured. A Gujarat state official said there was at least on paramedic being treated for burns after they tried to douse the flames.
"Saddened by the tragic hospital fire in Ahmedabad," Mr Modi tweeted. "Condolences to the bereaved families. May the injured recover soon."
Mr Rupani said he had ordered an inquiry into the fire and that it would deliver its initial findings within three days. Rajendra Asari, a senior Ahmedabad police official, said the cause of the fire would be fully investigated with support from fire and forensic experts. Police said one trustee of the hospital and a porter working on the ICU ward had been detained.
Ahmedabad is the largest city and erstwhile capital of the relatively affluent Indian state of Gujarat, but fire safety standards across the country remain poor, with inadequate alarm, detection and containment systems being the norm.
Join our new commenting forum
Join thought-provoking conversations, follow other Independent readers and see their replies