Ai Weiwei threatened with pornography charges over nude photograph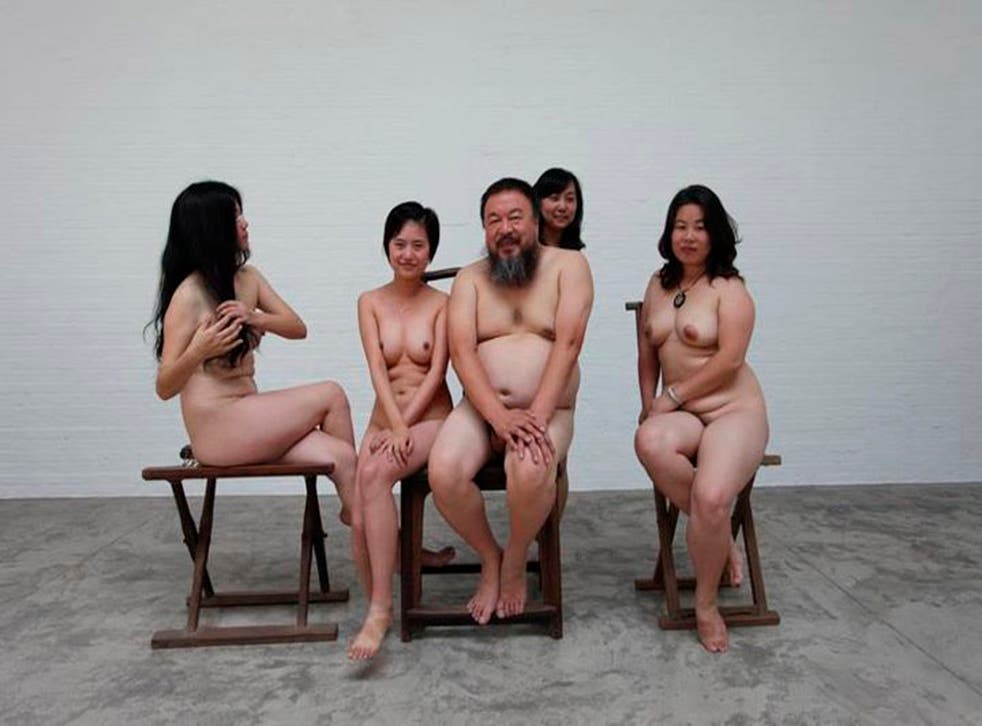 Chinese police told dissident artist Ai Weiwei today that he could face bigamy and pornography charges and barred him from travel, despite lifting strict bail conditions imposed after his detention.
Ai, who left his house today for the first time in a year without having to report his whereabouts to police, was held for 81 days without charge in April 2011 mainly in solitary confinement until his conditional release last year.
"If getting back half of my freedom means I'm free, then I'm a free person," Ai said. "But they're restricting my ability to travel and still trying to fabricate crimes."
The threats against Ai underscore Beijing's efforts to muzzle China's most prominent critic and are likely to spark an outcry among his supporters and the international community, which has taken a close interest in his case.
China is sensitive to any threat to Communist Party rule and clamps down on all dissent, illustrated by the recent furore over the flight from house arrest by blind activist Chen Guangcheng.
Ai told Reuters that the restrictions of his bail, linked to suspected economic crimes, were lifted today but police said he could not travel as he is "suspected of other crimes" including pornography, bigamy and illicit exchange of foreign currency.
Police in Beijing were not immediately available for comment.
Ai said police brought up a photograph that Ai had taken in 2010, sitting next to four women, all five of them naked, in a studio pose. Police told Ai that a file of the photograph had been opened online more than 1,000 times, and that meant he was effectively spreading pornography, he said.
Ai said the four women had posted the photograph "as a joke".
"We never even touched each other," Ai said. "It's nothing. Nobody will say that's pornography. I asked them why this is pornography. They said under our policy, if there's nudity, if people try to open a file many times, like over 1,000 times, that's pornography. They have a law like that, which is ridiculous."
Ai, who is married, also denies the charge of bigamy. He openly meets a girlfriend and has a three-year-old son from that relationship.
On the possible charge of "illicit exchange of foreign currency", Ai said police told him that it concerned a project in 2008, when he invited 100 foreign architects to Inner Mongolia and arranged for a Swiss gallery to pay them in euros, while he got yuan currency in return.
Ai, 55, said that when he asked police how long the investigation could take, he was told it could go on for "as long as they want it, it could be years".
"I feel this shows that they are trying to intimidate, trying to put pressure on a citizen to tell you who's the authority and still to punish me for doing what I've been doing," Ai said.
"I'm still paying a price for that, paying a price for freely communicating and discussing and giving out opinions and criticising different matters."
Under the conditions of his release from 81 days in detention, Ai was not allowed to post anything on Twitter, travel or accept interviews for a year.
But the bearded artist has still been a persistent irritant to authorities, communicating with his supporters on Twitter and calling for a public forum to discuss a tax case.
The company that markets Ai's work is challenging a penalty of 15 million yuan for supposed tax evasion, a charge supporters have dismissed as trumped up. Police warned him to stay away from the hearing on Wednesday. No ruling has been announced.
Ai said police told him this morning that he "should not talk to the press, you should not criticise the government".
Ai said he had consulted a lawyer.
"The lawyer said: they cannot do that, because once you're free from probation, you're a free man. If they want to charge you, they have to make a case," Ai said.
When Ai was detained, interrogators threatened to level charges of subversion, pornography and bigamy against him, he told Reuters earlier.
Police have not returned Ai's passport, he said, adding that they have also restricted the ability of his wife to travel.
Reuters
Register for free to continue reading
Registration is a free and easy way to support our truly independent journalism
By registering, you will also enjoy limited access to Premium articles, exclusive newsletters, commenting, and virtual events with our leading journalists
Already have an account? sign in
Register for free to continue reading
Registration is a free and easy way to support our truly independent journalism
By registering, you will also enjoy limited access to Premium articles, exclusive newsletters, commenting, and virtual events with our leading journalists
Already have an account? sign in
Join our new commenting forum
Join thought-provoking conversations, follow other Independent readers and see their replies