AirAsia Flight QZ8501: 20 bodies recovered from crash site, Indonesian officials claim
The recovery operation has been hampered by poor weather and limited visibility
Fergus Jensen
,
Gayatri Suroyo
Friday 02 January 2015 11:33 Comments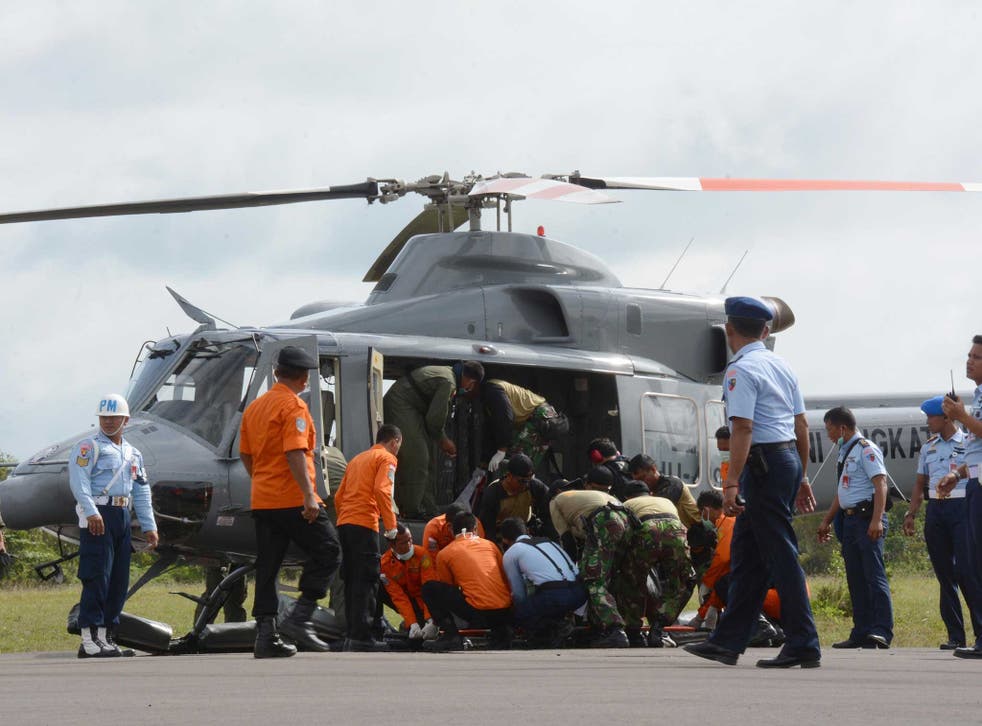 More than 20 bodies have now been recovered off the coast of Borneo from the doomed AirAsia passenger Flight QZ8501, according to Indonesian officials.
Ships and aircraft criss-crossed the seas today hunting for the wreck of the Indonesian AirAsia flight, but bad weather was again hindering the search for the plane and the black box flight recorders that should reveal why it crashed.
Alongside the bodies, officials claimed pieces of the broken-up plane had also been recovered, in the Indonesian-led search concentrated on 1,575 square nautical miles of the northern Java Sea.
Strong winds and heavy seas have stopped divers from looking for the fuselage of the Airbus A320-200, which plunged into the water on Sunday while en route from Indonesia's second-biggest city Surabaya to Singapore with 162 people on board.
"The waves could reach five metres this afternoon. Higher than yesterday," said air force Puma helicopter pilot Flight Captain Tatag Onne, who has been flying missions to recover bodies and debris from the sea.
"We look for breaks in the clouds where conditions improve so that we can approach. Yesterday, when we went to collect a body from the sea we couldn't because the body was being rolled by waves. Sometimes we could see it, sometimes we couldn't."
In pictures: Missing AirAsia flight QZ8501

Show all 28
The multinational search operation based in Pangkalan Bun, the town in southern Borneo closest to the search area, was bolstered today by experts from France's BEA accident investigation agency, which attends all Airbus crashes.
Officials said the French team's hydrophones - sophisticated underwater acoustic detection devices - and towed sonar equipment brought by other international experts could not be used on Friday because of high waves.
"The sea state has to be calm," General Sunarbowo Sandi of Indonesia's search and rescue agency said. "We cannot operate it in poor weather."
But naval vessels from Indonesia, the United States and Singapore with in-built anti-submarine capabilities were using sonar to sweep the sea floor, he added.
The cause of the crash remains unknown. It is believed that all 155 passengers and seven crew members perished when the plane went down.
Reuters
Register for free to continue reading
Registration is a free and easy way to support our truly independent journalism
By registering, you will also enjoy limited access to Premium articles, exclusive newsletters, commenting, and virtual events with our leading journalists
Already have an account? sign in
Join our new commenting forum
Join thought-provoking conversations, follow other Independent readers and see their replies