Rare albino orangutan with pale blonde hair and blue eyes rescued by Borneo conservationists
Forest dweller is sensitive to light and had been held captive for two days
Jon Sharman
Wednesday 03 May 2017 22:05 Comments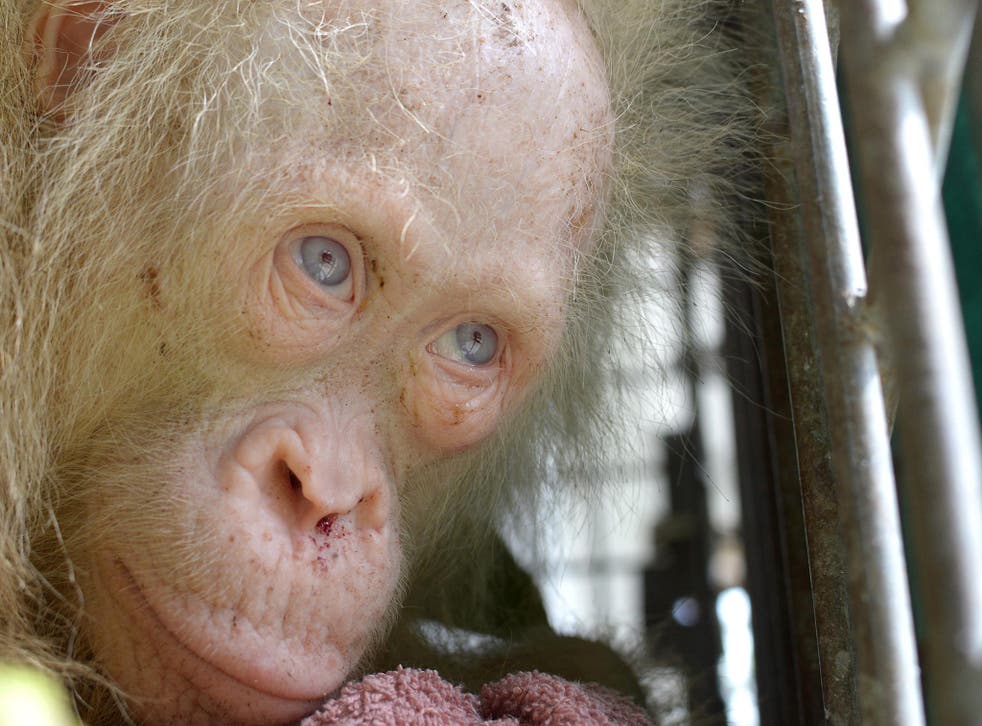 Conservationists have rescued a rare albino orangutan that has pale blonde hair and blue eyes.
The five-year-old female was being held captive by locals in the Central Kalimantan region of Indonesia, according to the Borneo Orangutan Survival Foundation.
The group was tipped off by police. It said the ape's hair, eye and skin colour was paler than normal and that she was relatively sensitive to light.
" We will continue to observe her and conduct routine health tests. She was held captive by local residents for two days and still displays wild behaviours," the group said in a statement.
"Once we have fully assessed her health and physical status we will review the best possible strategies for her long-term welfare and conservation."
According to the WWF, orangutans are threatened by the disappearance of their forest habitats in Indonesia and Malaysia.
Normally the creatures have deep orange or auburn hair.
Register for free to continue reading
Registration is a free and easy way to support our truly independent journalism
By registering, you will also enjoy limited access to Premium articles, exclusive newsletters, commenting, and virtual events with our leading journalists
Already have an account? sign in
Join our new commenting forum
Join thought-provoking conversations, follow other Independent readers and see their replies