Alibaba co-founder Jack Ma to retire and focus on philanthropy, reports say
'There's a lot of things I can learn from Bill Gates. I can never be as rich, but one thing I can do better is to retire earlier'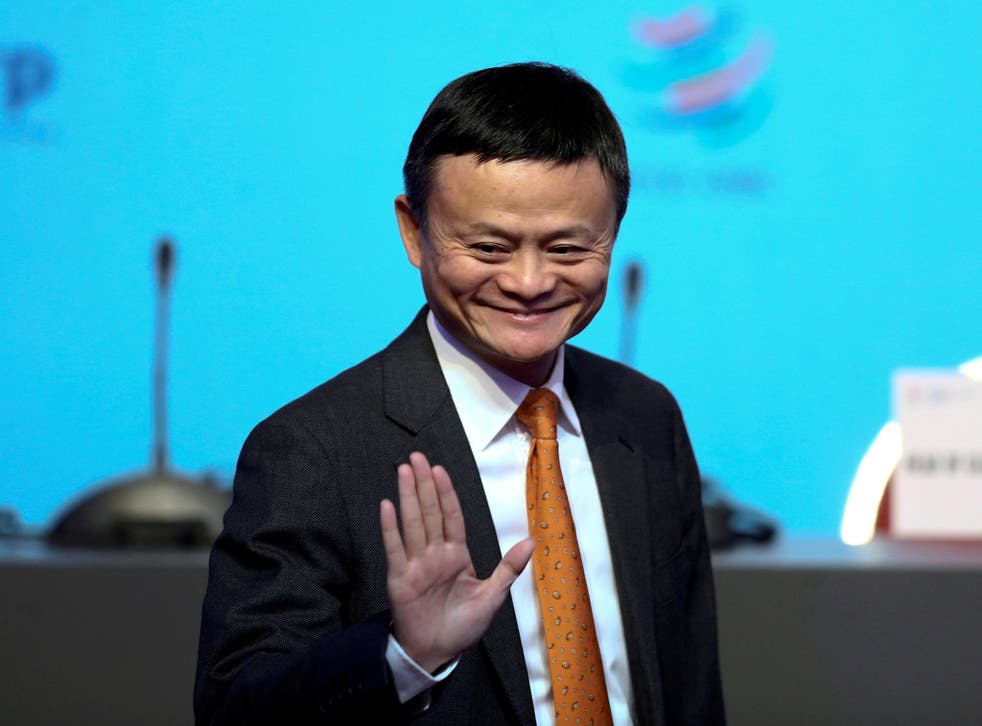 Jack Ma, the co-founder and executive chairman of Chinese e-commerce behemoth Alibaba Group is retiring, The New York Times has reported.
Mr Ma said he plans to step down as executive chairman on Monday to pursue philanthropy in education. He will remain on Alibaba's board of directors.
One of China's best-known corporate leaders, Mr Ma started Alibaba in 1999 in his flat in the Chinese city of Hangzhou and is now among the richest people in the world.
Alibaba's empire today encompasses online selling and banking, film production and cloud computing. It also holds stakes in Chinese social media site Weibo and owns English-language newspaper The South China Morning Post.
In an interview with Bloomberg TV, Mr Ma said he will be dedicating more of his time to philanthropy with the creation of a foundation in his own name focused on education, following in the footsteps of Bill Gates.
"There's a lot of things I can learn from Bill Gates. I can never be as rich, but one thing I can do better is to retire earlier," Mr Ma said in the interview. "I think some day, and soon, I'll go back to teaching. This is something I think I can do much better than being CEO of Alibaba.
"I've prepared a Jack Ma Foundation," he added. "All these things that I've been preparing for 10 years."
Mr Ma was born in September 1964 in Hangzhou, the capital of China's Zhejiang province. It was here that he attended Hangzhou Normal University and graduated in 1988 with a BA in English before creating the Alibaba Group, backed by $60,000 (£46,000) from 18 co-founders.
World news in pictures

Show all 50
Alibaba went public on the New York Stock Exchange in 2014 and has a market value of approximately $421bn (£325bn). As of this year, it has the ninth highest global brand value and is the world's biggest e-commerce company by total value of merchandise sold across its platforms.
The company broke records in 2015 when its online sales and profits surpassed all US retailers, including Walmart, eBay and Amazon combined.
In 2017, it orchestrated China Singles Day, a popular holiday among young Chinese people that celebrates their pride in being single on 11 November each year, into the worlds biggest online and offline shopping day, with its own sales reaching over $25.4bn (£19bn) in just 24 hours.
Alibaba did not immediately respond to a request for comment.
Additional reporting by agencies
Register for free to continue reading
Registration is a free and easy way to support our truly independent journalism
By registering, you will also enjoy limited access to Premium articles, exclusive newsletters, commenting, and virtual events with our leading journalists
Already have an account? sign in
Register for free to continue reading
Registration is a free and easy way to support our truly independent journalism
By registering, you will also enjoy limited access to Premium articles, exclusive newsletters, commenting, and virtual events with our leading journalists
Already have an account? sign in
Join our new commenting forum
Join thought-provoking conversations, follow other Independent readers and see their replies