Amnesty International warns US drone strikes in Pakistan could be classed as 'war crimes'
Report by the human rights group found that drone strikes may have resulted in unlawful killings
Heather Saul
Wednesday 23 October 2013 10:39 Comments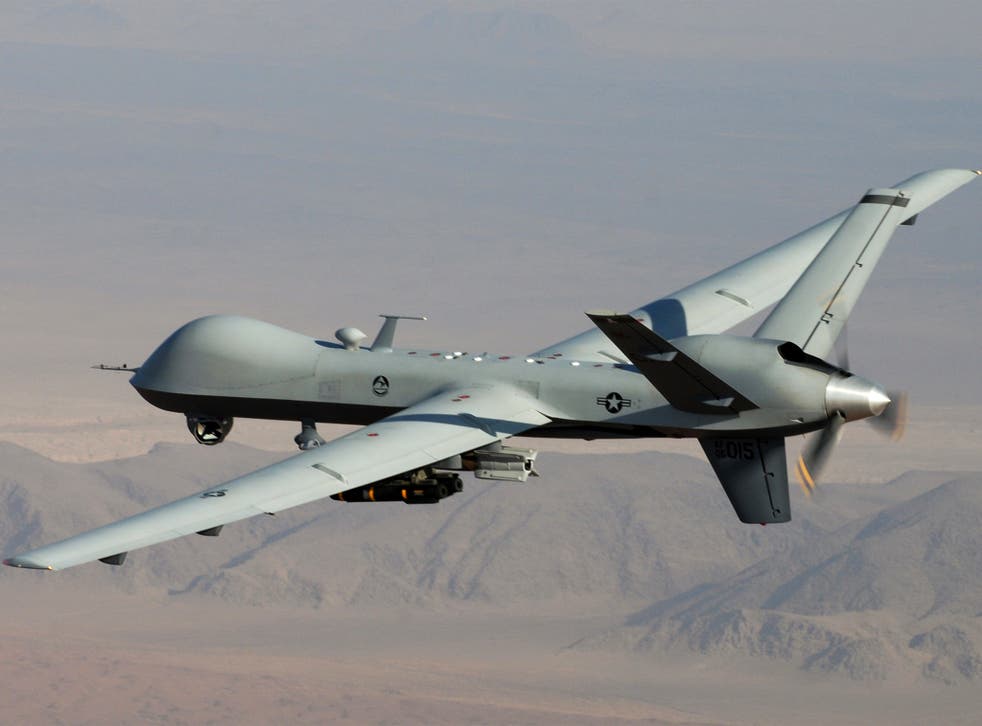 Human rights group Amnesty International is calling on the US to investigate civilian deaths from drone strikes, amid concerns that the attacks could have resulted in unlawful killings which may constitute war crimes.
The group said they had examined nine out of 45 recent strikes by US drones and found that a number of victims who died in the attacks were unarmed.
The report, entitled Will I be Next? US drone strikes in Pakistan centred on the controversial death of 68-year-old Mamana Bibi, who was allegedly killed by a US drone in October 2012 while she was picking vegetables with her grandchildren in north-west Pakistan.
The attack, which left three of her grandchildren injured, took place in the North Waziristen tribal area, a region bordering Afghanistan. Nabeela, the woman's eight year-old granddaughter survived the strike but said that whenever she hears drones fly overhead now she wonders "will I be next?"
The US government has refused to provide even basic details over the strikes, the report says, leaving the human rights group unable to reach "firm conclusions" on the status of the deaths of Mamana Bibi and the 18 laborers.
However, it concluded that "based on its review of incidents over the last two years, Amnesty International is seriously concerned that these and other strikes have resulted in unlawful killings that may constitute extrajudicial executions or war crimes".
Amnesty called on the US to comply with its obligations under international law by investigating the killings documented in the report and providing victims with "full reparation."
An even deadlier incident occurred in July when witnesses said a volley of missiles hit a tent where a group of men had gathered for an evening meal after work, according to the report. A second struck those who came to help the wounded, one of a number of attacks that have hit rescuers, it said.
Witnesses and relatives said a total of 18 male labourers with no links to militant groups died, according to Amnesty. Pakistani intelligence officials at the time identified the dead as suspected militants.
Their report comes after a UN human rights investigator last week called for America to release death toll figures. Ben Emmerson, UN special rapporteur on human rights and counterterrorism said at least 330 drone strikes were on record in the Federally Administered Tribal Areas since 2004, killing over two thousand people, of which 400 were civilians.
"We cannot find any justification for these killings. There are genuine threats to the USA and its allies in the region, and drone strikes may be lawful in some circumstances," said Mustafa Qadri, Amnesty International's Pakistan researcher. "But it is hard to believe that a group of labourers, or an elderly woman surrounded by her grandchildren, were endangering anyone at all, let alone posing an imminent threat to the United States."
Register for free to continue reading
Registration is a free and easy way to support our truly independent journalism
By registering, you will also enjoy limited access to Premium articles, exclusive newsletters, commenting, and virtual events with our leading journalists
Already have an account? sign in
Join our new commenting forum
Join thought-provoking conversations, follow other Independent readers and see their replies