'An attack on democracy': India reeling after Maoist rebels murder politicians
The rebels may be present in as many as 20 of India's 28 states and active in half that number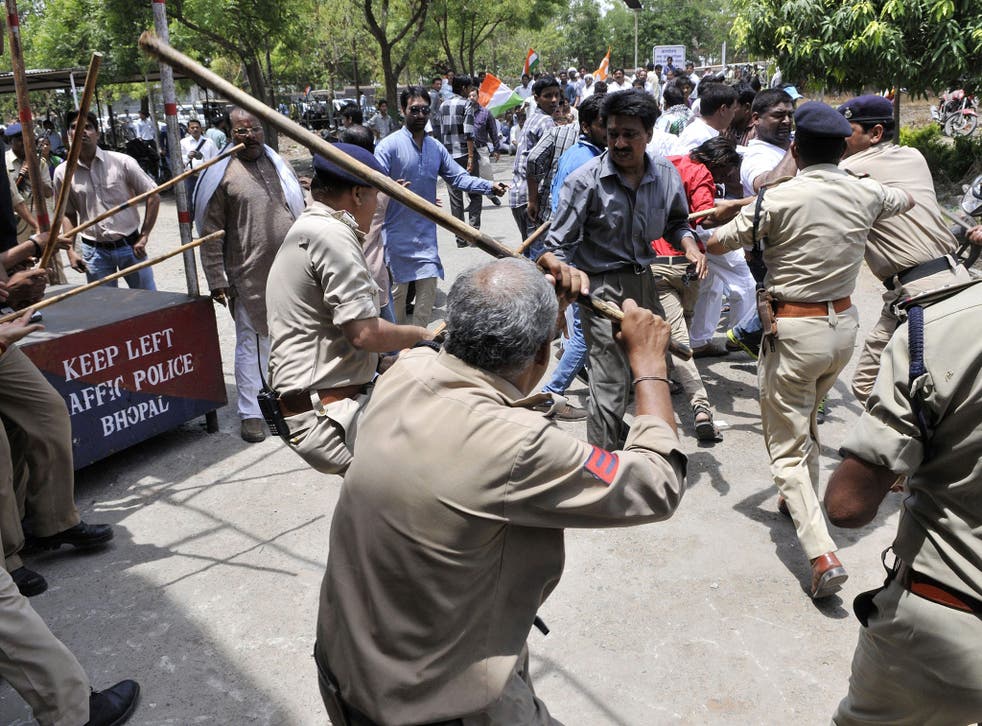 Thousands of Indian troops have launched a hunt for Maoist rebels who carried out an audacious, daylight attack on a convoy of politicians from the ruling Congress party which left more than two dozen people dead.
India has been rocked by the attack in the central state of Chhattisgarh, one of the most brazen for several years, which also wounded a former federal minister and many party supporters. Two local leaders were kidnapped and subsequently murdered while the founder of a movement of anti-rebel militias was also killed.
It is believed up to 200 rebel fighters were involved in the two-hour attack.
"It is not an attack on Congress. It is an attack on democracy," said Rahul Gandhi, son of Congress leader Sonia Gandhi. Mr Gandhi, who is widely expected to be a future prime minister, flew to the scene over the weekend. "But, we'll not fear from such an attack and continue to move forward with enthusiasm," he added.
While the rebels receive little international attention, they may be present in as many as 20 of India's 28 states and active in half that number. In 2010 they carried out an ambush on Indian troops that left 76 dead. The Prime Minister, Manmohan Singh, has called them the most important internal national security threat.
The issue of the Maoists and what has given rise to their spread is one that causes ferocious debate.
Human rights campaigners, while denouncing their attacks, have argued that exploitation by corporations and grinding poverty create conditions which allow the Maoists to recruit from tribal communities. A former chief civil servant in the home ministry said poor governance was a major reason for their spread. The authorities have largely declined to seek dialogue with the rebels and have sent thousands of troops to the worst affected areas. One of the men killed in Saturday's attacks, Mahendra Karma, was a tribal leader and Congress party member, who was responsible for recruiting local tribesmen to join militias designed to fight the Maoists. The militias, called the Salwa Judum, were repeatedly accused of human rights abuses.
The authorities have also been swift to crack down on anyone they consider a supporter of the rebels. In 2010, Binayek Sen, a respected medical doctor, was jailed after being convicted of acting as a courier for the rebels. He is appealing against his conviction.
Saturday's attack took place in the Bastar district, about 215 miles south of Raipur, the state capital of Chhattisgarh. Police officials said the attack happened in a heavily forested area as the members of the Congress party were returning to Raipur after a party rally involving tribal communities.
A senior police official, Ram Niwas, said thousands of troops had been dispatched to hunt for the Maoist rebels, also known as Naxalites. "There are hills, rivers and dense forests and the population is very sparse. Searching these areas is very difficult," he told the Associated Press news agency.
Analysts said the ambush appeared to be a warning to officials to stay away from the Bastar stronghold. It has also raised questions about what security measures the politicians took before setting off. A team from a federal intelligence agency has been sent to Chhattisgarh to investigate whether the Maoists were tipped off.
"It is like a constant civil war down there," said Aditya Nigam of the Centre for the Study of Developing Societies in Delhi. "It has now reached a situation similar to that of the LTTE [Liberation Tigers of Tamil Eelam] in Sri Lanka when you only need one slip for something like this to happen. This was an unguarded moment."
The Naxalite movement began in 1967 as a network of left-wing ideologues and young recruits in the village of Naxalbari outside Kolkata, the capital of West Bengal state. Two of the main factions merged in 2004 to form the Communist Party of India (Maoist).
There have been repeated reports of tribal boys being forcibly recruited to join the rebels. Estimates put the number of fighters at anywhere up to 30,000. Their strongholds are in what is termed the "Red Corridor" which runs from the border with Nepal through to the states of Orissa, West Bengal and Andhra Pradesh.
Join our new commenting forum
Join thought-provoking conversations, follow other Independent readers and see their replies