Indonesia Tsunami: Volcano erupting
Anak Krakatau eruption: Indonesian volcano which triggered deadly tsunami in 2018 erupts again
'This is a big eruption for this volcano, but there is no reason to lose sleep,' Nasa scientist says
An Indonesian volcano which triggered a deadly tsunami 16 months ago has erupted again, spewing a column of ash up to 15km into the sky.
Scientists said Anak Krakatau, a volcanic island between Java and Sumatra, was continuously erupting until Saturday morning, making it the longest eruption there since its devastating collapse in 2018.
There were no casualties reported, but a level two alert status – the second-highest on a scale of four – remained in place.
CCTV from Indonesia's Centre for Volcanology and Geological Disaster Mitigation showed lava flares on Friday night.​
The 2018 eruption caused a tsunami along the coasts of Sumatra and Java, killing 430 people.
Indonesia's most active volcano erupts: In pictures

Show all 8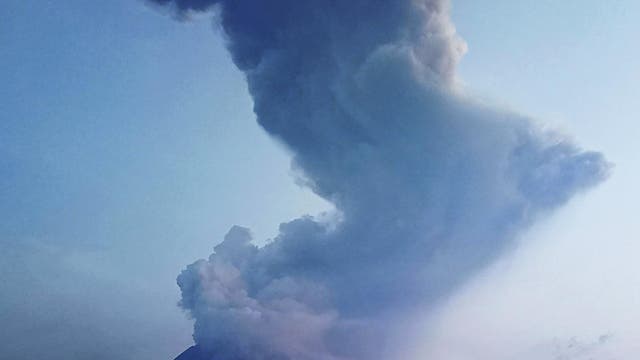 Scientists said that explosion was so violent the volcano was now only a quarter of its previous size, meaning any future tsunami would be far less severe.
Dr Kayla Lacovino, a volcanologist at Nasa, on Friday night tweeted: "Krakatoa volcano is erupting RIGHT NOW! This explosive eruption is producing strong lava fountaining and is the strongest eruption since the [2018 event]."
She added: "This is a big eruption for this volcano, but there is no reason to lose sleep.
Anak Krakatau, which means Child of Krakatau, is the offspring of the famous Krakatau (or Krakatoa) volcano, whose monumental eruption in 1883 triggered a period of global cooling.
Additional reporting by AP
Join our new commenting forum
Join thought-provoking conversations, follow other Independent readers and see their replies