Armenia protests: Police detain opposition leaders and 200 protesters after president becomes prime minister
Tens of thousands of demonstrators have marched through Yerevan
Samuel Osborne
Monday 23 April 2018 12:43 Comments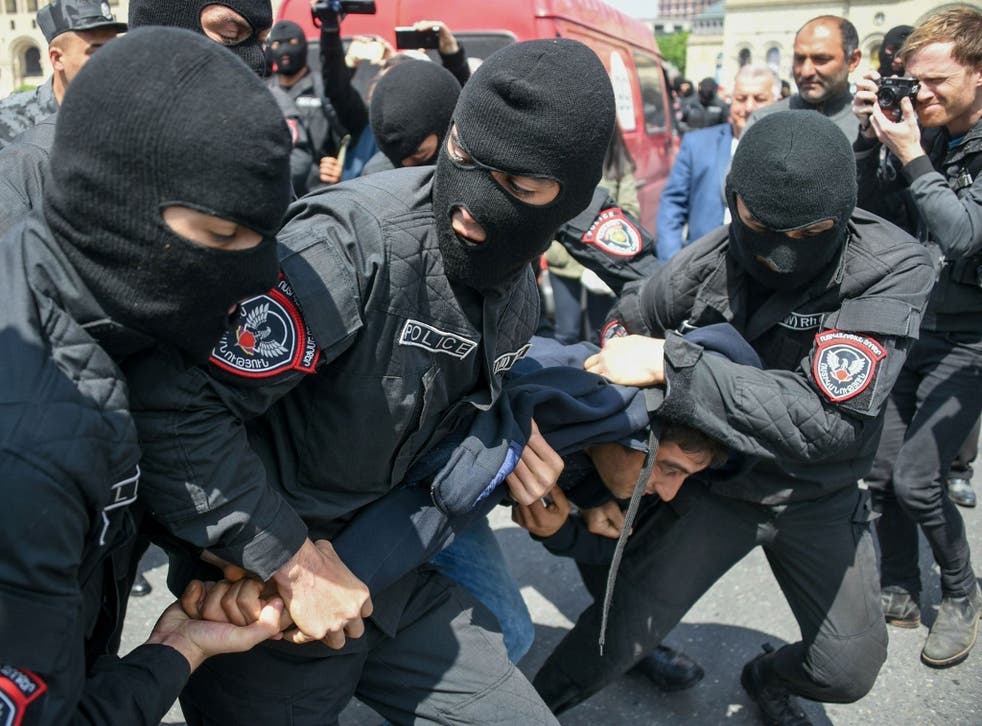 Three opposition leaders and nearly 200 protesters have been arrested in Armenia following more than a week of demonstrations venting fury at their former president taking the job of prime minister.
Protesters accuse Serzh Sargsyan of clinging to power after parliament anointed him as premier earlier this month, following a 10-year stint as president.
It comes as part of Armenia's transition to a governmental system which reduces the powers of presidents and bolsters those of the prime minister.
Critics argue the change effectively allows Mr Sargsyan to lead the country for life.
Tens of thousands of demonstrators have marched through the capital, Yerevan, blocking streets and staging sit-ins.
They say he has ruled the South Caucasus nation for too long, is too close to Russia, which has military bases in Armenia, and of doing too little to root out corruption.
In a statement, the police said the leader of the protests, Nikol Pashinyan, and two other politicians, had been "forcibly removed" from a protest.
The public prosecution service said three opposition leaders had been detained on suspicion of organising an illegal demonstration.
Almost 200 people have been taken to police stations by law enforcement officers, the Interfax news agency reported, citing police spokespeople.
Seven people had been taken to hospital, the Ministry of Health said in a statement.
According to the law, the detainees must either be released within 72 hours, or a criminal case opened against them.
Earlier in the day, Mr Pashinyan held talks with Mr Sargsyan, who walked out of the meeting within minutes after accusing his opponents of attempting to "blackmail" the authorities.
"This is not talks, not a dialogue, it's just an ultimatum, blackmail of the state, of the legitimate authorities," the prime minister said.
Demonstrators continued to march in large numbers in the capital, blowing vuvuzelas and sounding car horns, despite earlier attempts by police to break up the march with batons and shields.
The police called on protesters to stop the situation from escalating, the Interfax news agency said.
Tens of thousands of protesters gathered on the capital's central Republic square in the evening, calling for the continuation of peaceful protests.
"I'm asking everyone not to deviate from the declared path and peacefully bring the case of the resignation of Serzh Sargsyan," Anna Hakobyan, Mr Pashinyan's wife, told the crowd.
World news in pictures

Show all 50
In a statement, the EU's foreign policy arm called for more dialogue and a peaceful resolution.
"All those who have been detained while exercising their fundamental right of assembly in accordance with the law must be released immediately," it said.
"It is of utmost importance that all parties involved show restraint and act responsibly."
Additional reporting by agencies
Register for free to continue reading
Registration is a free and easy way to support our truly independent journalism
By registering, you will also enjoy limited access to Premium articles, exclusive newsletters, commenting, and virtual events with our leading journalists
Already have an account? sign in
Join our new commenting forum
Join thought-provoking conversations, follow other Independent readers and see their replies