Asia Bibi: Clamour grows for Christian woman to be granted asylum as Pakistan awaits review decision
Calls made at highest levels in UK, Italy, Germany, Netherlands and now Canada for woman acquitted of blasphemy to be offered refuge 
Adam Withnall
Tuesday 13 November 2018 14:40 Comments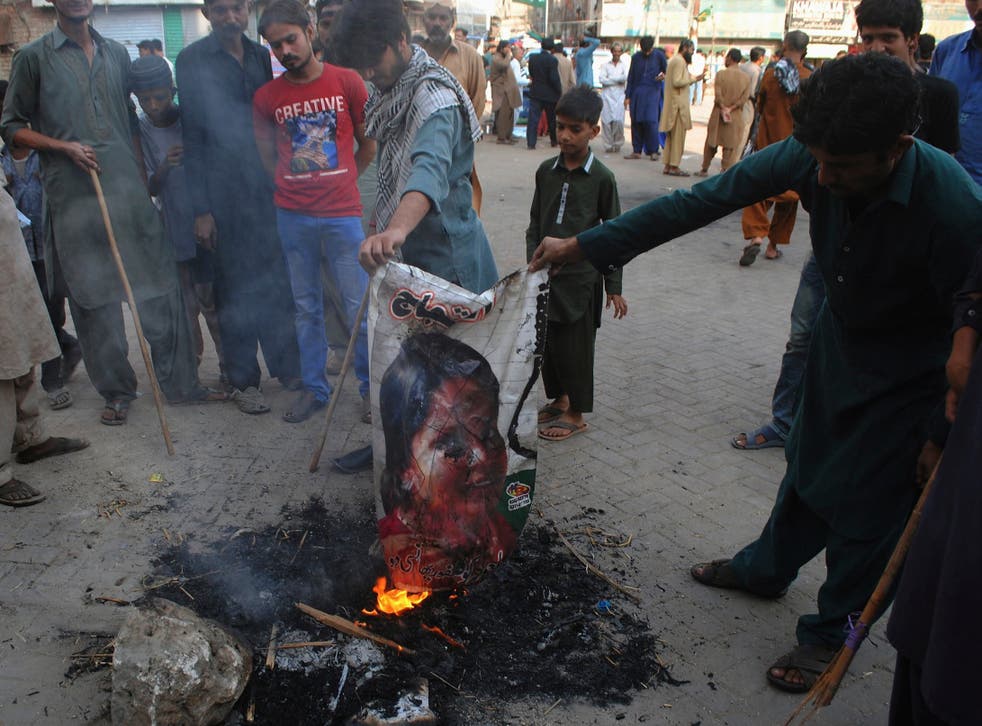 As Pakistan awaits a Supreme Court decision on a review petition over the acquittal of Asia Bibi, the woman who spent eight years on death row before her blasphemy charge was overturned, international calls are growing for her to be granted refuge in the west.
Ms Bibi and her family are believed to be living under intense security in an undisclosed location outside Islamabad, after the government strongly denied media reports that they had already fled the country.
On 31 October, three Supreme Court judges threw out Ms Bibi's 2010 conviction for insulting the prophet Muhammad, citing a lack of evidence. The country erupted into protests led by its radical Islamist elements, and to restore calm the government committed to prevent Ms Bibi leaving Pakistan until a review petition against the acquittal was heard.
With a decision expected in the coming days, Canadian prime minister Justin Trudeau became the latest world leader to suggest his country was in talks over offering Ms Bibi, who is a member of Pakistan's tiny Christian minority, asylum.
"We are in discussions with the Pakistani government," Mr Trudeau told the AFP news agency, adding: "There is a delicate domestic context that we respect which is why I don't want to say any more about that, but I will remind people Canada is a welcoming country."
A spokesperson for Pakistan's foreign office confirmed on Tuesday that Mr Trudeau's foreign minister and his Pakistan counterpart had spoken on Monday and "among other issues, Asia Bibi was discussed". The spokesperson nonetheless stressed that "Asia Bibi is our national and Pakistan fully respects her legal rights".
Separately, the former British foreign secretary Boris Johnson urged the UK government to commit itself to giving Ms Bibi refuge.
Mr Johnson's comments came after a campaign group with links to Ms Bibi's family said the UK was refusing to offer her asylum amid "concerns about potential unrest in the country, attacks on embassies and civilians". The British Pakistani Christian Association said the UK was "being helpful" but stopping short of saying it would provide Ms Bibi refuge.
In a letter sent to home secretary Sajid Javid and foreign secretary Jeremy Hunt, reported in the Daily Mail, Mr Johnson said: "I am well aware, as a former foreign secretary, of the constant threat to our overseas missions but we cannot allow the threat of violence to deter us from doing the right thing.
"I do not think it is a dignified position for the UK, given our historic links with Pakistan and the extent of our influence there, to look to others to do what we are allegedly nervous to do ourselves."
Italy has previously committed to do all it can to assist Ms Bibi, including offering her and her family asylum.
"I want women and children whose lives are at risk to be able to have a secure future, in our country or in other western countries, so I will do everything humanly possible to guarantee that [for Ms Bibi]," deputy prime minister Matteo Salvini said.
"It is not permissible that in 2018 someone can risk losing their life for a ... hypothesis of blasphemy," Mr Salvini told an Italian radio station. He said Italy was working "discreetly" on the case in collaboration with other western countries. Mr Salvini is also the Italian interior minister, as well as leader of the far-right League party, which has been critical of Islam in the past.
Ms Bibi's case has been followed particularly closely in Italy, and in 2015 Pope Francis met with Ms Bibi's daughter at the Vatican, and offered his prayers in her case. Her family expressly appealed to Italy for support following her acquittal and the subsequent death threats against her.
World news in pictures

Show all 50
And in Germany, a member of Angela Merkel's ruling conservative party called last week for the country to offer Ms Bibi safe haven. Ms Bibi's lawyer, Saif-ul-Mulook, told this weekend's Bild am Sonntag newspaper that she "would be happy if she could leave for Germany with her family".
Mr Mulook's own situation suggests the British foreign office's reported fears are not entirely unfounded. Almost immediately after Ms Bibi's acquittal, he fled to the Netherlands with his family, citing the need to protect their safety and to be safe himself in order to keep fighting Ms Bibi's case.
The Dutch government confirmed last week that it was offering him temporary shelter, but on Friday was forced to suspend visa-giving activities at its embassy in Pakistan, apparently due to the heightened security threat level.
On Monday, the Dutch foreign minister Stef Blok said the Netherlands had been forced to recall staff from its embassy in Pakistan following threats.
The embassy briefly closed during the working day as "a large number of staff" returned to the Netherlands, Mr Blok told national NPO radio. "I discussed the issue with my Pakistani colleague," he added, describing the situation as "unfortunate".
Support free-thinking journalism and attend Independent events
Ms Bibi's story began in June 2009, when she was picking berries with other farmworkers in a field in Punjab and got into an argument with two Muslim women who, it is claimed, refused to drink water she fetched because it had been touched by a Christian.
The women later went to a local mullah to report that Ms Bibi had insulted the prophet Muhammad during the exchange. She and her lawyers have always denied any blasphemy took place.
The case has become emblematic of the struggle among Pakistan's radical Islamist groups to keep its controversial anti-blasphemy laws in place. The law stipulating that blasphemers should face the death penalty was enacted by the military dictator General Zia-ul-Haq in 1986.
Pakistan's new prime minister, Imran Khan, campaigned partly on a ticket of "defending" the country's blasphemy laws, as he courted the support of more radical Islamist groups.
But in a speech on Saturday he urged the public to support the final word of the Supreme Court and respect the rule of law in Ms Bibi's case.
"I want to make it clear that the government stands with the decision of the Supreme Court and there will be no compromise on it," he said. "The rule of law depends on verdicts of the Supreme Court, and if a country does not stand by the apex court's decisions then that country is finished."
Register for free to continue reading
Registration is a free and easy way to support our truly independent journalism
By registering, you will also enjoy limited access to Premium articles, exclusive newsletters, commenting, and virtual events with our leading journalists
Already have an account? sign in
Join our new commenting forum
Join thought-provoking conversations, follow other Independent readers and see their replies