Asia cold snap: Scores dead as freezing 'polar vortex' sweeps across eastern Asia
Asia's 'polar vortex' has seen some regions hit by their coldest weather for more than half a century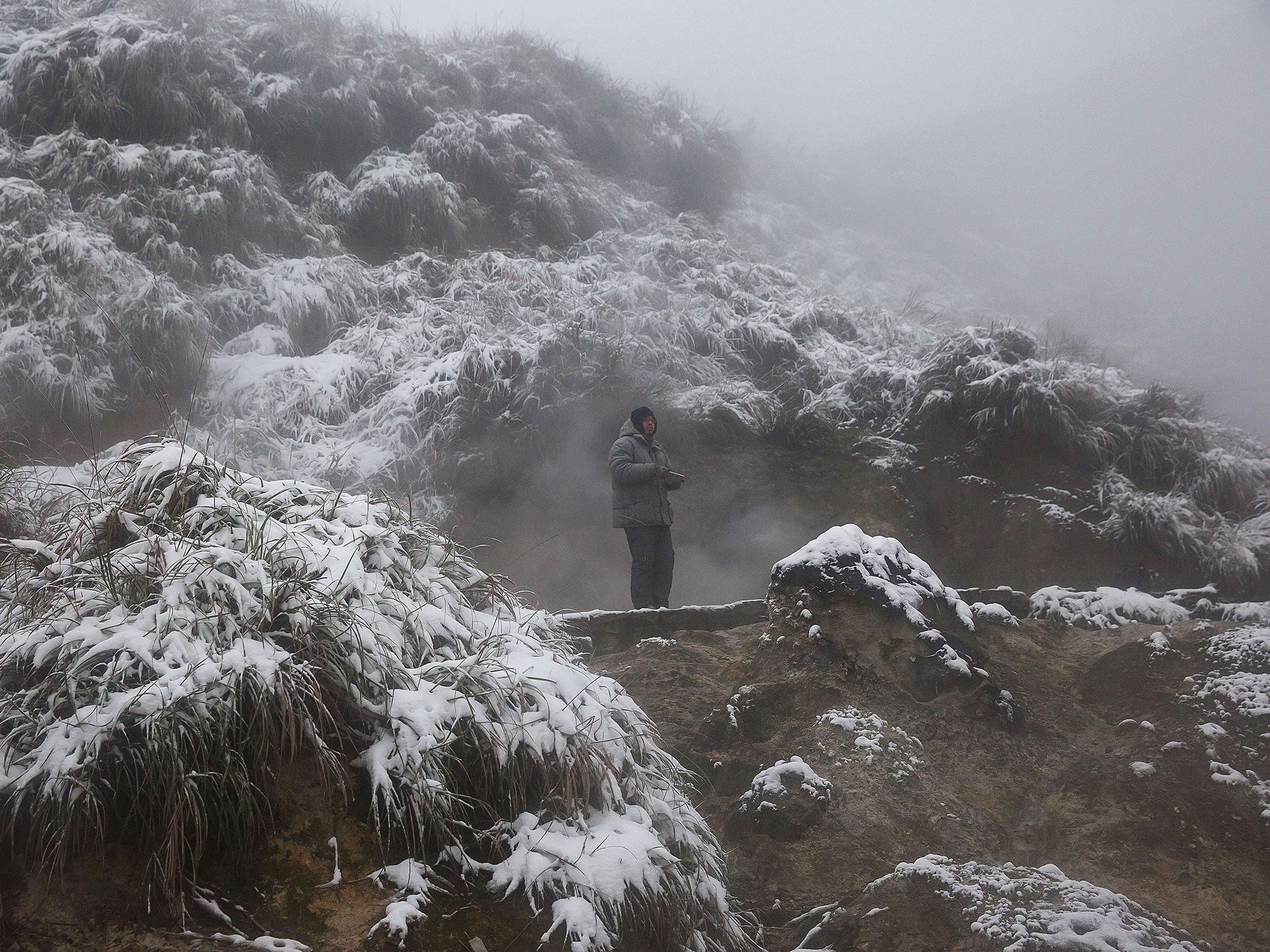 More than 60 people have died as a band of extreme cold weather spread across eastern Asia, stranding tens of thousands of tourists and bringing some regions their lowest temperatures for half a century.
While much international attention has been focussed on the heavy snowfalls in the eastern US, another cold snap has descended over Korea, China, Hong Kong and Japan.
Temperatures dropped across Asia on Sunday due to a deep depression pulling cold weather down from the north. Major Chinese cities like Shanghai and Beijing hit -4/-5, while -18 was recorded in Seoul, South Korea.
Taiwan saw some of the worst impacts, however, because its subtropical geography means most homes are without central heating.
City officials in Taipei said on Monday that temperatures had hit a 16-year low of 4C,well below the average of around 16C. The cold had caused heart trouble, shortness of breath, strokes and hypothermia and accounted for the deaths of at least 57 people in the wider city area.
Up to 3.5 inches of snow blanketed the island's tallest peak, Jade Mountain. Authorities warned people to keep warm out of the cold after a 56-year-old man was found dead on the street.
In Hong Kong, a low of 3C was recorded – the lowest temperature there in almost 60 years. News headlines about Asia's "polar vortex" saw hundreds visit mountains around the city expecting snow.
Cold snap takes Asia
Show all 5
According to the South China Morning Post, the mountains ended up covered not with snow but with underprepared hikers. Police reportedly had to block off roads up to the hills because so many people refused to heed warnings, and some had to be rescued by fire crews.
"We came here to watch snow," a young man said on NOW TV news. "We are a bit disappointed and freezing."
A sixth person was reported to have died on Monday after heavy snows left five people dead over the weekend in western and central Japan, including a woman who fell from a roof while removing snow.
Kyodo News service and other local media reported an 88-year-old woman in western Japan's Tottori prefecture died after a landslide hit her house before dawn.
The bullet train service was delayed, while there were flight cancellations across the country.
In South Korea, more than 500 flights were cancelled to the internationally-renowned holiday island of Jeju, known for its year-round balmy weather and beaches.
The mercury there hit -6C on Sunday, while heavy snow closed the airport entirely. An estimated 60,000 tourists were stranded there in total, the BBC reported, though officials said they hoped the runway would be cleared for use by Monday night.
Most parts of mainland China experienced their coldest weather in decades over the weekend. The southern city of Guangzhou, which has a humid subtropical climate, saw snow for the first time since 1967 on Sunday, the city's meteorological service said.
The cold led to at least four deaths — strawberry farmers who died of carbon monoxide poisoning when they turned up heating in a plastic greenhouse, the Xinhua News Agency reported.
The National Meteorological Bureau forecast that temperatures in southern China would drop another 3-8 degrees Celsius on Monday.
Join our commenting forum
Join thought-provoking conversations, follow other Independent readers and see their replies