Aung San Suu Kyi to keep Nobel Peace Prize despite UN saying Myanmar carried out act of genocide against Rohingya
Leader of Myanmar government criticised for failing to speak out against military crackdown
Samuel Osborne
Wednesday 29 August 2018 23:31 Comments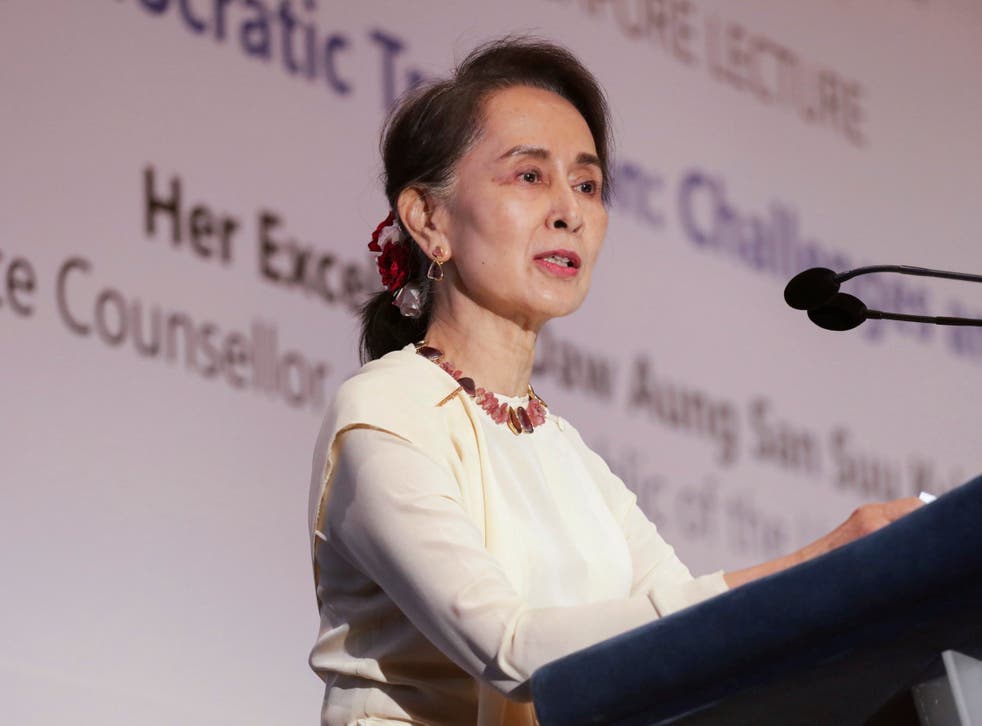 Aung San Suu Kyi will not be stripped of her Nobel Peace Prize despite a United Nations report which said Myanmar's military carried out an act of genocide against Rohingya Muslims.
UN investigators said Myanmar's military took part in mass killings and gang rapes and its top generals should be prosecuted for war crimes and crimes against humanity.
Ms Suu Kyi, who leads the government of Myanmar and won the Nobel Peace Prize in 1991 for campaigning for democracy, has been criticised for failing to speak out against the military crackdown in Rakhine state.
But the Norwegian Nobel Committee said her prize would not be withdrawn.
"It's important to remember that a Nobel Prize, whether in Physics, Literature or Peace, is awarded for some prize-worthy effort or achievement of the past," said Olav Njoelstad, the secretary of the committee.
"Aung San Suu Kyi won the Nobel Peace Prize for her fight for democracy and freedom up until 1991, the year she was awarded the prize," he said.
The rules regulating the Nobel Prizes do not allow for a prize to be withdrawn, he added.
Myanmar's Rohingya Muslim crisis explained
Last year, the head of the committee, Berit Reiss-Andersen, also said it would not strip the award after previous criticism of Ms Suu Kyi's role in the Rohingya crisis.
"We don't do it. It's not our task to oversee or censor what a laureate does after the prize has been won," she said in a television interview.
"The prize winners themselves have to safeguard their own reputations."
Rohingya crisis in photos

Show all 15
Myanmar rejected the UN report and a government spokesman said it was flawed because investigators had not visited Rakhine state – yet it was the government itself that had denied them access.
The UN report was based on more than 870 interviews with Rohingya refugees, as well as satellite imagery and verified photos and videos of the massacres compiled over the past year.
It said Ms Suu Kyi "has not used her de facto position as head of government, nor her moral authority, to stem or prevent the unfolding events, or seek alternative avenues to meet a responsibility to protect the civilian population".
Register for free to continue reading
Registration is a free and easy way to support our truly independent journalism
By registering, you will also enjoy limited access to Premium articles, exclusive newsletters, commenting, and virtual events with our leading journalists
Already have an account? sign in
Join our new commenting forum
Join thought-provoking conversations, follow other Independent readers and see their replies