Australian police accused of 'blood on their hands' for handing over drug smugglers to be executed in Indonesia
Australian authorities shared intelligence with Indonesian police leading to their arrest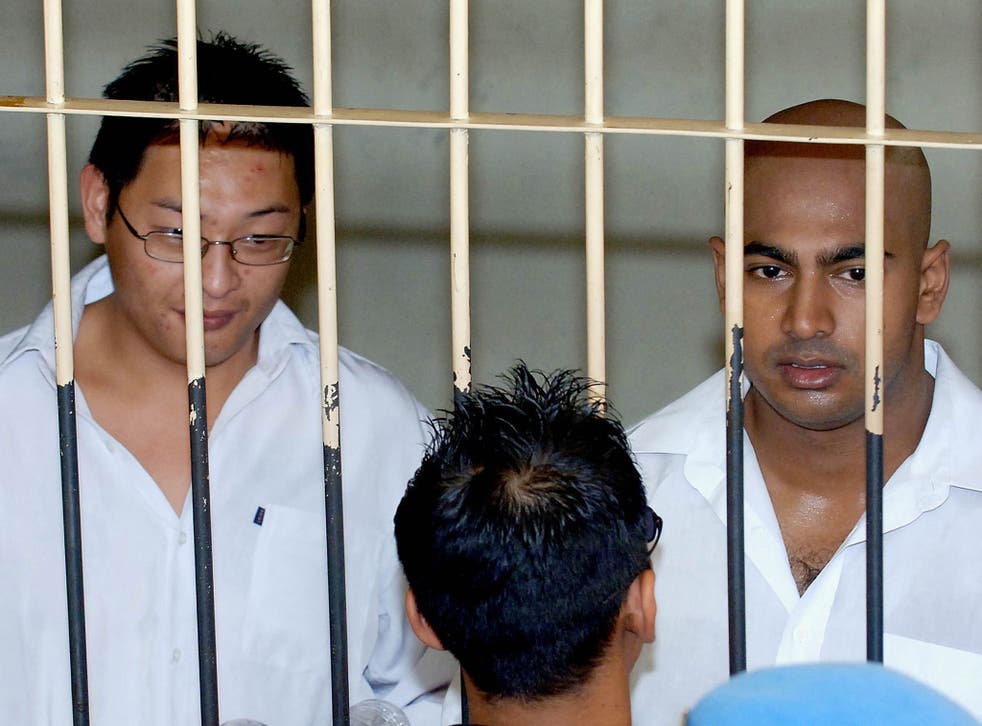 The execution of two Australians and six other convicted drug smugglers in Indonesia has been delayed at the last minute to allow them to spend more time with their families.
Friends of the doomed inmates claimed Australian police will have "blood on their hands" if they are killed for assisting Indonesian authorities with their arrest 10 years ago.
Andrew Chan, 31, and Myuran Sukumaran, 33, are among a group of convicted drug smugglers due to imminently be shot dead by a firing squad but their transfer to the island prison where executions take place has been postponed.
Officials showed no sign of heeding international pleas for clemency from Australian Prime Minister Tony Abbott and United Nations Secretary-General Ban Ki-moon, among others.
More than 200,000 people have signed an Amnesty International letter calling on Indonesia to stop the executions.
Chan and Sukumara were convicted of being the ringleaders of the "Bali Nine", a group of nine Australians arrested in 2005 for attempting to smuggle 8.3 kilograms of heroin to Australia from the Indonesian resort island of Bali.
The pair were sentenced to death while the other gang members were given prison sentences ranging from 20 years to life.
The Australian Federal Police (AFP) has been accused of having blood on its hands if they are killed because of their part in allowing Indonesia to imprison them.
A barrister and family friend of Scott Rush, another member of the Bali Nine who had his death sentence reduced to life imprisonment on appeal, told Australian television that police assured him the men would be intercepted before leaving Australia to avoid Indonesian custody.
Bob Myers said he had appealed to the federal police on behalf of Rush's father, Lee, who had discovered his son was heading to Indonesia and suspected he was involved in smuggling.
The barrister claims his federal police contact assured him Rush would be stopped before leaving Australia, preventing the possibility of an Indonesian death penalty, but just days later he was arrested along with the other smugglers in Bali.
"That puts blood on their hands," Mr Myers added. "Why was the AFP prepared to sacrifice nine Australian lives?"
Graham Ashton, deputy commissioner of the AFP, said it would reveal more about its role in the case after it is resolved.
"The AFP does not have blood on its hands," he told reporters last week.
The Indonesian police had been tipped off by their Australian counterparts, who sent them most of the names and flight details of the group, the Australian Broadcasting Corporation reported.
A spokesperson for the force said that a Federal Court judge ruled in 2006 that the AFP had acted lawfully when it disclosed information leading to the arrest of the Bali Nine to Indonesian authorities.
"This is a very sad illustration of the harsh dangers people can ultimately face when they are involved in international crime and drug trafficking," he added.
"The AFP cannot limit its cooperation to countries that have similar legal systems as Australia...in the case of the Bali Nine, the AFP was not in a position to prevent these people from travelling to Indonesia.
"The AFP had no evidence or lawful reason to detain, much less arrest or charge, any member of the Bali Nine before their departure from Australia."
The other convicts to be executed are five men from France, Brazil, Ghana, Nigeria and Indonesia, and a woman from the Philippines.
"The executions are, until today, on schedule which means there are no cancellations," said Tony Spontana, a spokesman for the Indonesian Attorney General's office.
"The change is only in the transfer (of the prisoners). This is our response to requests by the Australian government and the families to give them more time."
He said on Tuesday that officials surveying the Nusa Kambangan island prison, off Java, found it was not ready to handle the executions.
The inmates are currently being held in Bali and will be transferred after the location is ready, although a date has not been given.
Indonesian President Joko "Jokowi" Widodo has rejected appeals by Australia's government to allow them to live and vowed not to grant mercy to any other drug offenders because Indonesia is suffering a "drug emergency."
The country has notoriously strict drug laws and executed six convicts by firing squad at Nusa Kambangan last month, including foreigners from Brazil, Malawi, Nigeria, the Netherlands and Vietnam, brushing aside last-minute appeals by foreign leaders.
There are 133 people on death row in Indonesia, including 57 for drug crimes and two convicted terrorists.
Additional reporting by agencies
Register for free to continue reading
Registration is a free and easy way to support our truly independent journalism
By registering, you will also enjoy limited access to Premium articles, exclusive newsletters, commenting, and virtual events with our leading journalists
Already have an account? sign in
Register for free to continue reading
Registration is a free and easy way to support our truly independent journalism
By registering, you will also enjoy limited access to Premium articles, exclusive newsletters, commenting, and virtual events with our leading journalists
Already have an account? sign in
Join our new commenting forum
Join thought-provoking conversations, follow other Independent readers and see their replies