Baby Gammy: alleged Australian parents of Down's syndrome child deny knowledge of boy
Conflicting accounts surround story of 'abandoned' surrogate baby
Loulla-Mae Eleftheriou-Smith
Tuesday 05 August 2014 08:50 Comments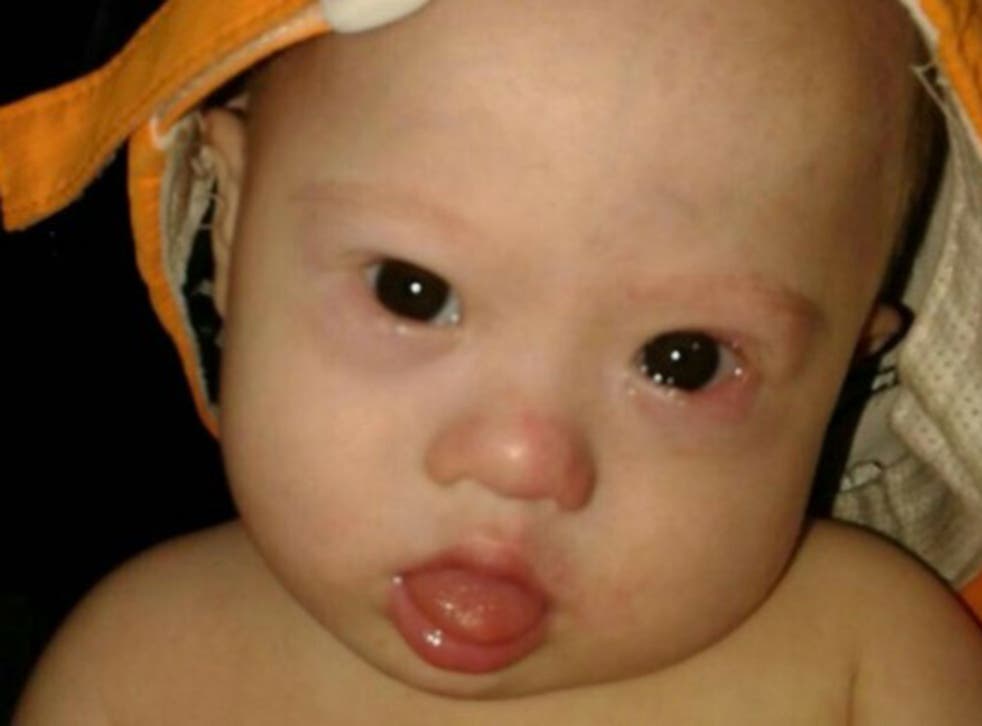 Baby Gammy, the six-month-old child allegedly abandoned by an Australian couple because he has Down's Syndrome, has become shrouded in conflicting reports about how and why he and his healthy twin sister were separated as the couple deny any knowledge of him.
The Australian couple, who have not revealed their identities, have reportedly denied to both ABC and Channel Nine that they abandoned the baby in Thailand and that they took only Gammy's healthy sister home with them.
The couple claim they had no knowledge of baby Gammy. Speaking to Channel 9, the alleged father told ABC the Thai surrogacy agency had only told the couple about one baby: the healthy girl, whose birth certificate shows she is a similar age to Gammy.
He claimed couple had had a "traumatising" experience with the surrogacy agency, and had been informed that it no longer existed.
This directly conflicts with the account of Gammy's surrogate mother, Pattharamon Janbua, who has been looking after the baby as her own since he was born.
Ms Janbua, 21, told the Sydney Morning Herald she had been offered $11,700 (£6,450) by a surrogacy agency to have the baby for the couple, who could not conceive themselves. She accepted the offer as she and her husband had debts they were struggling to pay, she said.
Once Ms Janbua was told she was having twins, the agency reportedly offered an extra $1,673 (£923) for the additional baby. When it was discovered a month later that one of the babies had Down's Syndrome, the agency reportedly told Ms Janbua that the parents did not want the disabled child, and told her to have an abortion.
She refused as the act of abortion as it did went against her Buddhist beliefs.
Ms Janbua claims that the Australian couple, who she never met, stayed in Thailand for a month, and only visited and paid attention to Gammy's sister.
"He did not buy milk for Gammy. He only bought milk for the girl," she told Fairfax Media.
"The twins stayed next to each other but the father never looked at Gammy … I could say he never touched Gammy at all."
More than $220,000 has been raised to help baby Gammy, who is in hospital with a serious lung infection and who requires surgery for a congenital heart condition, since his story was reported last week.
Hands Across The Water, an Australian based charity that helps at-risk Thai children, has been selected by the fundraisers who set up the GoFundMe page to distribute the money for the baby.
The charity's founder, Peter Baines, told the Guardian Australia: "We will meet the immediate needs of his treatment in hospital now and then develop a long-term strategy over the next couple of weeks."
He added that the money raised would likely be placed in a trust to fund his medical expenses over the coming years.
Register for free to continue reading
Registration is a free and easy way to support our truly independent journalism
By registering, you will also enjoy limited access to Premium articles, exclusive newsletters, commenting, and virtual events with our leading journalists
Already have an account? sign in
Join our new commenting forum
Join thought-provoking conversations, follow other Independent readers and see their replies