Bakers suffer as Sri Lanka wages war on 'wheat terrorism'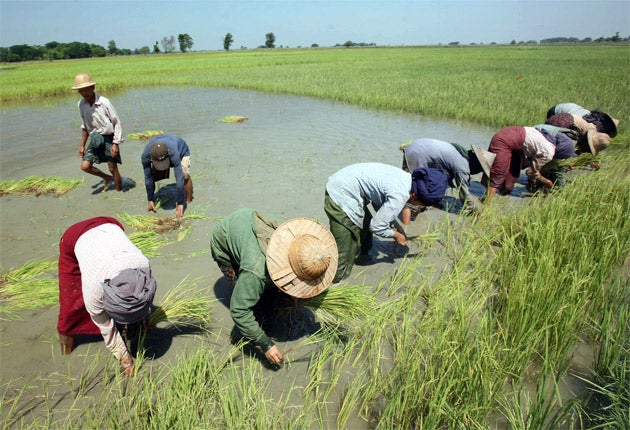 More than a year after they crushed ethnic rebels and put an end to a decades-long civil conflict, the authorities in Sri Lanka have declared war on wheat.
Such is the passion and nationalist fervour of some government ministers to replace wheat products with domestically produced rice, they are talking of a "war against wheat-flour terrorism". The drive by the government, headed by President Mahinda Rajapaksa, has seen bans on wheat products being served in government offices, prisons, schools and hospital canteens and a government subsidy for it to be scrapped. The impact of the move has been so dramatic that more than 2,000 bakers have found themselves out of work, according to their industry body.
The All Ceylon Bakery Owners' Association said more than a quarter of bakeries in the island had closed down this year because of high taxes and other government moves to discourage imported wheat.
"The government is promoting rice flour and wants to support local farmers," Mahinda Ranasinghe, the association's treasurer, told The Independent. "There has been a lot of adverse publicity. For 30 years we have been using the word terrorism. Now there is no terrorism in Sri Lanka. But it seems people still want to use that word."
The decision to discourage the eating of wheat has economic, public health and nationalistic motives. The government has claimed consuming rice is healthier than eating wheat. Officials said there was also a desire to promote locally produced products rather than foreign imports; while Sri Lanka does produce some wheat, much of it is imported. Some of the more nationalist elements have even said wheat is part of an international conspiracy foisted upon the country by foreign corporations.
Yet the main reason appears to be economic. Last year, Sri Lanka spent more than £150m on imported wheat. The end of the war against the Liberation Tigers of Tamil Eelam (LTTE) has also opened up areas of the north and east of Sri Lanka, previously in rebel hands but which were once considered rice bowls of the country. "We used to have to import wheat. Now we have an excess of rice," said one Sri Lankan official. "It is more that we want to revive the food habits of the past."
What is not clear is why the authorities in Colombo have launched the drive for rice with such intensity and utilising such loaded language.
Wimal Weerawansa, head of the Jathika Nidahas Peramuna or National Freedom Front, part of the ruling coalition and currently Sri Lanka's minister for housing and construction, has been outspoken in declaring the move as a strike against "wheat terrorism".
Mr Ranasinghe said the bakers' association was now trying to comply with government demands to use rice flour in their products. He said bakers were currently testing bread recipes that used up to 25 per cent rice flour. It was impossible to use 100 per cent rice flour, he added, because of the absence of gluten. He said: "We are taking every opportunity to use rice flour. We consider it our patriotic duty."
Join our commenting forum
Join thought-provoking conversations, follow other Independent readers and see their replies