Lombok earthquake latest: At least 91 dead after magnitude-7 quake hits Indonesian island near Bali
Tsunami warning issued after tremors shake popular tourist destination
Deadly magnitude-7 earthquake rocks Indonesian island of Lombok, near Bali
At least 91 people have died after a powerful earthquake struck the Indonesian island of Lombok, near Bali.
The earthquake, which hit early on Sunday evening, prompted local authorities to issue a tsunami warning although the alert was later lifted.
Authorities said on Monday the death toll could rise further still, and that rescuers still had not reached some hard-hit areas.
It was the second deadly earthquake in a week to hit Lombok. On 29 July 16 people were killed and hundreds of houses damaged, some of which collapsed in Sunday evening's temblor, killing those inside.
Powerful earthquake rocks Indonesia's Lombok island

Show all 55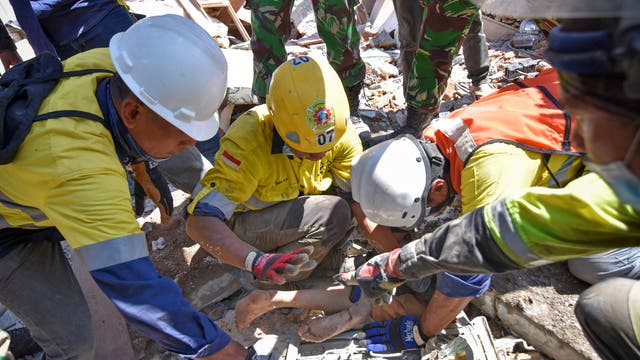 National Disaster Mitigation Agency spokesman Sutopo Purwo Nugroho told a news conference damage was "massive" in the north of Lombok.
Some areas still had not been reached, with rescuers hampered by collapsed bridges, electricity blackouts and damaged roads blocked with debris.
Video showed screaming people running in panic from houses in a Bali neighbourhood and vehicles rocking. On Lombok, soldiers and other rescuers carried injured people on stretchers and carpets to an evacuation centre.
The Indonesian Agency for Meteorology, Climatology and Geophysics said the latest 7-magnitude quake struck at a depth of 15km (9.3 miles) on Sunday evening.
Najmul Akhyar, district chief of north Lombok, told MetroTV ​three people had been killed, although he was unable to assess the whole situation due to an electrical blackout.
Indonesian National Board for Disaster Management spokesperson Sutopo Purwo Nugroho said the quake was felt strongly across Lombok and Bali and had damaged houses on both islands.
The quake was felt for several seconds in Bali, where people ran out of houses, hotels and restaurants.
"All the hotel guests were running so I did too. People filled the streets," said Michelle Lindsay, an Australian tourist.
"A lot of officials were urging people not to panic."
Other witnesses said the quake got stronger over several seconds and rattled windows and doors in their frames.
Video captured by local stations showed patients being evacuated from a hospital in the island's Tabanan district.
Twitter user Brad Palmer said in a post: "Not everyday you feel a level 7 earthquake hit. Currently in Bali and was sat in restaurant and suddenly the whole place started shaking and everyone fled to the streets, very scary experience.
"Have read it's hit Lombok hard again so I hope anyone over there keeps safe."
Another social media user, Daniel Nepstad, said: "The tsunami warning just ended here in Bali. Our children, Astrid, 5, Hendrik, 21 [months], bewildered and frightened by violent shaking, are back asleep from 7.0 earthquake in Lombok, 73 miles away.
"The sea lies 150 metres away from our house. Our bags are packed, and will remain so."
Iwan Asmara, from the local disaster mitigation agency, said people poured out of their houses in panic and moved to higher ground, particularly in Mataram and north Lombok.
Take That singer Garry Barlow was reportedly in Lombok, while model Chrissy Teigen was on Bali, when the earthquake hit. They both reported being safe.
The United States Geological Service (USGS) said the epicentre was 2km east-southeast of Loloan, with a depth of 10.5km (6 miles).
Indonesia is prone to earthquakes due to its location on the Pacific "Ring of Fire", an arc of volcanoes and fault lines in the Pacific Basin.
In December 2004, a massive magnitude 9.1 earthquake off Sumatra triggered a tsunami that killed 230,000 people in a dozen countries.
Associated Press contributed to this report
Join our new commenting forum
Join thought-provoking conversations, follow other Independent readers and see their replies