Mount Agung eruption: Bali volcano could erupt again, tourists warned after ash cloud disrupts flights
Volcano throws ash over dozens of villages, as nine flights between Bali and Australia scrapped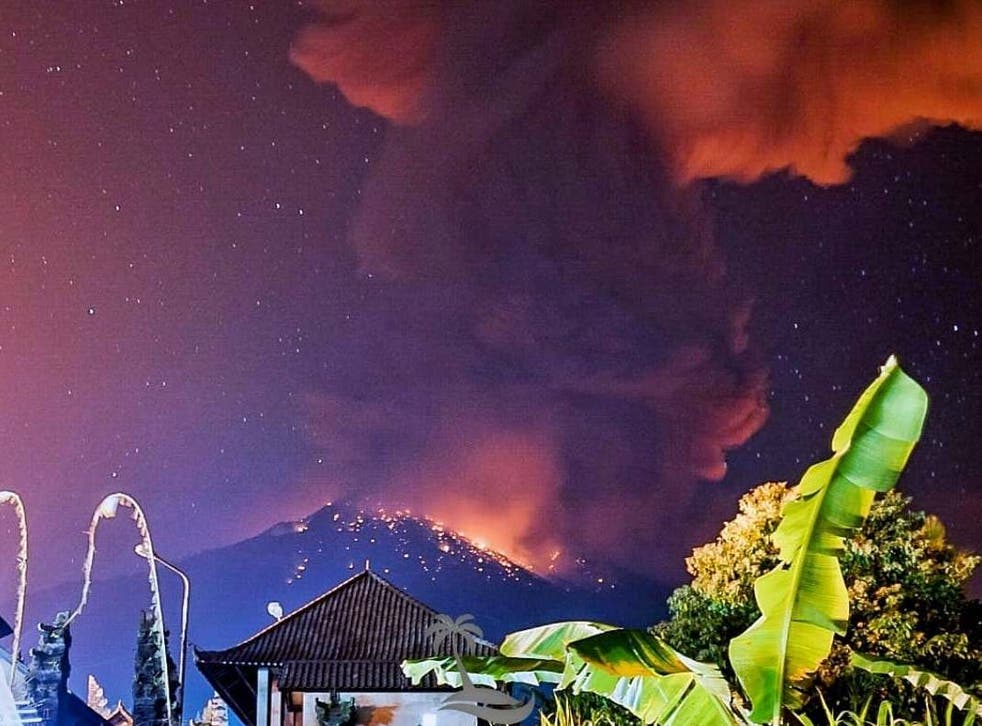 A volcano has erupted on the Indonesian holiday island of Bali, causing flight cancellations to and from Australia after a huge ash cloud rose into the sky.
The Mount Agung volcano spewed out lava and showers of rocks over a distance of about two miles late on Friday night, with ash falling over dozens of villages, according to officials on the island.
There were no reports of casualties, but the national disaster agency imposed a 2.5 mile exclusion zone around the mountain and said 50,000 masks would be available as a precaution.
Bali airport spokesman Arie Ahsanurrohim said nine flights between Bali and Australia were cancelled on Friday night, flights to and from New Zealand have not been affected.
Brent Thomas, commercial director at New Zealand travel company House of Travel, said tourists should be operating on a "watch and see" basis. "It could go dormant again or it could erupt again, no one knows," he told the New Zealand Herald.
Six postponed flights for Qantas and Virgin Australia were set to go ahead on Saturday, said Mr Ahsanurrohim, as the island's airport returned to normal operations.
A spokesperson for Auckland Airport said New Zealand flights were also expected to go ahead today. "There are no disrupted flights that we are aware of, but this may change."
Photographs taken near Agung showed an ash column and glowing lava in the crater of the volcano, which rises over eastern Bali at a height of just over 3,000 metres.
In late 2017, authorities raised the alert level on Agung after a spike in activity, triggering evacuations and travel chaos at the time.
The alert level has since been lowered but the rumbling Agung has erupted intermittently since then and occasionally disrupted flights.
A major eruption in 1963 killed more than 1,000 people and razed several villages. Agung is only one more than 120 active volcanoes in Indonesia, which is prone to eruptions and earthquakes due to its location on the "Ring of Fire" – a series of fault lines stretching from the western hemisphere to Japan and southeast Asia.
Famous for its surf, beaches and temples, Bali attracts around 5 million visitors a year.
Additional reporting by agencies
Join our new commenting forum
Join thought-provoking conversations, follow other Independent readers and see their replies