Bali Nine convict to refuse blindfold when he faces firing squad in Indonesia
Myuran Sukumaran and Andrew Chan have been saying their last goodbyes to relatives
Lizzie Dearden
Tuesday 28 April 2015 15:28 Comments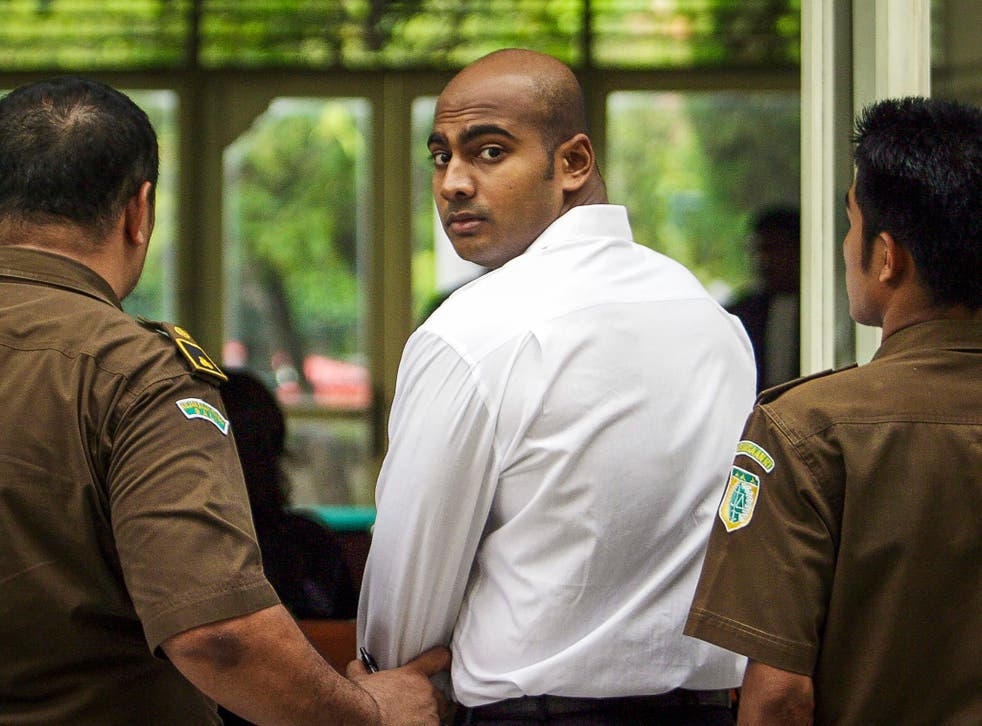 One of the two Australian prisoners due to be executed in Indonesia has vowed not to wear a blindfold when he faces the firing squad.
A friend of Myuran Sukumaran, 34, said he wants to look his killers in the eye when he dies and does not want his mother "to think he's a weeping mess" in his final moments.
He and Andrew Chan, 31, are expected to have their death sentences carried out overnight after 10 years in prison in Indonesia for drug smuggling.
Authorities granted Chan's last wish yesterday, which was to marry his Indonesian girlfriend Febyanti in a small ceremony in his cell.
Security at the prison was heightened today and religious counsellors, doctors and the firing squad were alerted to start final preparations for the execution of four Nigerians, the two Australians, an Indonesian, a Brazilian and a Filipino woman.
"We're hoping for a miracle," said Marites Veloso, inmate Mary Jane Veloso of the Philippines, told reporters as she entered the prison possibly for the final time.
Bali Nine pair executed

Show all 22
A dozen ambulances were seen arriving at the prison, with some carrying white satin-covered coffins, in ominous scenes.
Relatives were expected to be expelled from the jail at 2pm local time (8am BST) but they were reportedly given more time to say their farewells.
The only person remaining with the men was due to be a pastor, as required by Indonesian law, but Australian media reported that two religious counsellors nominated by Chan and Sukumaran had been denied access to their cells today for unknown reasons.
The pair's lawyers were seen carrying away more of Sukumaran's paintings after he expressed a wish to continue his art until the last possible moment.
One painting depicted a heart, dripping with blood, with an inscription on the back that read: "Satu hati, satu rasa di dalam cinta" – "one heart, one feeling in love".
It had been signed by all nine prisoners on death row with messages for their families and the world.
The heart is where 12 guns will be aimed if his death sentence is carried out. The condemned are given the choice of standing, sitting or kneeling and then blindfolded before they are shot.
Ben Quilty, an award-winning Australian artist who taught Sukumaran to paint, said he told him he would refuse the blindfold.
"Myuran always said to me that he would never take this lying down; that he would stare them down, that no one would cover his eyes, that he would face it with dignity," Mr Quilty told 2GB Radio.
"He will face it with strength and dignity, I know that, I know that about him, because he won't want his mother to think he's a weeping mess at the end.
"He'll want his mum to think that he's brave and strong and dignified and she should be proud of the man that he's become."
A new court date set for 12 May raised the possibility of a reprieve yesterday but that hope was short-lived as Indonesian authorities said the executions would go ahead as planned.
The government in Jakarta has strained international ties by rejecting global pleas for clemency from leaders in Australia and countries with other convicts due to be killed.
The United Nations is among those condemning their deaths, with Secretary-General Ban Ki-Moon calling for Indonesia to declare a moratorium on capital punishment.
Rebuffing last-minute appeals, Attorney General H.M. Prasetyo told Reuters that the nine had been given notice and had been placed in isolation cells on Monday night.
Julie Bishop, the Australian foreign minister, said she had received a letter from her Indonesian counterpart that gave no indication President Joko Widodo would change his mind and grant the clemency requested by Australia.
Sukumaran and Chan were convicted in 2006 as part of the "Bali Nine" drug smuggling gang who were arrested on the island for trying to smuggle 8kg of heroin to Australia. Their six Australian co-conspirators were jailed for between 18 years and life in Indonesia.
Only six people have been executed so far this year in Indonesia, which resumed capital punishment in 2013, and the nine death sentences expected to be carried out today have been delayed for weeks due to a series of last-minute legal challenges.
Additional reporting by Reuters
Register for free to continue reading
Registration is a free and easy way to support our truly independent journalism
By registering, you will also enjoy limited access to Premium articles, exclusive newsletters, commenting, and virtual events with our leading journalists
Already have an account? sign in
Register for free to continue reading
Registration is a free and easy way to support our truly independent journalism
By registering, you will also enjoy limited access to Premium articles, exclusive newsletters, commenting, and virtual events with our leading journalists
Already have an account? sign in
Join our new commenting forum
Join thought-provoking conversations, follow other Independent readers and see their replies