Bangkok burns as troops try to crush remaining protesters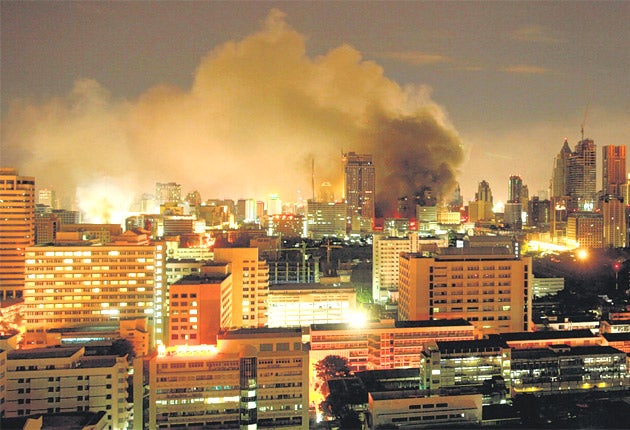 The Thai government forced Red Shirt protesters to surrender yesterday, but far from bringing the six-week stand-off to a close, the day ended with downtown Bangkok engulfed in flames, at least six people dead, and hundreds of people cowering in a temple as bullets and grenades rained down outside.
Prime Minister Abhisit Vejjajiva's government imposed the first curfew in the capital for 15 years and he appeared on television last night to offer reassurance. "I am confident and determined to end the problems and return the country to peace and order once again," the Eton-educated premier said.
But there were signs that the violence had spread beyond the capital. Town halls were torched in three northern areas regarded as strongholds of the anti-government movement, and the 8pm to 6am curfew was extended to 24 provinces. One prominent political historian said the unrest was the "most widespread and most uncontrollable" political violence Thailand had ever seen.
In Bangkok, fire ripped through Central World, the second-biggest shopping mall in south-east Asia, gutting the complex and leaving it on the verge of collapse. The Thai stock exchange, 16 banks and a cinema were also set on fire, cloaking the skyline in black smoke.
Soldiers had launched the offensive at 5am, blasting the barricades of tyres and bamboo with high-pressure hoses Armoured personnel carriers were then sent into the Raj Prasong shopping district, with steel-helmeted soldiers, armed with assault rifles and shotguns, following nervously on foot. Events took a turn for the worst when the Red Shirts' leaders turned themselves in. "Too many have died, I'm giving up so nothing more happens to the people," Nattawut Saikua told the crowd as he was being arrested.
His comments were met with tears and wailing from the mostly women in front of the stage at the heart of Red Shirt encampment, but angry hardline youths went on the rampage.
People scarpered in different directions, many to the Wat Patum temple, that had supposedly been set aside as a safe zone. "We just want a little bit more freedom, we are all Thais. Why won't they negotiate with us. I'm not a terrorist, all I have is this," said protester Jo Chartchai, holding up a slingshot that resembled a schoolboy's toy.
Thai officials said five protesters and Italian photojournalist Fabio Polenghi had been killed during the clashes. The Independent's correspondent, Andrew Buncombe, said he had counted an additional seven bodies around the temple complex before he was evacuated.
The Red Shirts, who mostly hail from Thailand's working class and rural populations, are demanding immediate elections, claiming Mr Abhisit is oblivious to their plight. They are mostly supporters of former premier Thaksin Shinawatra, whom the government claims is orchestrating the unrest from overseas, possibly from Montenegro. Last night, Mr Thaksin warned about guerrilla warfare. "There is a theory saying a military crackdown can spread resentment and these resentful people will become guerrillas," the man who was ousted in a bloodless coup in 2006 told Reuters.
Join our commenting forum
Join thought-provoking conversations, follow other Independent readers and see their replies