Bangladesh elections: Violent crackdown and opposition boycott leave voters in fear as country goes to polls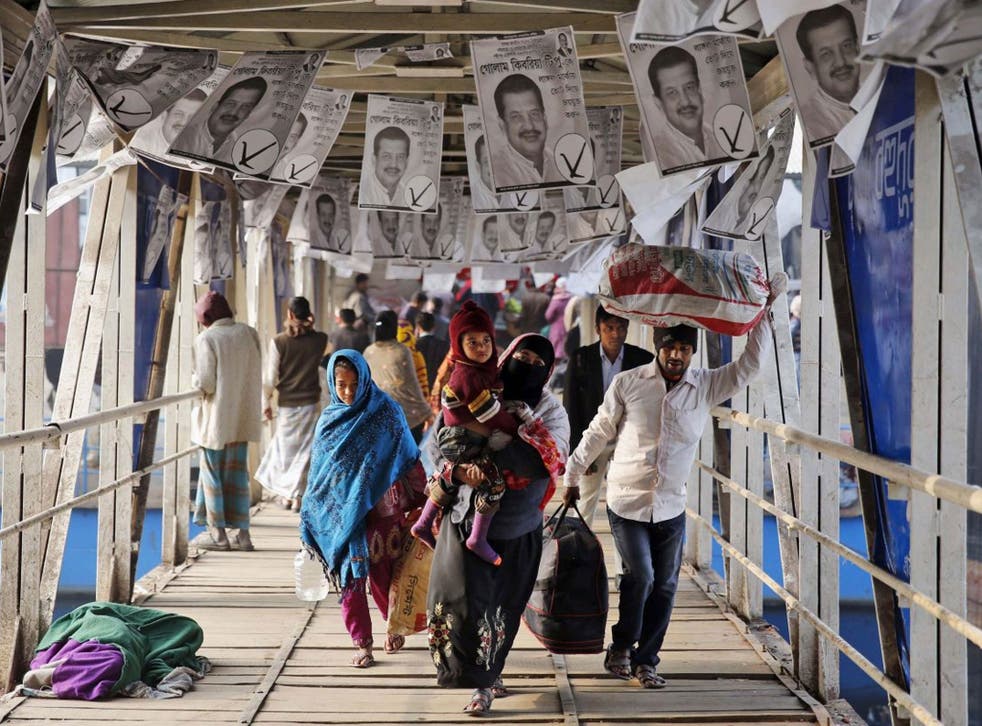 Bangladeshi voters are due to go to the polls today in a much-disputed election marred by fresh violence over the weekend.
At least three people were killed in clashes and dozens of polling stations were burned before voting began yesterday, with the opposition, the Bangladesh Nationalist Party (BNP), calling a two-day national strike over the weekend in order to boycott an election it branded a "scandalous farce".
The boycott makes it increasingly likely that the protests and political violence that resulted in more than over 275 deaths last year will continue.
Much of the capital, Dhaka, has been cut off from the rest of the country in recent weeks as the main opposition presses its demands through general strikes and transport blockades.
Police said three people were killed early yesterday in clashes in rural Bangladesh, as violence flared after a number of days of relative calm. Authorities also confirmed that at least 10 people were injured when BNP activists hurled bombs at a railway station , set a train compartment on fire in the northern town of Natore and left two buses ablaze in the port city of Chittagong.
Since Friday there have been at least 100 arson attacks on polling stations across the country, said Bangladesh's election committee yesterday. Many of the stations are housed in schools, offices and other civic buildings.
Tens of thousands of government troops have been deployed to maintain order after claims that opposition supporters have been killed in police shootings and dozens of commuters killed or injured in petrol bombings against strikebreaking buses. The BNP is demanding that the prime minister, Sheikh Hasina, make way for a neutral caretaker administration to oversee the election.
Ms Hasina's refuses to do so, but the Awami League is likely to secure a landslide victory; the BNP boycott has ensured that over half of parliamentary seats have been "filled" due to there being only one candidate.
"I want to go to vote, but I am afraid of violence. If the situation is normal and my neighbours go, I may go," Hazera Begum, a teacher in Dhaka told the Associated Press. "Political forces with extreme views could emerge in the face of government crackdown and repressive measures," said Asif Nazrul, a law teacher and analyst.
Khaleda Zia, head of the BNP, says she is under house arrest – a charge that Ms Hasina denies. Hundreds of BNP supporters have reportedly been detained, along with members of the BNP's Islamist ally, Jamaat-e-Islami.
Register for free to continue reading
Registration is a free and easy way to support our truly independent journalism
By registering, you will also enjoy limited access to Premium articles, exclusive newsletters, commenting, and virtual events with our leading journalists
Already have an account? sign in
Register for free to continue reading
Registration is a free and easy way to support our truly independent journalism
By registering, you will also enjoy limited access to Premium articles, exclusive newsletters, commenting, and virtual events with our leading journalists
Already have an account? sign in
Join our new commenting forum
Join thought-provoking conversations, follow other Independent readers and see their replies