Bangladesh factory collapse: Gap refuses to back safety deal
Attempt to improve conditions for textile workers frustrated by American retailer
Sarah Morrison
Tuesday 14 May 2013 21:10 Comments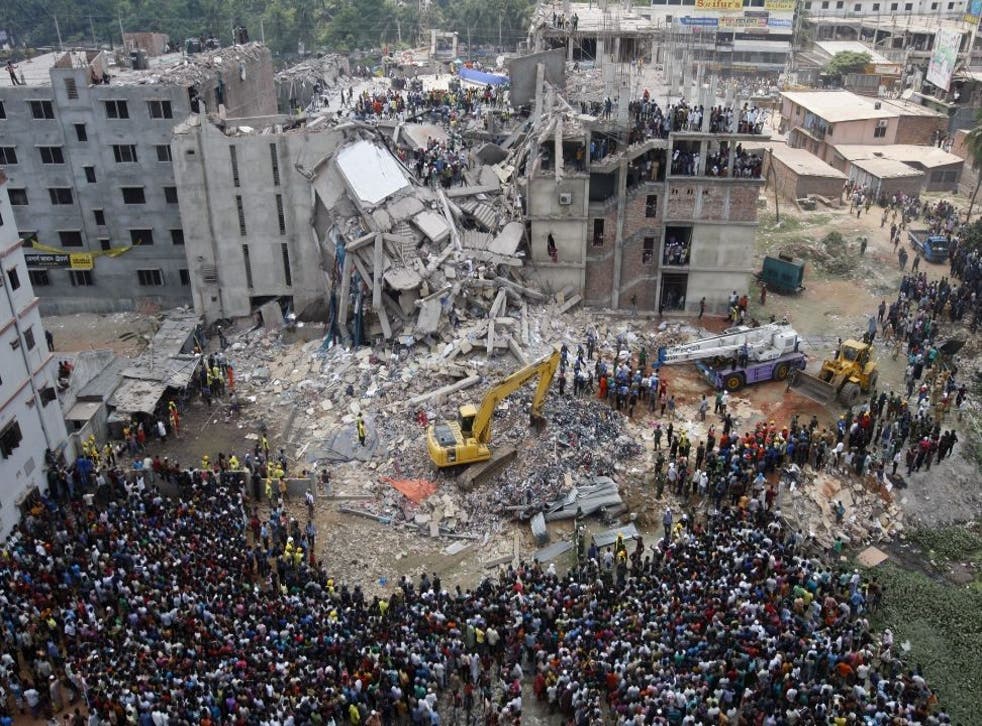 US retailer Gap Inc's refusal to sign an agreement designed to improve safety conditions in Bangladesh's garment factories has been condemned by politicians, charities, and trade unions.
Retailers including H&M, Marks & Spencer, Tesco, Primark, Zara's parent company Inditex, Mango, Benetton, and PVH (owner of Calvin Klein and Tommy Hilfiger) are among those which have signed up to the new plan to improve conditions in factories, and prevent disasters such as the building collapse at the Rana Plaza factory complex, which killed 1127 people.
But Gap Inc. – owner of high street retailer Gap, among other brands – is refusing to sign. The deadline for companies to approve the plan is set for midnight this evening. Other major US retailers, such as Wal-Mart, have also not signed.
Gap was not linked to the factories in the Rana Plaza complex, but works with almost 80 factories in Bangladesh. Gap garments were found in a fatal factory fire in the country just over two years ago. The new agreement, negotiated by retailers and trade unions, will be the first to get multinationals to commit to help fund fire safety and building improvements in factories they work with, or terminate their contracts if repairs cannot be made.
Gap said it was ready to sign on to the agreement but first wanted a change in the way disputes are resolved in the courts.
Christy Hoffman, deputy general secretary of UNI Global Union, which helped draw up the plan, said Gap's concern lies with the legally-binding nature of the terms, and an amendment it has proposed would render the deal all but voluntary. Murray Worthy, a campaigner at anti-poverty charity War on Want, described Gap's position as "absolutely outrageous". He said its objection was a "complete smoke screen" that would "rip the heart" out of the agreement. He added: "It's a straightforward statement that they don't care at all about the safety of their workers and aren't interested in taking action to put that right."
Labour MP John McDonnell said companies, such as Gap, which he said was acting irresponsibly, "must be hit by consumer boycotts."
He added: "Gap's British customers have a duty now to force action by this company."
Green MP Caroline Lucas told The Independent it was "unacceptable some of the biggest high street brands appear so reluctant to sign up to reforms concerning the safety of Bangladeshi workers".
Anna McMullen, campaigns coordinator at workers' rights advocates, Labour behind the Label, said it would be "shameful" for Gap not to sign on.
She added: "In the light of their questionable sourcing history, Gap need to show that they are committed to making the industry safe."
The Independent was not able to reach Gap Inc, but in a statement released on Monday, the retailer said it was "committed to improving working conditions in Bangladesh".
The statement added: "Gap Inc. is ready to sign on today with a modification to a single area – how disputes are resolved.
"This proposal is on the table right now with the parties involved."
Register for free to continue reading
Registration is a free and easy way to support our truly independent journalism
By registering, you will also enjoy limited access to Premium articles, exclusive newsletters, commenting, and virtual events with our leading journalists
Already have an account? sign in
Join our new commenting forum
Join thought-provoking conversations, follow other Independent readers and see their replies