Bangladesh Islamists give government 24-hour ultimatum to sever diplomatic ties with France
France is one of Bangladesh's top export destinations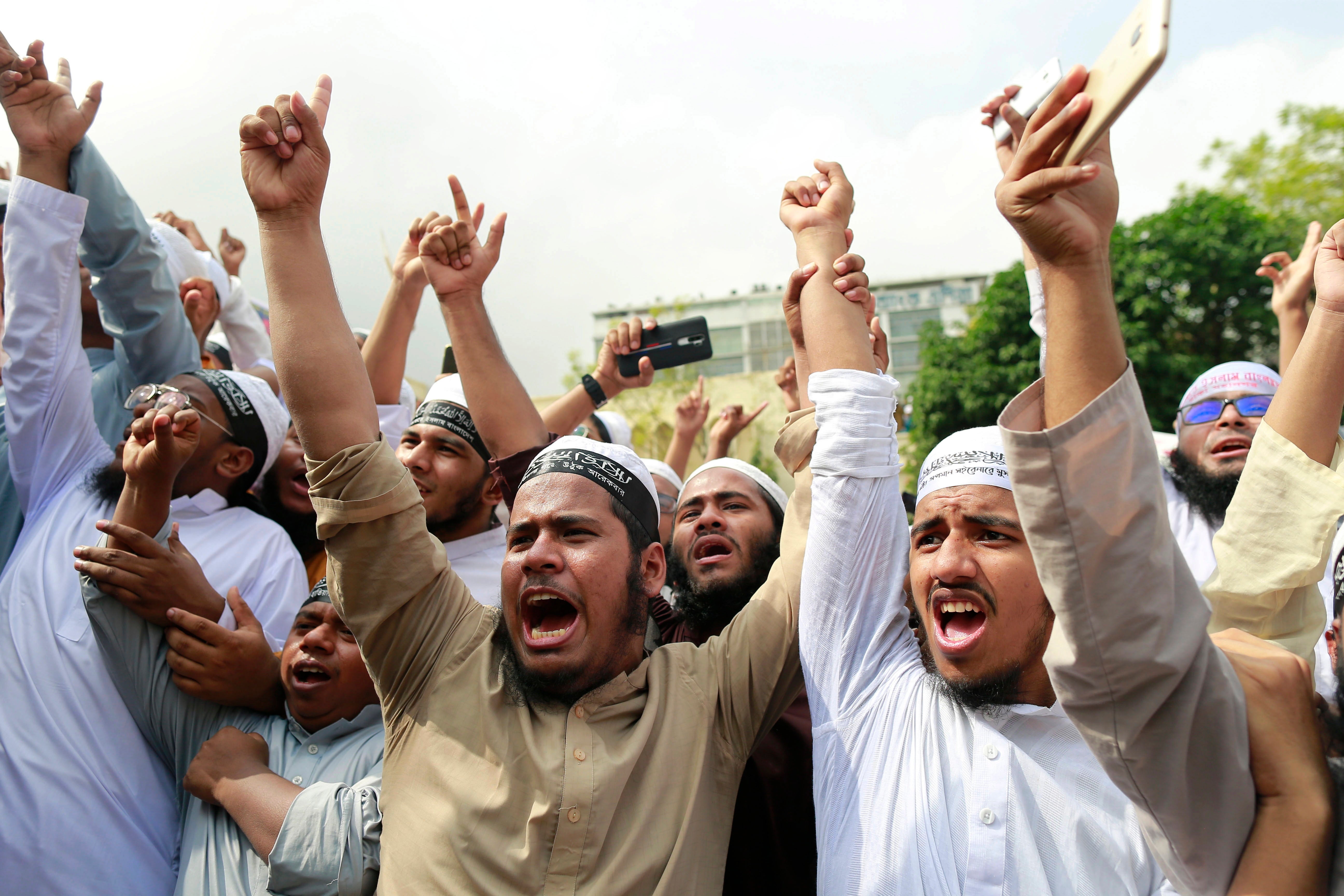 An Islamist group in Bangladesh, Hefazat-e-Islam, has given the country's government a 24-hour ultimatum to cut diplomatic ties with France, as thousands of protesters marched towards the French embassy in Dhaka on Monday.
The protesters demanded a boycott of French products while many carried portraits of French president Emmanuel Macron and cardboard cut-outs garlanded with shoes.  
The protests were led by the Islamist group's secretary-general Junaid Babunagari, who said they were "giving an ultimatum to the government to end diplomatic ties with France within 24 hours", adding that if their demands were not met they would announce "the next course of action".  
However, the Dhaka Tribune reported that after Mr Babunagari ended his rally he told a crowd at a police barricade that "we will not stop here". "We will go to the embassy and destroy it if our demands are not met," he was quoted as saying.  
"[French president] Macron should beg for forgiveness. We will not return home until the government presses home the demands. Statues made in the name of sculptures should be taken down," he demanded amid loud cheers from the protesters.
So far, the government of Bangladesh has not given any official reaction to the Islamist group's demand.
During the protest, Mr Babunagari also demanded capital punishment for anyone found guilty of insulting the Prophet Muhammad in Bangladesh. Prime minister Sheikh Hasina's administration has previously resisted calls to bring in a new law against blasphemy with the death penalty. 
France is one of Bangladesh's top five export destinations, with clothing accounting for the vast majority of them. In 2016, trade between the two countries was worth about €2.7bn (£2.4bn).  
Last month, 47-year-old French teacher Samuel Paty was killed by Abdoulakh A, 18, after he showed his students the caricatures of the Prophet Muhammad published in French satirical weekly magazine Charlie Hebdo. The attacker was later shot dead by the police.  
A few days later, the caricatures and Mr Paty's portrait were projected onto town halls in two cities, Montpellier and Toulouse, for several hours.  
The French president has defended the right to publish the Muhammad cartoons, in comments which sparked protests in several Arab countries and have spread to other Muslim-majority countries such as Indonesia and Bangladesh.
Last week, Bangladesh's neighbour India came out in support of Mr Macron and said that it "strongly deplores the personal attacks in unacceptable language" on the French president and that they are "in violation of the most basic standards of international discourse."
Join our commenting forum
Join thought-provoking conversations, follow other Independent readers and see their replies