Girls in Bangladesh are expected to work or marry. These girls surf instead
'When they're out on the water – it's a break from everything that happens up on land... they're all together out there'
Harriet Agerholm
Thursday 15 September 2016 21:17 Comments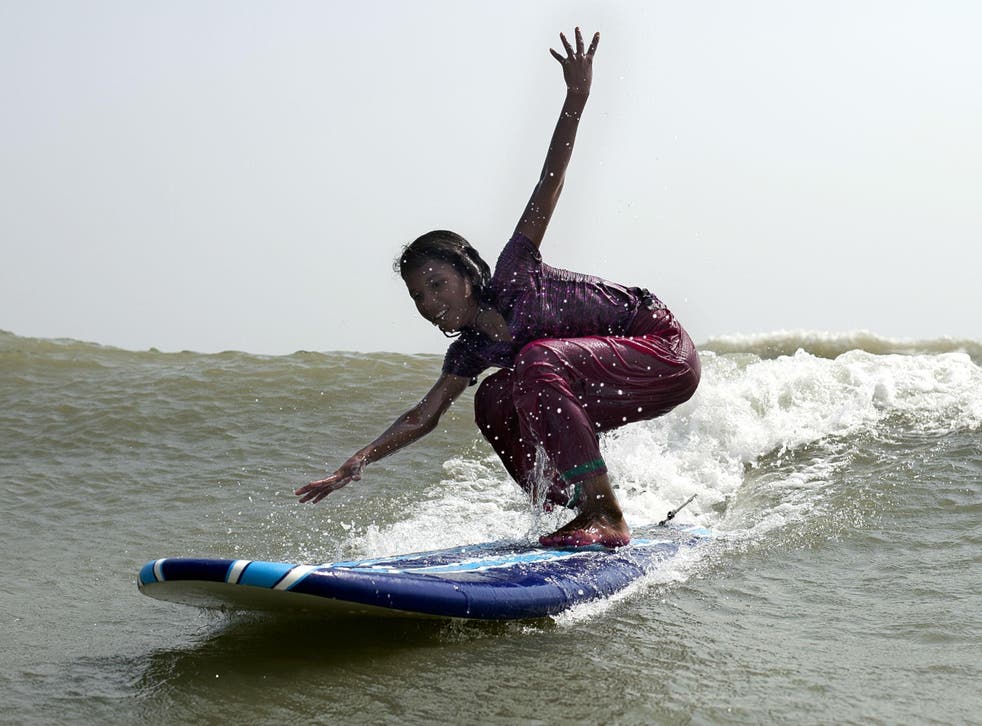 A group of girls used to walk up and down the beaches of south-west Bangladesh selling snacks to tourists. They trod the sands for hours every day offering crisps and eggs to anyone who looked willing to buy them so they could support their families.
Some of the girls, at the age of around 10, were sent to rich households to be their domestic servants.
But the girls do not do that anymore. Instead, they surf.
The group started when Suma saw a lifeguard riding the waves from the beach. She asked him to teach her and he agreed.
Several years later, Rashem Alam's surfing school has eleven girls – the youngest is ten years old and the oldest 15.
Growing up in a conservative country, which has one of the world's highest rates of child marriage, the girls have had to overcome obstacles to keep surfing.
One fifth of girls in Bangladesh are married by the time they are 15. More than half are wed by their 18th birthday. Sexual abuse in the country is commonplace and, according to reports, it is on the rise.
Most girls are expected to stay at home or earn money, rather than go to school. But their surfboards have allowed these girls to escape, at least sometimes.
"Surfing has just given them an outlet to be children," Allison Joyce, a photographer who has been following the girls for the past two years told The Independent.
"To be confident and to dream for more. When they're out on the water – it's a break from everything that happens up on land. They're able to goof off. They're all together out there."
The girls sing Bollywood songs while they wait to catch waves, Ms Joyce said. "It's something they don't get to experience up on land, that freedom."
Surfer girls in Bangladesh

Show all 14
For Mr Alam, who teaches the girls how to swim as well as surf, making sure the girls keep coming is a constant battle.
"At first the parents were angry that they were doing something inappropriate," said Ms Joyce, "They were also angry that they weren't earning money on the beach."
Each time the parents got scared, "Rashed would go to their house and convince them [to let them keep coming]" she said.
He would tell them "No it's not inappropriate. They're not working in a brothel – they're just being girls. They're surfing."
The girls' parents were not their only critics. This year, some of the older boys who surfed in the same patch started to threaten them.
"The older surf guys started to get really upset that the girls were succeeding and that they were thriving," Ms Joyce said.
"They said if they showed up to the beach they would break their legs.
"It was a really scary situation. We thought the girls would get attacked."
When Mr Alam heard the threats he went to the police. He went five times to demand protection for the girls and, eventually, he got it.
Months on, after the girls' surf club moved away from the men's, the girls are safe, according to Ms Joyce.
She has set up a fund to help pay for them to go to school. Only a third of women in Bangladesh can read and write, according to humanitarian organisation, Concern Worldwide. Almost three million children in the country do not receive any education, the majority of them girls.
After the success of the fund, the girl surfers now have enough money to pay for their education for the next year. They have uniforms and schoolbooks.
"For most of these girls it's the first time in their life that they're able to get an education," Ms Joyce said.
But Mr Alam is still concerned about the girls. He wants to leave Bangladesh in the next year to go to the US to join his wife, whose Californian. "But I feel I have to take care of them" he said.
"I feel like I'm their brother. I'm worried whether something will happen," he said.
Mr Alam, who is in his twenties, dropped out of school at a young age. "He grew up sort of with the same background as the girls," said Ms Joyce. "He was forced to work on the beach to help support his family. I think he sees a lot of himself in the girls."
Mr Alam said he was looking for someone who could keep training the girls after he left for the US.
But, he said he would never leave them for good. "I will always come back," he said.
Register for free to continue reading
Registration is a free and easy way to support our truly independent journalism
By registering, you will also enjoy limited access to Premium articles, exclusive newsletters, commenting, and virtual events with our leading journalists
Already have an account? sign in
Join our new commenting forum
Join thought-provoking conversations, follow other Independent readers and see their replies