Bidhya Devi Bhandari: Communist activist elected Nepal's first female President
Ms Bhandari has lead the campaign for women's equality and for an end of the 240-year Hindu monarchy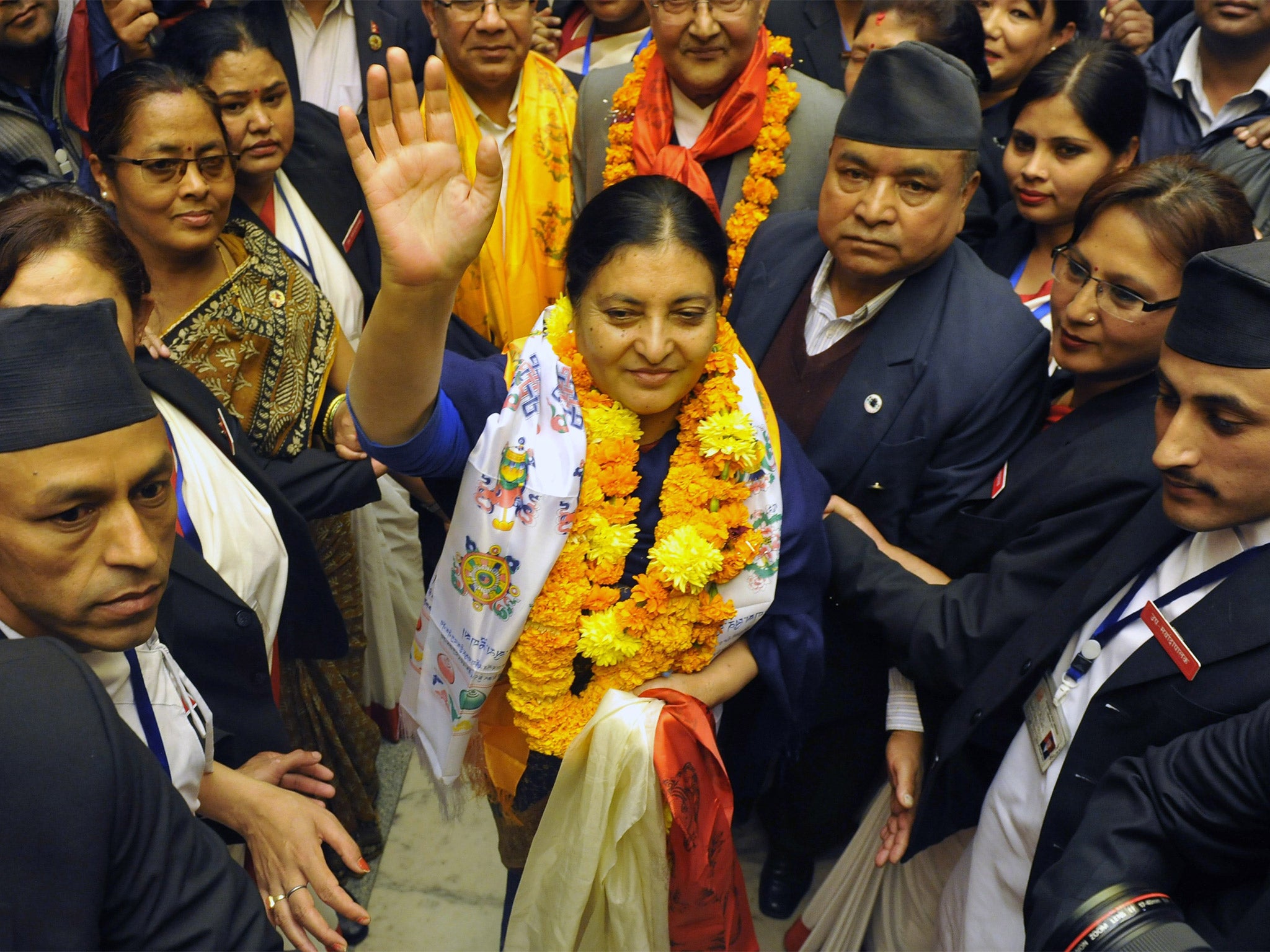 A Communist campaigner whose fight for democracy brought about the end of a 240-year Hindu monarchy in Nepal has been named as the nation's first female President.
Bidhya Devi Bhandari, who is largely credited with ensuring that a third of politicians in Nepal are now women, was deputy leader of the Communist Party of Nepal (Unified Marxist Leninist), and had lobbied for the new constitution to require that either the president or vice-president be a woman.
Nepal has been trying to shift from a male-dominated society, where women are mostly limited to working at homes or on farms, to one in which women have equal opportunities and legal rights. As a close ally and party colleague of the Prime Minister, Khadga Prasad Oli, Ms Bhandari had been considered the favourite for the largely ceremonial job.
Ms Bhandari said her election marked a first step toward assuring the new constitutional "guarantees of equality" are fulfilled. Last week, Onsari Gharti Magar was elected as the parliament's first female Speaker. Ms Bhandari took up politics in her teens, later marrying a fellow Communist, Madan Bhandari. Ms Bhandari has been a leading political figure since 1993 when her husband was killed in a car accident.
She led demonstrations against the former King Gyanendra in 2006, ending his authoritarian rule and restoring democracy.
World news in pictures
Show all 50
Ms Bhandari replaces President Ram Baran Yadav, who was elected in 2008 for a two-year term that was extended when efforts to draft a new constitution stalled over seven years. "My entire interest will be the betterment of the country," she told reporters. "I will complete my responsibility towards the country and the people."
Ms Bhandari incurred the wrath of activists when she supported a provision in the new charter that bars Nepali single mothers and women married to foreigners from passing on citizenship to their children. "Some may say she is not the most feminist person to become President," Guna Raj Luitel, editor of Nagarik Daily, told AFP.
Nepal's constitution, the first drawn up by elected representatives, has sparked deadly violence. Ethnic Madhesi protesters in southern Nepal have been demonstrating by blocking a key border crossing with India, which supplies all of Nepal's fuel. On Wednesday, Nepal signed a deal with China to import petroleum. The Nepalese embassy said a memorandum of understanding had been signed between Nepal Oil Corp and National United Oil Corp (PetroChina).
AP
Join our commenting forum
Join thought-provoking conversations, follow other Independent readers and see their replies