Boris Nemtsov killing: Suspect blows himself up and two others charged over shooting of anti-Putin opposition leader
Three other suspects appeared at the hearing in Moscow
Loulla-Mae Eleftheriou-Smith
Sunday 08 March 2015 14:50 Comments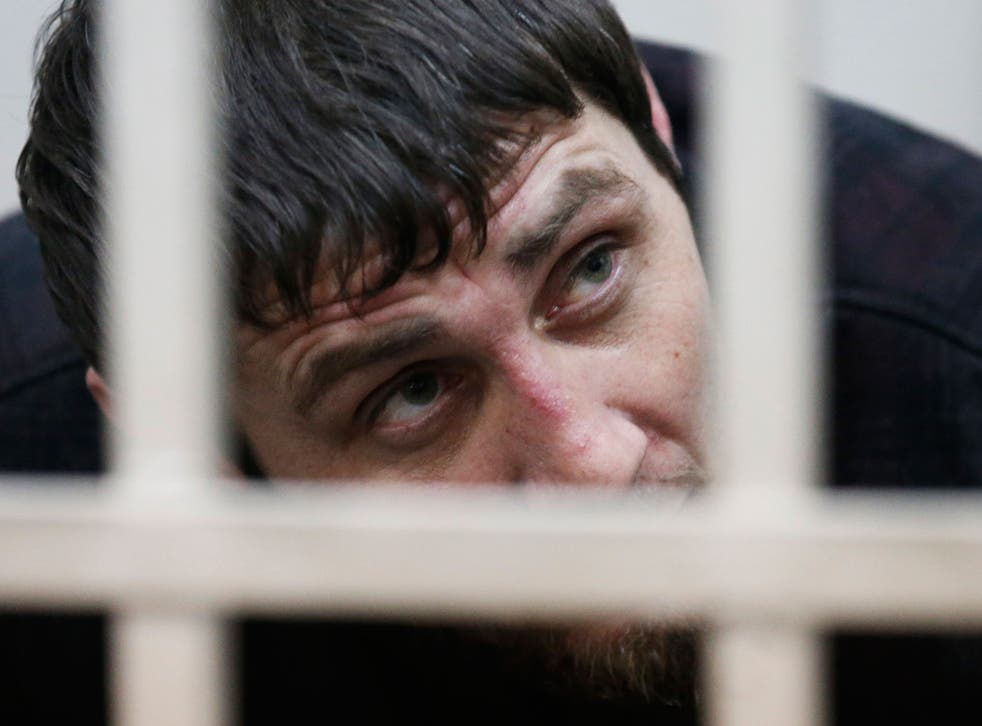 A Russian court has charged two men in connection with the murder of the anti-Putin critic and opposition leader Boris Nemtsov with a further three detained, as it has been revealed a sixth suspect blew himself up as police tried to arrest him.
Zaur Dadaev and Anzor Gubashev, both from Russia's North Caucus region, were charged at the Basmanny courthouse in Moscow on Sunday, court spokeswoman Anna Fadeeva told reporters.
Dadaev has admitted to his involvement in the crime, Russian news agencies reported. His alleged actions have not been officially specified, but the BBC has reported the two men are both accused of organising and carrying out the murder that shocked Russia.
Three other men appeared at court in connection with the murder, but it has been revealed there was a sixth suspect who blew himself up as police attempted to seize him, according to Russian reports.
He was killed just days before a planned rally against Russia's involvement in Ukraine. Just weeks previously he had expressed his anger dislike for Putin over situation, and revealed he feared for his life at the hands of the Russian leader.
"I'm afraid Putin will kill me. I believe that he was the one who unleashed the war in Ukraine. I couldn't dislike him more," he told Russia's Sobesednik news site in February.
In pictures: Marchers mourn Boris Nemtsov in Moscow

Show all 7
The day before his murder, Nemtsov scribbled a note on a piece of white A4 paper which he handed to his close aide Olga Shorina instead of uttering out loud, believing his office to be bugged.
They had been discussing Nemtsov's sensitive report into Moscow's alleged involvement with the separatists in Ukraine, which President Putin has continually denied.
"Some paratroopers from Ivanovo have got in touch with me. 17 killed, they didn't give them their money, but for now they are frightened to talk," the note - possibly Nemtsov's last - read. It was shown to Reuters by Shorina, though the news agency was unable to independently confirm its authenticity.
Three other suspects have been named as Tamerlan Eskerkhanov, Gubashev's brother Shagid, and Ramzan Bakhayev, according to Russian reports, though no official information on the suspects has been released.
Dadaev is reported to have served in a battalion of Interior Ministry troops in Chechnya, while Gubashev had worked in Moscow in a private security company, according to state news agencies Tass and RIA Novosti.
The pair had been detained in Ingushetia, a republic bordering Chechnya, Ingush Security Council chief Albert Barakhoev is quoted as saying, though Russia's Federal Security Service gave no details of how the men were detained or how they were connected to the killing.
Alexander Bortnikov, the head of Russia's federal security service, said the two were "suspected of carrying out this crime", but it was not clear if either of the suspects was believed to have fired the shots that killed Mr Nemtsov as he and a companion walked over a bridge near the Kremlin in Moscow on February 28.
Little information has been released regarding the further three suspects, though two of them are understood to have been detained at the same time as Dadaev and Gubashev, state media quoted Barakhoev as saying. A fifth suspect had only been revealed to reporters by the Investigating Committee shortly before the court session began.
Additional reporting by agencies
Register for free to continue reading
Registration is a free and easy way to support our truly independent journalism
By registering, you will also enjoy limited access to Premium articles, exclusive newsletters, commenting, and virtual events with our leading journalists
Already have an account? sign in
Join our new commenting forum
Join thought-provoking conversations, follow other Independent readers and see their replies