Boy riding toy car along road rescued from rush-hour traffic in China
The child appears unfazed as cars swerve around him
May Bulman
Monday 31 October 2016 22:04 Comments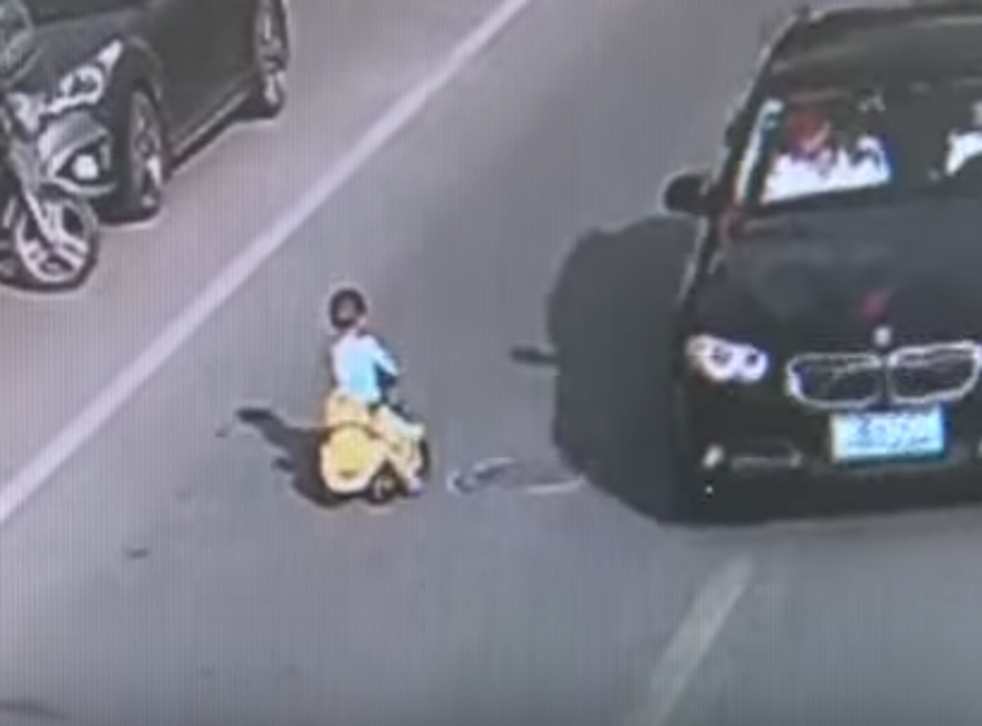 CCTV footage has revealed the moment a toddler was rescued by a police officer after almost being run over while apparently riding a toy car on a busy road in China.
The child, aged around three years old, can be seen calmly moving along a stretch of road on a plastic yellow vehicle as cars swerve around him.
At the start of the video just a pedestrian and a motorbike can be seen passing beside the little boy, but cars soon begin to appear and can be seen dodging around him as he continues to move along, seemingly unfazed.
After around 30 seconds a policeman can be seen rushing onto the scene, who crouches down beside the child and appears to have a short discussion with him, before picking him up and walking off the road.
Following the release of the footage, Bernhard Scwartlander, the World Health Organisation's representative in China, reportedly said: "Much more needs to be done to spur the adoption of measures to raise road safety, especially with respect to children."
Mr Scwartlander added that China has shockingly high death toll of children on roads, with more than 10,000 children said to die annually from injuries in road accidents, and more than a third of these being pedestrians.
The footage sparked an angry reaction on social media, with one Facebook user writing: "Are these drivers for real? None can't stop to take care of this little boy who knows no left to right.
Another wrote: "It's scary when society has become so numb to others that no one even thinks to stop and save this baby."
Register for free to continue reading
Registration is a free and easy way to support our truly independent journalism
By registering, you will also enjoy limited access to Premium articles, exclusive newsletters, commenting, and virtual events with our leading journalists
Already have an account? sign in
Register for free to continue reading
Registration is a free and easy way to support our truly independent journalism
By registering, you will also enjoy limited access to Premium articles, exclusive newsletters, commenting, and virtual events with our leading journalists
Already have an account? sign in
Join our new commenting forum
Join thought-provoking conversations, follow other Independent readers and see their replies