Women at risk of murder over failure to crack down on bride kidnapping in Kyrgyzstan, experts warn
The practice is defended as a tradition by many in the central Asian country
Maya Oppenheim
Women's Correspondent
Tuesday 28 May 2019 15:56 Comments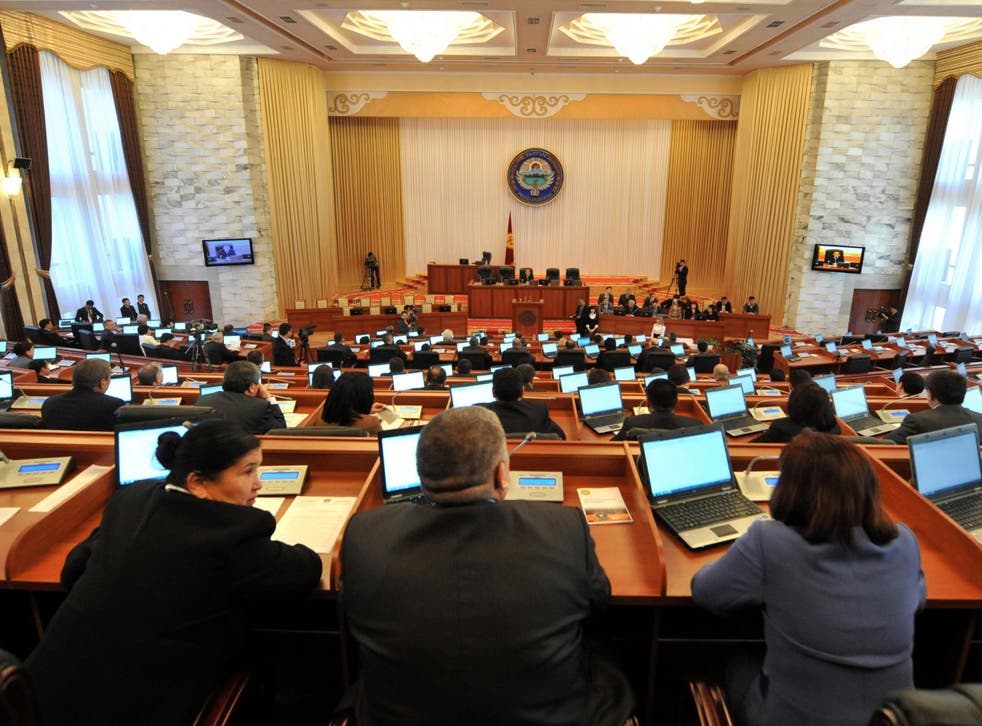 Bride kidnapping remains a persistent problem in Kyrgyzstan – and the authorities' failure to punish violence against women and girls is leaving them at risk of being killed, a leading human rights organisation has warned.
Human Rights Watch issued the warning on the anniversary of the murder of a 20-year-old medical student by a 29-year-old man who had abducted her for forced marriage – a practice known as bride kidnapping, which is being defended as a "tradition" by many in the central Asian country.
After Burulai Turdaaly Kyzy's father reported her abduction – the second time Mars Bodoshev had kidnapped her in two months – police stopped Mr Bodoshev's car and took them to a police station outside the capital of Bishkek.
After police left the pair in a room alone together, Mr Bodoshev stabbed Ms Turdaaly Kyzy multiple times and reportedly carved her initials and those of the fiance she had intended to marry into her skin.
The killing sparked public outrage and prompted several thousand to take to the streets. Protesters called for more action to be taken on bride kidnapping, which sees thousands of girls abducted for forced marriage every year.
Only one person was sentenced to jail on bride kidnapping charges in Kyrgyzstan in 2017, according to official records.
World news in pictures

Show all 50
Often there is no relationship or very little relationship between the man and the woman.
Human Rights Watch said the problem has persisted in spite of criminalisation and strengthened legislation – noting the country of 6 million adopted a strengthened family violence law in 2017 – but said feeble enforcement of laws on violence against women and girls places them at risk of injury and even death.
"A year after Burulai's murder, it is outrageous that the government hasn't done everything possible to enforce laws that could save women's and girls' lives," said Hillary Margolis, women's rights researcher at Human Rights Watch. "Passing laws is a good first step, but it is far from enough to ensure real protection."
She added: "Kyrgyzstan's government cannot afford to shirk its responsibilities toward women and girls. It is leaving the door open for more women like Burulai to die while waiting for the laws' promises to be fulfilled."
According to Kyrgyzstan government data, police registered 2,701 cases of domestic violence during the first three months of 2019. This amounts to an average of around 30 incidents a day. Two thirds of all cases consisted of physical violence but data on injuries or deaths resulting from domestic violence is missing. Police registered 7,178 cases for all of 2018, more than half of which involved physical violence.
Public data does not specify the number of bride kidnapping cases reported or prosecuted. Data on child and forced marriages, including bride kidnappings, is severely limited because they are typically not registered with the government and authorities only know of cases if complaints are filed.
The practice of bride kidnapping, known locally as ala kachuu, has roots in Kyrgyzstan's nomadic past and endured into the Soviet era – although on a smaller scale.
Some say the practice has continued due to social conservatism and a relatively weak tradition of arranged marriages when compared to neighbouring countries, as well as poverty among rural families who struggle to save money for dowries. A dowry is an amount of property or money brought by a bride to her husband on their marriage.
While bride kidnapping is punishable by five to seven-and-a-half years in prison, or up to 10 years if the victim is under 18, the law is said to not be properly enforced.
Research carried out by the United Nations Development Programme (UNDP) on bride kidnapping in 2017 showed that around 70 per cent of criminal cases collapse. UNDP's office in Kyrgyzstan cites government data indicating that a fifth of Kyrgyz marriages occur following bride abductions.
Ms Burulai's killer was sentenced to 20 years while his friend who assisted in the kidnapping was handed seven years. More than 20 police officers were punished, including at least four who were dismissed, and three who were ordered in April by a court to pay a fine and compensation on grounds of negligence.
Human Rights Watch carried out research in Kyrgyzstan in April – speaking to 21 staff members at crisis centres and nongovernmental organisations and lawyers representing victims of violence, as well as two government representatives.
Those interviewed said many victims of domestic violence and bride kidnapping do not file complaints, and even those that are filed often do not end in prosecutions or convictions. They said many cases go unreported, such as when parents agree to the marriage or request night-time ceremonies to avoid punishment.
A "Code of Misdemeanours" introduced by the government in January includes a provision criminalising domestic violence, which had routinely been addressed as an administrative rather than criminal offence. But Human Rights Watch found that critical legislative gaps persist – saying impunity for domestic violence and bride kidnapping is an ongoing concern.
In a previous report on domestic violence and bride kidnapping in Kyrgyzstan called "Call Me When He Tries to Kill You", the organisation documented the numerous obstacles victims face in accessing justice, including pressure from their families and authorities to reconcile with abusers, and how a lack of services leaves them with nowhere to get help.
Service providers said complaints about domestic violence generally stall unless victims are accompanied by a lawyer or crisis centre worker – also explaining that police and judges often advise victims against filing complaints or cajole them into withdrawing complaints.
Register for free to continue reading
Registration is a free and easy way to support our truly independent journalism
By registering, you will also enjoy limited access to Premium articles, exclusive newsletters, commenting, and virtual events with our leading journalists
Already have an account? sign in
Join our new commenting forum
Join thought-provoking conversations, follow other Independent readers and see their replies