British grandmother Lindsay Sandiford weeps as she is sentenced to death by Indonesian court for drug trafficking
Lindsay Sandiford, 56, had expected jail term for cocaine offence
Kathy Marks
Tuesday 22 January 2013 19:42 Comments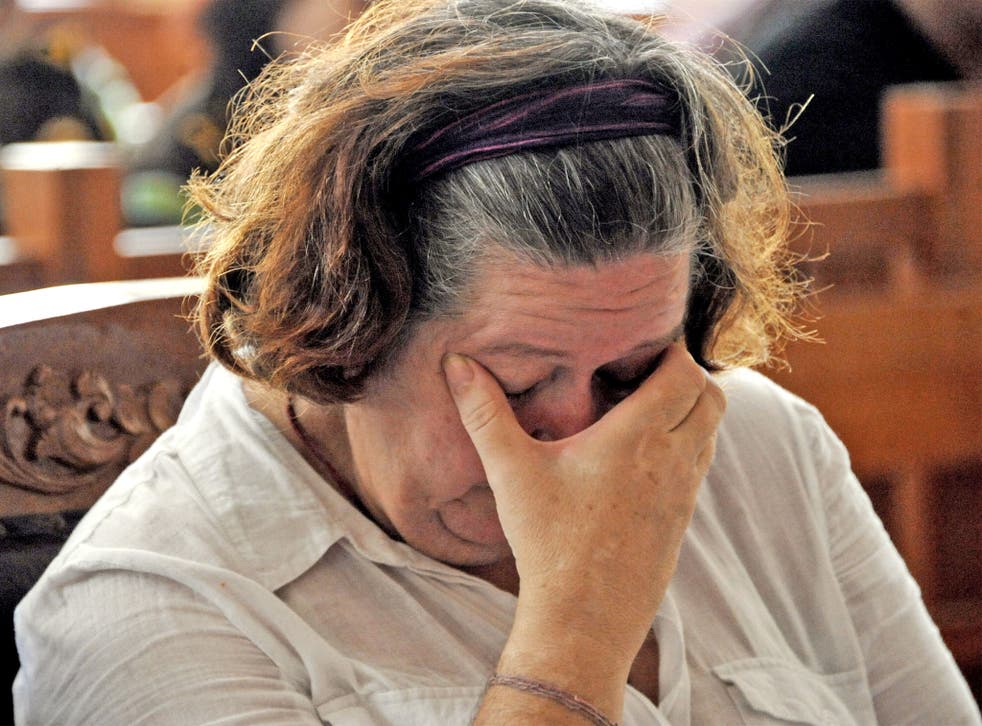 She pulled a floral sarong over her head to shield herself from the TV cameras, but Lindsay Sandiford's sobs betrayed her shock and grief today as a Balinese court sentenced the Briton to death for trying to smuggle cocaine into the Indonesian resort island.
Sandiford, 56, had known her penalty would be harsh: Indonesia is notorious for its uncompromising treatment of drug offenders. But prosecutors had sought a 15-year jail term, so when the panel of judges announced she would face a firing squad, it must have come as a cruel bolt from the blue.
The former legal secretary from Redcar, Cleveland, was arrested at Bali's Ngurah Rai airport last May after customs officers found 4.8kg of cocaine in the lining of her suitcase. She was put in an orange prison uniform and paraded in front of the media, along with the haul of Class A drugs.
Police had already dangled in front of her an offer of leniency, in exchange for her helping them to net other alleged members of her smuggling ring. She accepted the offer, reportedly after considering it over a bowl of nasi goreng (fried rice with chicken and soy sauce) in a hotel room in the capital, Denpasar.
A sting operation led to the arrest of three other Britons – Rachel Dougall, 39, her partner, Julian Ponder, 43, and Paul Beales, 39 – and an Indian, Nandagopal Akkinemi.
However, a lack of evidence linking them with Sandiford led to Beales receiving a four-year sentence last month for cannabis possession and Dougall being jailed for 12 months for failing to report a crime.
A verdict is expected in Mr Ponder's trial tomorrow. He is charged with receiving the cocaine in Bali, which – despite publicity about the draconian penalties – has a thriving drugs scene, focused on bars and nightclubs frequented by foreigners.
Face drawn, hair tied back, the bespectacled Sandiford cut a pitiful figure in Denpasar District Court, where she was accompanied by a Balinese translator and her sister, Hillary Parson.
Earlier, she had told the court that she acted as a courier only because "the lives of my children were in danger". In interviews, she said she was forced to carry the drugs into Bali from Bangkok by a UK-based drugs gang that had threatened to kill one of her sons. The court also heard that she had mental health problems.
Jennifer Fleetwood, a University of Kent expert on the role of women in the international drug trade, testified that her vulnerability "may have unfortunately made her an attractive target for threats, manipulation and coercion".
Despite all that, and her previously clean record and co-operation with police, the judges declared there were "no mitigating circumstances". She had tarnished Bali's image as a tourism destination and obstructed the government's fight against drugs, they added. The arcane workings of Indonesian justice are often baffling to outsiders.
Sandiford's lawyers said they would almost certainly appeal, and they may be successful – death sentences are often commuted to long prison terms and Indonesia has not executed anyone since 2008. There are at least 40 foreigners on death row, most of them convicted of drug crimes, according to a report in March last year by Australia's Lowy Institute for International Policy.
Sandiford's sentence was condemned by Reprieve, a charity that campaigns for prisoners' human rights, and Amnesty International, which described the use of the death penalty for a non-lethal crime as "cruel in the extreme".
The Foreign Office said Sandiford would continue to receive consular assistance.
Register for free to continue reading
Registration is a free and easy way to support our truly independent journalism
By registering, you will also enjoy limited access to Premium articles, exclusive newsletters, commenting, and virtual events with our leading journalists
Already have an account? sign in
Join our new commenting forum
Join thought-provoking conversations, follow other Independent readers and see their replies