British investigator Peter Humphrey 'regrets' illegal data scam on China TV
Couple make public confession over alleged £320m bribery scandal a drugs giant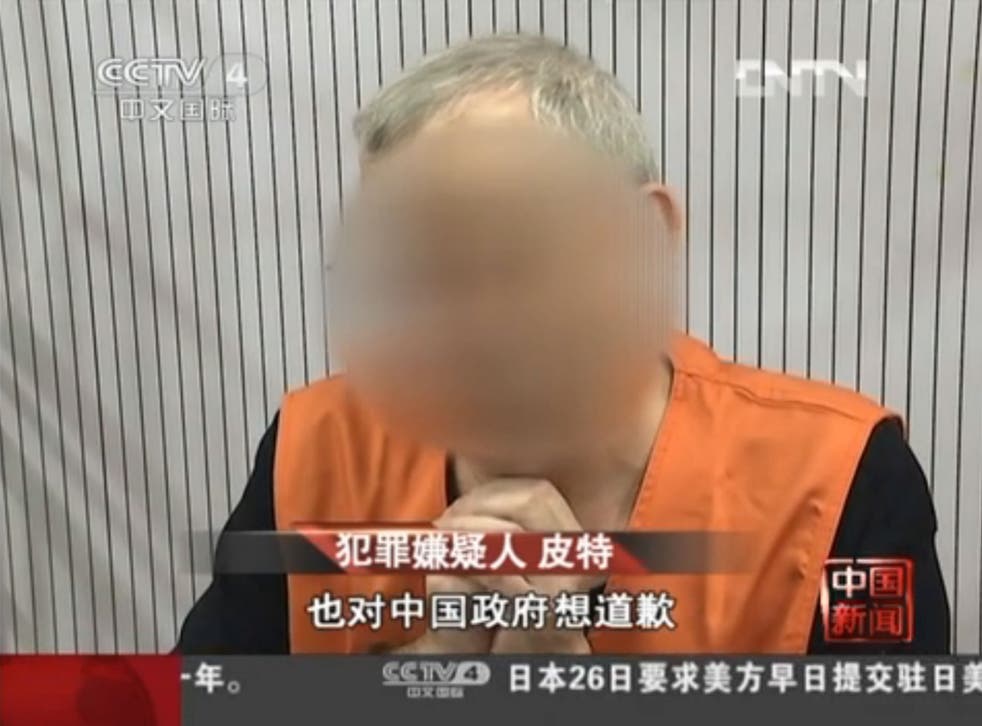 Chinese state television has broadcast a confession by British corporate investigator Peter Humphrey who, along with his American wife, has been held in connection with an alleged £320million bribery scandal at drugs giant GlaxoSmithKline.
"The way we acquired information was sometimes illegal. I feel very regretful about it and want to apologise to the Chinese government," Mr Humphrey said in the CCTV report.
Such public apologies are common by Chinese officials and celebrities accused of wrongdoing, but a confession by a foreigner rarely happens.
Mr Humphrey sat with his wife Yu Yingzeng – both in orange prison vests and handcuffs – during the report.
The couple were arrested on 16 August in Shanghai and charged with operating illegal research companies and trafficking personal information about Chinese citizens, police said.
Mr Humphrey, 57, and Ms Yingzeng are founders of ChinaWhys, a Shanhai-based risk management firm, which provides investigation services to companies. GlaxoSmithKline – the biggest UK-listed pharmaceutical firm – was one of their clients.
GSK is accused of working with Chinese travel agencies to host conferences for up to 2,000 people, with events costing about 10million yuan (about £1m).
Chinese authorities claim GSK executives inflated the cost of these events to use excess cash to pay bribes to doctors and middlemen.
The company has admitted some of its China executives may have violated both Chinese law and the company's policy. A GSK spokesman confirmed they were co-operating with the authorities.
CCTV's television broadcast also showed Mr Humphrey's and Ms Yingzeng's offices being raided, as well as interviews with police officers.
"[The] Investigation found that the couple illegally trafficked a huge amount of personal information on Chinese citizens to seek profits via registering so-called research companies in Hong Kong and Shanghai since 2003," the Xinhua news agency reported.
Mr Humphrey was formerly a Reuters correspondent in Hong Kong. After leaving the news agency 14 years ago he worked as an investigator in different parts of Asia, tracking white collar crime and corporate fraud.
Ms Yingzeng is a California-educated accountant who has served as a financial controller in the United States and Hong Kong, and as a high-level advisory consultant in China.
ChinaWhys' website claims Ms Yingzeng: "Is experienced in operational/financial audit to identify management control weakness, bribery concerns and fraud risks."
It says she has worked on "complex fraud investigations at multinational operations in China, [with] successes including solving a supply chain fraud by establishing activity links to capture criminal evidence for a US food manufacturer".
The British Embassy in Beijing confirmed last week that Mr Humphrey had been arrested and they were providing consular assistance, but gave no details of charges.
Register for free to continue reading
Registration is a free and easy way to support our truly independent journalism
By registering, you will also enjoy limited access to Premium articles, exclusive newsletters, commenting, and virtual events with our leading journalists
Already have an account? sign in
Register for free to continue reading
Registration is a free and easy way to support our truly independent journalism
By registering, you will also enjoy limited access to Premium articles, exclusive newsletters, commenting, and virtual events with our leading journalists
Already have an account? sign in
Join our new commenting forum
Join thought-provoking conversations, follow other Independent readers and see their replies