Brother shoots sisters dead hours before weddings 'in double honour killing'
Nazir Hussain shot his two sisters dead because they had chosen their own husbands, according to police
Alexandra Sims
Sunday 31 July 2016 16:07 Comments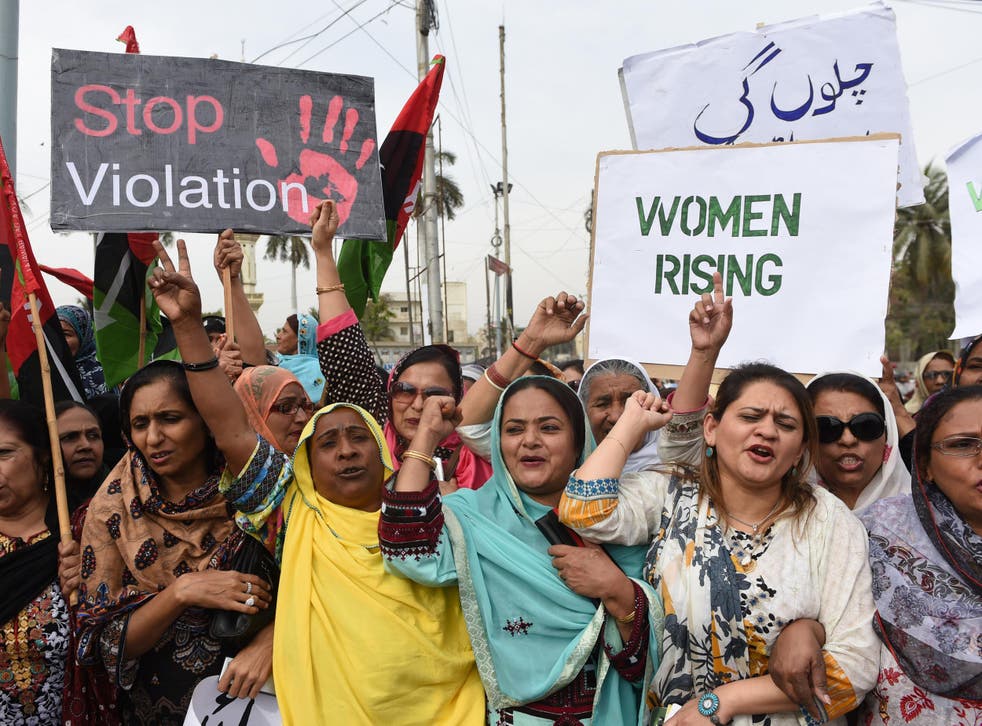 A man has killed his two sisters on the eve of their weddings because they had chosen their own husbands, in the latest case of so-called "honour killings" in Pakistan.
Nazir Hussain, 35, from the country's central Punjab province, shot dead 22-year-old Kosar and 28-year-old Gulzar Bibi on Friday, as they prepared to marry men they had chosen themselves.
Hussain had objected to the marriages, wanting the women to marry within the extended family instead, senior police officer Mehar Riaz told AFP on Saturday.
He is now on the run and a police search is currently underway.
"The brother shot dead both the sisters yesterday and fled the site," the officer said. "It is a simple case of killing for honour."
Atta Mohammed, the father of the family, said Hussain had "destroyed everything".
The countries with anti-women laws

Show all 5
"He ruined my family, he destroyed us, he destroyed everything," said Mr Mohammed, the Express Tribune reports.
The murders took place two weeks after the 26-year-old Pakistani social media star Qandeel Balocj was drugged and then strangled to death by her brother Waseem in the Punjab province.
Hours after murdering his sister on 15 July, Waseem told reporters: "I am proud of what I did […] Girls are born to stay at home and follow traditions. My sister never did that."
"Honour killings" are an acute problem in Pakistan. Last year, three people a day were killed in "honour" crimes in the country: a total of 1,096 women and 88 men, according to the independent Human Rights Commission of Pakistan.
In 2014, the number was 1,005 women, including 82 children, up from 869 women killed a year earlier. The true numbers are believed to be higher, with many cases going unreported, activists say.
Some human rights and women's rights activists believe "honour killings" have been inching up and showing greater brutality as the older generation tries to dig in against creeping change.
Pakistan's interior law minister announced earlier this month that bills aimed at tackling "honour killings" and boosting rape convictions will be voted on by parliament, following mounting pressure to tackle the crime, the Express Tribune reports.
Register for free to continue reading
Registration is a free and easy way to support our truly independent journalism
By registering, you will also enjoy limited access to Premium articles, exclusive newsletters, commenting, and virtual events with our leading journalists
Already have an account? sign in
Join our new commenting forum
Join thought-provoking conversations, follow other Independent readers and see their replies