Burmese army clears itself of raping and murdering Rohingya Muslims after 'internal investigation'
Amnesty International scorns inquiry as 'whitewash' and calls on UN to step in
Simon Cameron-Moore
Tuesday 14 November 2017 09:33 Comments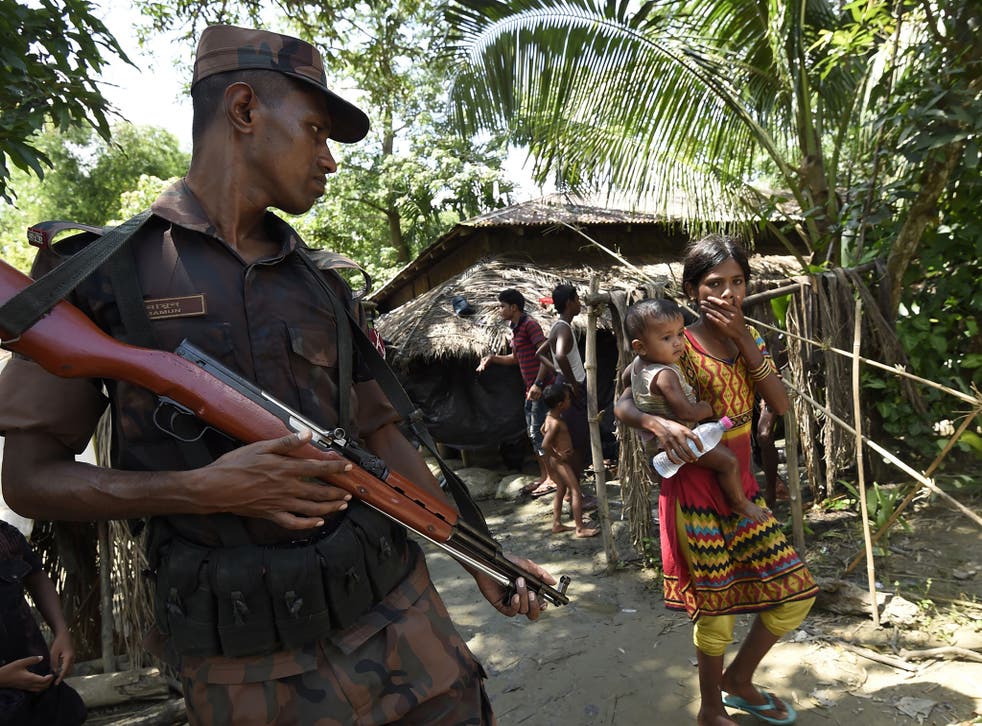 Human rights group Amnesty International poured scorn on a Burmese military investigation into alleged atrocities against Rohingya Muslims, branding it a "whitewash" and calling for UN and independent investigators to be allowed into the country.
More than 600,000 Rohingya have fled to Bangladesh since late August, driven out by a counter-insurgency clearance operation in Rakhine State that a top UN official has called a classic case of "ethnic cleansing".
Accusations of organised mass rape and other crimes against humanity were levelled at the Burma military on Sunday by another senior UN official, who had toured camps in Bangladesh where Rohingya refugees have taken shelter.
Burma's military has consistently protested its innocence, and on Monday it posted the findings of an internal investigation on the Facebook page of its commander in chief, Senior General Min Aung Hlaing.
It said it had found no instances where its soldiers had shot and killed Rohingya villagers, raped women or tortured prisoners. It denied that security forces had torched Rohingya villages or used "excessive force".
The military's self-exoneration came as US Secretary of State Rex Tillerson prepared to visit Burma on Wednesday for talks with leaders.
Both Tillerson and Aung San Suu Kyi, the head of a less than two-year-old civilian administration that has no control over the military, are attending a regional summit in Manila.
With US senators back in Washington pressing to impose economic sanctions and travel restrictions targeting the military and its business interests, Tillerson is expected to deliver a stern message to Burma's generals, while supporting the transition to democracy.
Suu Kyi discussed the Rohingya crisis with UN Secretary-General Antonio Guterres at the South-east Asian leaders' summit in Manila.
"The Secretary-General highlighted that strengthened efforts to ensure humanitarian access, safe, dignified, voluntary and sustained returns, as well as true reconciliation between communities, would be essential," a UN representative said in brief note on the meeting.
Coincidently on Friday, the commanding officer in Rakhine State, Major General Maung Maung Soe was replaced. No reason for his transfer was given, but a senior officer with the military's media department told Reuters, Maung Maung Soe had no new assignment, and had been placed on a reserve list.
A spokeswoman for the US State Department, Katina Adams, said the United States was aware of reports of the general's replacement.
"We remain gravely concerned by continuing reports of violence and human rights abuses committed by Burmese security forces and vigilantes. Those responsible for abuses must be held accountable," Adams said.
Amnesty International dismissed the military's internal investigation and called for a UN fact finding mission, and for other independent investigators to be given full access to Rakhine.
"Once again, Burma's military is trying to sweep serious violations against the Rohingya under the carpet," James Gomez, Amnesty International's regional director for South-east Asia and the Pacific, said in a statement released late Monday.
Amnesty said: "There is overwhelming evidence that the military has murdered and raped Rohingya and burned their villages to the ground.
"After recording countless stories of horror and using satellite analysis to track the growing devastation we can only reach one conclusion: these attacks amount to crimes against humanity."
Speaking in Dhaka, Pramila Patten, the UN special representative of the Secretary-General on sexual violence in conflict, said she would raise accusations against the Burma military with the International Criminal Court in the Hague.
"Sexual violence is being commanded, orchestrated and perpetrated by the armed forces of Burma, otherwise known as the Tatmadaw," Patten said following a three-day tour of the Rohingya refugee camps in the Cox's Bazar region of Bangladesh.
British Prime Minister Theresa May also said in foreign policy address on Monday that Burma's military should be called to account.
"This is a major humanitarian crisis which looks like ethnic cleansing," she said in a speech delivered at the Lord Mayor's Banquet in the City of London.
"And it is something for which the Burmese authorities – and especially the military – must take full responsibility."
The government in mostly Buddhist Burma, which is also known as Myanmar, regards the Rohingya as illegal immigrants from Bangladesh.
Suu Kyi's failure to speak out strongly over the Rohingya's plight has widely damaged the Nobel peace prize winner's reputation as a stateswoman.
Rohingya refugees – in pictures

Show all 15
Many diplomats, however, believe Burma's fragile transition to democracy would be jeopardised if she publicly criticised the armed forces.
A military junta ruled Burma for 49 years and the generals have retained their authority over defence, security and border issues under a constitution drafted while they held power.
Reuters
Register for free to continue reading
Registration is a free and easy way to support our truly independent journalism
By registering, you will also enjoy limited access to Premium articles, exclusive newsletters, commenting, and virtual events with our leading journalists
Already have an account? sign in
Join our new commenting forum
Join thought-provoking conversations, follow other Independent readers and see their replies