Burma election: Suu Kyi calls for calm in run up to poll that could change the country - if the generals permit it
Ms Suu Kyi says vote, that should see her NLD party replace the USDP - a proxy for the military - as the nation's largest, is 'a crucial turning point'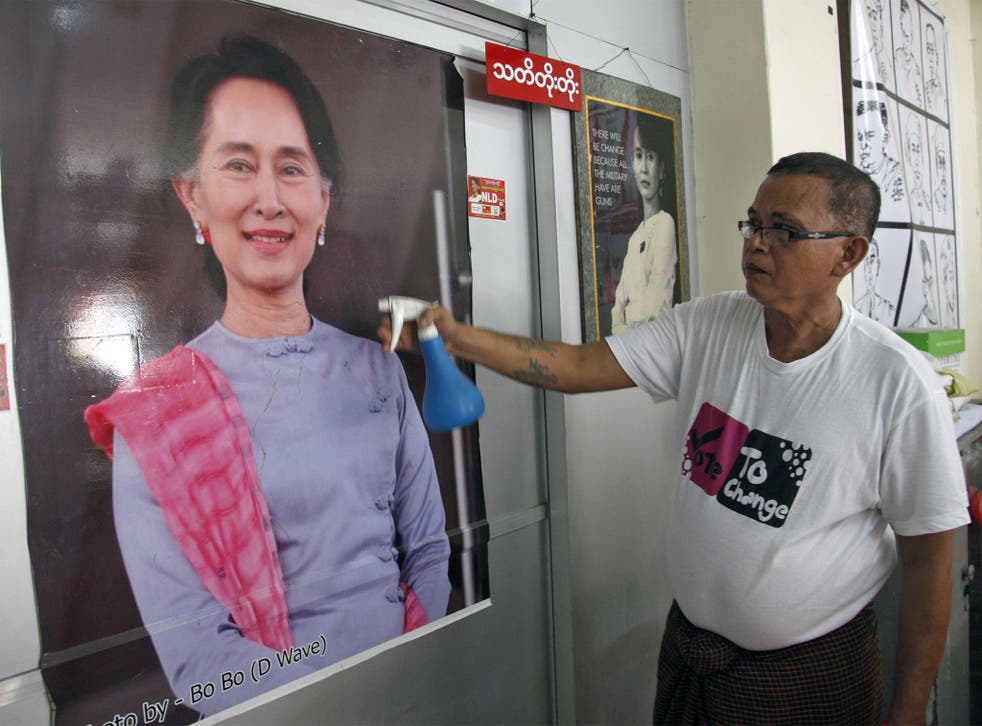 As Burma's general election campaign gets under way, Aung San Suu Kyi has issued a stark warning about the need for a "smooth and tranquil transition" once the results of the poll, scheduled for 8 November, are in.
If the poll is fair the National League for Democracy (NLD), which she heads, is widely expected to become the largest party, elbowing aside the present ruling party, the Union Development and Solidarity Party (USDP), a proxy for the military which ruled Burma for half a century. But the abrupt removal from his post last month of a former senior general who had become Ms Suu Kyi's close ally set alarm bells ringing about the willingness of the military establishment to allow the will of the people to bring about real democratic change.
In brief comments recorded on video and released on her party's Facebook page in Burmese and English, Ms Suu Kyi described the coming election as "a crucial turning point for our country."
She went on, "For the first time in decades, our people will have a real chance of bringing about real change. We hope that the whole world understands how important it is for us to have free and fair elections, and to make sure that the results of such elections are respected by all concerned. A smooth and tranquil transition is almost more important than a free and fair election. Through this transition we hope to take our country to that point where there can be no return from genuine development in the democratic direction."
Since Ms Suu Kyi's release from house arrest in November 2010, Burma has come in from the cold, with President Thein Sein, himself a former general, releasing most political prisoners and enabling Ms Suu Kyi and her colleagues to run successfully for parliament. The economy has been liberalised, media censorship lifted and doors thrown open to the outside world – but all within the straitjacket of a constitution which maintains the military's grip on key ministries, and its right to revert to military rule at the drop of a hat.
A victory by the NLD, which is committed to constitutional reform, would threaten the military's continuing domination. Despite playing a moderate and constructive role in parliament, Ms Suu Kyi and her colleagues are still regarded with fear and suspicion by many in the military.
The only prominent exception is Thura Shwe Mann, a former general and contender for the presidency who, as Speaker of the lower house of parliament and leader of the USDP, forged an informal but strong alliance with Ms Suu Kyi. But his abrupt, forcible removal from the party leadership has resurrected fears that President Thein Sein and other senior figures in the military establishment are still deeply unhappy about the impending political revolution – and may yet seek other ways to subvert it.
Register for free to continue reading
Registration is a free and easy way to support our truly independent journalism
By registering, you will also enjoy limited access to Premium articles, exclusive newsletters, commenting, and virtual events with our leading journalists
Already have an account? sign in
Register for free to continue reading
Registration is a free and easy way to support our truly independent journalism
By registering, you will also enjoy limited access to Premium articles, exclusive newsletters, commenting, and virtual events with our leading journalists
Already have an account? sign in
Join our new commenting forum
Join thought-provoking conversations, follow other Independent readers and see their replies