Burma elections: Aung San Suu Kyi heading for victory but transfer of power from military may be more difficult
The NLD won a landslide victory in 1990 but the junta responded by throwing the MPs-elect in jail
Peter Popham
Rangoon
Monday 02 November 2015 20:07 Comments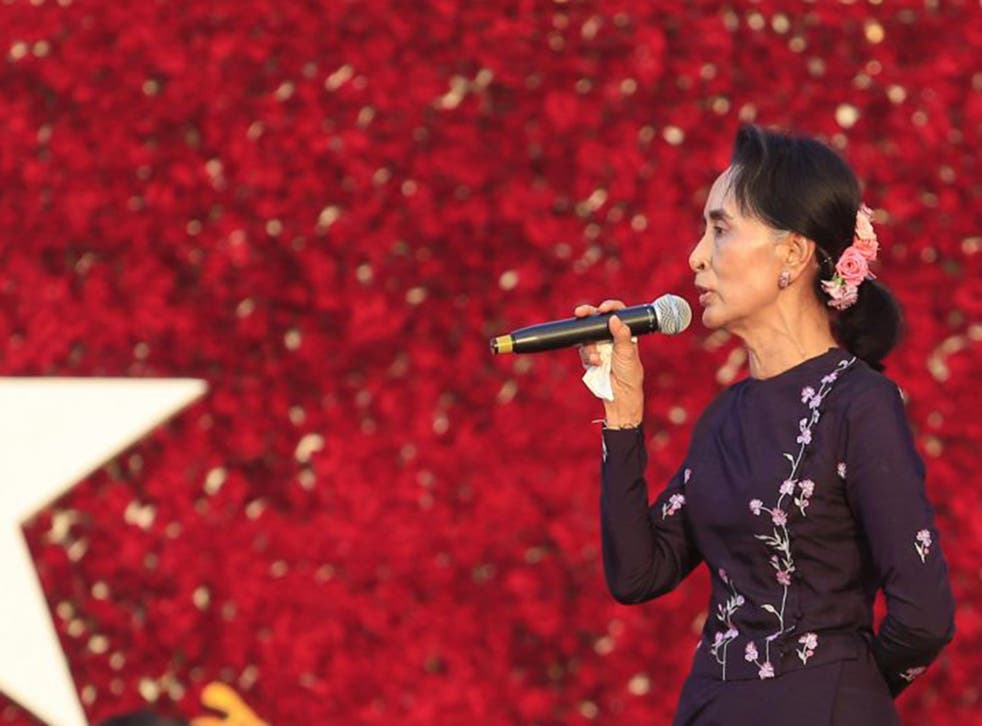 Any doubts about Aung San Suu Kyi's popularity in Burma were quashed on Sunday: her huge rally in Rangoon had the mood of a victory celebration. "There's no need to vote," someone shouted from the stage, "we've already won!"
Ms Suu Kyi's message was the opposite: it was the duty of all to vote for the National League for Democracy (NLD), she said, regardless of the qualities of individual candidates.
"I believe the power of the people can change our nation," she told the crowd. But there would be no witch-hunt against the losers. "If we win 100 per cent, we would invite the minority parties to work hand in hand with us."
But as the prospect of a historic victory draws closer, influential voices are doubting the willingness of the military to concede defeat. The shadow of 1990 – when the NLD won a landslide victory but the junta responded by throwing the MPs-elect in jail – grows larger and more menacing. U Sithu Aung Myint, an influential commentator who spent years as a rebel in the border regions, told The Independent: "Suu Kyi is very popular. People hate the ruling party. So if the election is free and fair, the NLD will win. But if they win, there will be a crisis regarding the transfer of power, and this is because of the NLD's policies.
"Suu Kyi is clear: she wants an end to the 25 per cent military presence in parliament, an end to the bar against her standing for the presidency. She wants to send the military back to the barracks. But this is quite different from the present situation, where the military controls everything."
His claim is no exaggeration: Eric Rose, the director of Herzfeld Rubin Meyer and Rose, the first American law firm to open a Rangoon office, said: "About half of Burma's economy is controlled directly or indirectly by the military, and another 20 to 25 per cent is controlled by... businessmen who have profited from closeness to the military."
With Ms Suu Kyi and her party committed to disempowering vested interests as dominant as that, compromise is hard to imagine: the unstoppable force of people power will meet the immovable object of the Burmese military. The result could – once again – be messy.
But it may not come to that. As U Sithu Aung Myint points out, the NLD has failed to make allies among the ethnic parties, and without them the 67 per cent of seats needed for an overall majority will be hard to achieve. Even then, real power could remain tantalisingly remote: in Burma's constitution, power resides in the president, chosen by parliament, and military MPs have a large role in electing the post.
Under the constitution, Ms Suu Kyi can't become president, because she has foreign-born children. As the leader of one ethnic party put it: "Even if the election is free and fair, if the constitution is not amended the situation won't change."
The question is whether the Burmese people will sit back and watch "people power" snuffed out yet again, or once again take to the streets.
Register for free to continue reading
Registration is a free and easy way to support our truly independent journalism
By registering, you will also enjoy limited access to Premium articles, exclusive newsletters, commenting, and virtual events with our leading journalists
Already have an account? sign in
Join our new commenting forum
Join thought-provoking conversations, follow other Independent readers and see their replies