Burma's latest ethnic conflict intensifies as violence spreads in Shan State
The dispute between the militias of the Ta'ang National Liberation Army and the Shan State Army began last year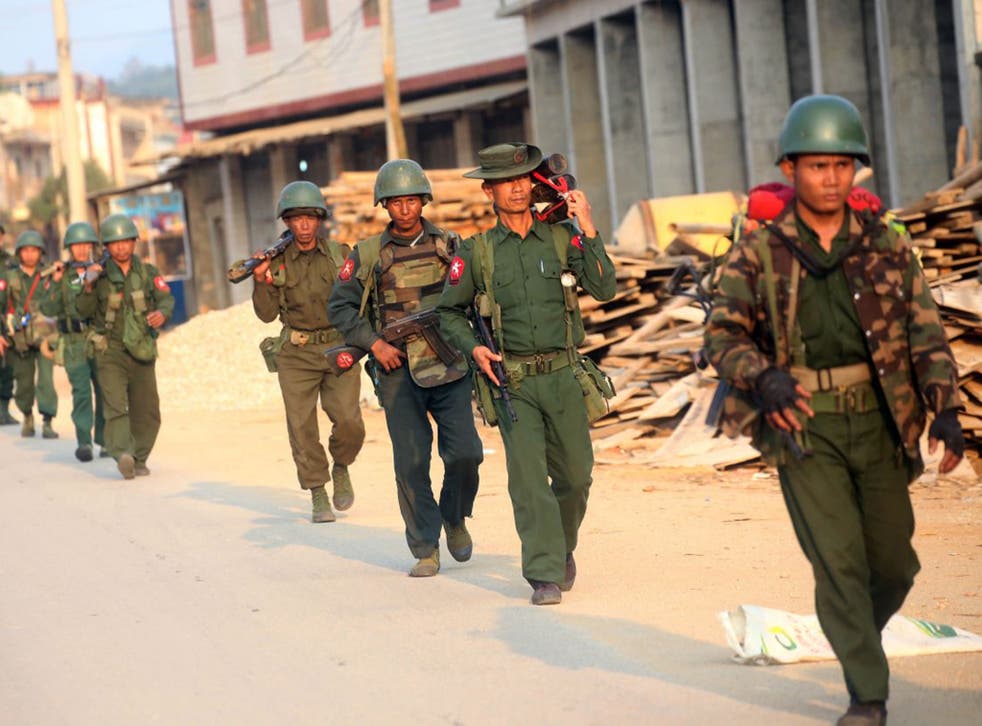 When Aye Khaung saw 500 soldiers arrive in her village in Burma's northern Shan State, she was fearful. Sitting in the grounds of the monastery she now calls home, she picks at nail varnish on her thumbnail as she recounts the moment when the country's latest ethnic conflict arrived in the remote village of Ban-nin.
"When I saw their guns and knives I was afraid, because I knew they could kill me," she says.
The violence between the militias of the Ta'ang National Liberation Army (TNLA) and the Shan State Army – South (SSA-S) began last year and has intensified. The Burmese army, or Tatmadaw, is also operating in the area – taking control, it says, of the latest of many long-running ethnic armed conflicts to flare up in the country.
Too afraid to answer the questions from the Tatmadaw soldiers about whether TNLA or SSA-S soldiers were in the area, Aye Khaung claims her silence did not go unpunished. "I was too afraid to answer. Then they beat me on my shoulder and head. They punched me and they beat me with a stick," she says. "I was so afraid and my whole body was shaking. Afterwards I could not eat anything and I felt sick."
Aye Khaung, dressed in a pink Minnie Mouse T-shirt, looks younger than her 19 years. Two days after her beating, the soldiers were still in her village, so she ran away to Kyaukme, a local town.
It is a journey many others have made, and by the end of February more than 4,000 people had sought shelter in the 21 monasteries around Kyaukme.
Aye Khaung looks up nervously as someone approaches. It is just one of the monastery's monks, sweeping, but she waits for him to pass before she continues: "Whenever I think about going back to my home I cannot eat and I cannot sleep. I'm still afraid there will be soldiers."
Aung San Suu Kyi walks free

Show all 3
For Maran Ja Taung, returning home was the start of her nightmare. She fled fighting in the village of Ho Pone along with her four children and her husband in January. When they returned in February, the homes of 300 villagers had been burnt and the community's livestock slaughtered and eaten.
Maran Ja Taung's husband went to look for vegetables, not realising that whoever had destroyed their livelihoods had left one last surprise: a landmine. "When he stepped on the landmine, he did not die," says Maran Ja Taung through her tears. "I heard the bomb blast and ran to him. He had lost his legs. He was lying there, bleeding." She tried to get her husband to hospital, but the first one they came to would not accept him. He died on the way to the second hospital.
"On the way there he said to me: 'Please forgive me because I cannot support our family any more,' " she says. "I told him I can earn, we can survive. I thought he was asleep, then I realised he wasn't breathing."
It is not clear who burned the homes, slaughtered the livestock and laid the landmines, as ethnic armed groups and the Burmese military had been operating in the area, but Maran Ja Taung says the ethnic armies fled the scene when the local civilians did.
Even Burma's revered Buddhist monks have not escaped abuse. Soldiers from the TNLA locked U Thu Sat in his monastery. "I was afraid I would get shot," he says, as he also waits in Kyaukme for the chance to go home.
"I asked them to stop fighting but they did not listen to me. They said I did not need to worry, and they were there for my security, but I think they were using me for protection." The Burmese Army and the ethnic armed groups did not respond to a request for comment over the alleged incidents.
The new government of Aung San Suu Kyi says its first priority, when it takes power at the end of the month, is to deal with ethnic conflict. But for the scared, homeless and mourning people of Shan State, that moment cannot come quickly enough.
Register for free to continue reading
Registration is a free and easy way to support our truly independent journalism
By registering, you will also enjoy limited access to Premium articles, exclusive newsletters, commenting, and virtual events with our leading journalists
Already have an account? sign in
Register for free to continue reading
Registration is a free and easy way to support our truly independent journalism
By registering, you will also enjoy limited access to Premium articles, exclusive newsletters, commenting, and virtual events with our leading journalists
Already have an account? sign in
Join our new commenting forum
Join thought-provoking conversations, follow other Independent readers and see their replies