Burma Royingya Muslims: UN launch investigation into claims security forces are torturing and raping minority group
But Burma ambassador says UN should stay out of conflict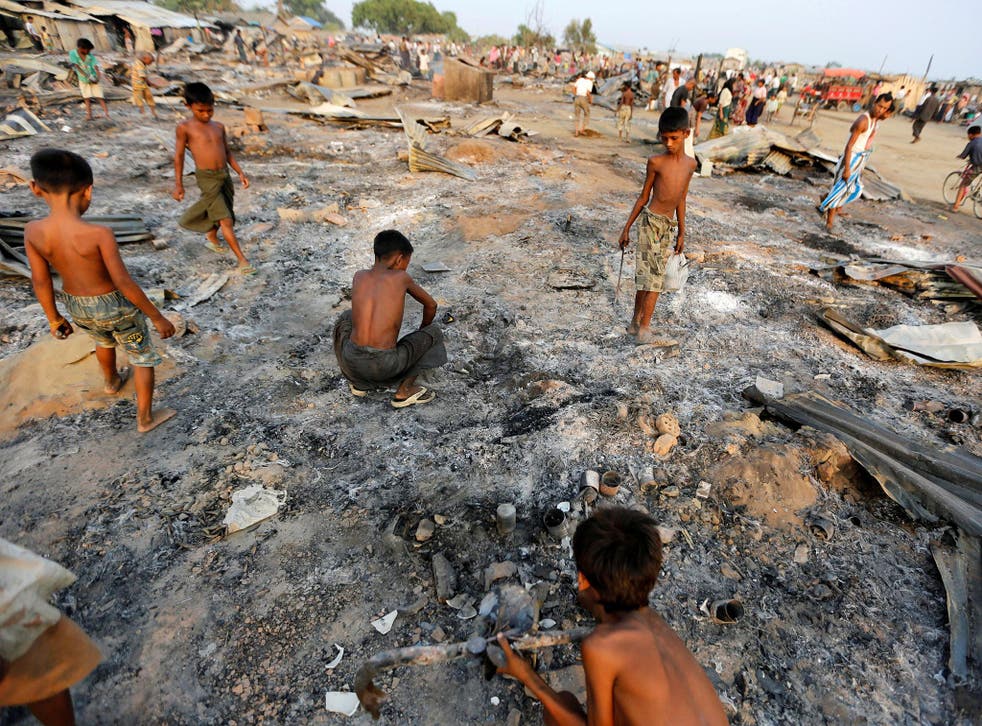 The top United Nations human rights body has agreed to send a fact-finding mission to investigate allegations of Burmese security forces killing, raping and torturing Rohingya Muslims.
In a move bound to put pressure on State Counsellor Aung San Suu Kyi's government, the 47-member UN Human Rights Council approved a resolution, without holding a vote, to "dispatch urgently" the crew to the war-torn Asian country.
The motion, brought by the European Union and countries including the US, called for "ensuring full accountability for perpetrators and justice for victims".
A UN report issued last month, based on interviews with 220 Rohingya among 75,000 who have fled to Bangladesh since October, accused Burma's security forces of having committed mass killings and gang rapes in a campaign that "very likely" amounts to crimes again humanity and possibly ethnic cleansing.
A commission set up by Burma's government issued an interim report in January that said it had found no evidence of what some have labelled potential genocide, dismissing allegations of rape.
Last week, a commission chaired by former UN Secretary-General Kofi Annan, created at the behest of Ms Suu Kyi, presented interim recommendations to the government about long-term solutions to tensions between Rohingya and Rakhine Buddhists in Rakhine state. The recommendations included allowing journalists free access to the western part of the country.
Zaw Htay, a presidential spokesman, said Burma "cannot accept" the council's decision.
"What the UN Human Rights Council did to us is totally not fair and not right under international practices," Mr Htay said, citing a domestic investigation. "They should have waited and watched the correspondent country's investigation, and the result coming out from that" and only then offer possible criticism of its work, he added.
The army launched counterinsurgency operations in Rohingya areas in northern Rakhine in October after the killing of nine border guards. UN human rights investigators and independent rights organisations charge that soldiers and police killed and raped civilians and burned down more than 1,000 homes during the operations.
The HRC resolution says the council's president will appoint the independent, international fact-finding mission, which is to provide an oral update on its work in the council's autumn session followed by a written report a year from now. Some countries including China, India and Cuba dissociated themselves from the resolution, brought by Malta on behalf of the European Union.
Human Rights Watch (HRW) praised the UN's move.
"This is crucial for ensuring that allegations of serious human rights abuses in Burma are thoroughly examined by experts, and to ensure that those responsible will ultimately be held accountable," said Geneva director John Fisher.
"Burma's government should cooperate fully with the mission, including by providing unfettered access to all affected areas."
Pope Francis defends right of Burma's Rohingya Muslims to 'live their faith'
HRW says approximately 120,000 Rohingya are displaced in Rakhine State as a result of violence in 2012.
About 100,000 of them are in closed camps near Sittwe, the state capital, where they are living in squalid conditions, many of them in rice fields prone to seasonal flooding.
"The violations occurring in Rakhine State threaten to undo Burma's hard-won progress toward a more rights-respecting and democratic future," added Mr Fisher.
In pictures: Burma protests against Rohingya Muslims

Show all 5
"Burma's government should make full use of the Human Rights Council resolution to address the major human rights challenges ahead."
Burma ambassador U Htin Lynn said: "Such kind of action is not acceptable to Myanmar [Burma] as it not in harmony with the situation on the ground and our national circumstances.
"Let the Myanmar people choose the best and the most effective course of action to address the challenges in Myanmar."
The UN human rights office's special rapporteur for Burma, Yanghee Lee, had urged the council to go further than a fact-finding mission by authorising the creation of a full commission of inquiry to investigate the allegations. Her office has cited "continued and escalating violence" in parts of Burma. In an interview with The Associated Press last week, Ms Lee said she had been told "the situation is currently worse than at any point in the past few years".
Reuters and Associated Press contributed to this report
Register for free to continue reading
Registration is a free and easy way to support our truly independent journalism
By registering, you will also enjoy limited access to Premium articles, exclusive newsletters, commenting, and virtual events with our leading journalists
Already have an account? sign in
Register for free to continue reading
Registration is a free and easy way to support our truly independent journalism
By registering, you will also enjoy limited access to Premium articles, exclusive newsletters, commenting, and virtual events with our leading journalists
Already have an account? sign in
Join our new commenting forum
Join thought-provoking conversations, follow other Independent readers and see their replies