Burma's exiles can return - if they promise to be good
Political activists told they must sign written 'undertakings' before getting re-entry visas
Andrew Buncombe
Friday 19 October 2012 07:35 Comments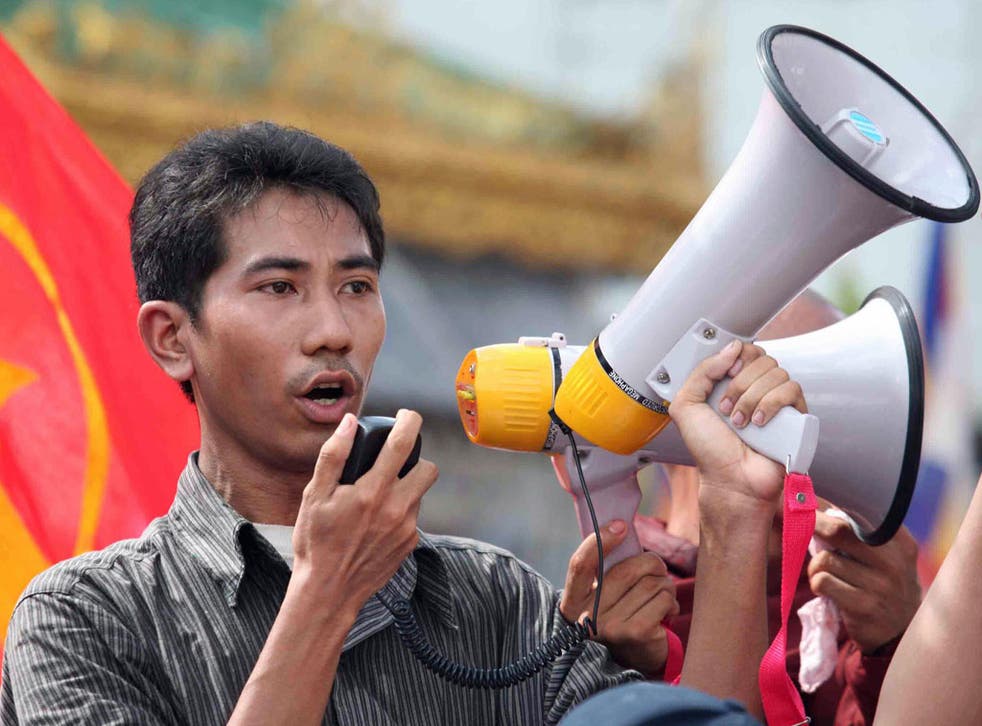 Burmese exiles taking up the invitation of President Thein Sein to return to their country now that a wave of democratic reforms is underway, have been required to sign written undertakings that they will avoid criticising the government or publishing anything that could "harm the state". Activists claim the government's demand reveals that the changes in Burma only go so far.
In the summer of 2011 and again this spring, Thein Sein invited the thousands or even millions of Burmese who had fled the country for "various reasons" to return. Confronted by a shortage of educated workers, including teachers and engineers, he said the government would even help them find jobs or develop businesses.
But for some exiles the offer is not without strings. A number of Burmese who left the country to avoid repression or else to find work
- especially political activists - have been told they need to sign the five-point undertaking before they will be granted a visa.
Phone Kyaw, 34, who left Burma for Australia in 1999 after being involved in the democracy movement as a student, said he recently applied for visa to allow him to visit for the first time in more than a decade. Mr Kyaw, who lives in Perth and has three children, said that in addition to the visa application form, the Burmese embassy sent him a copy of an agreement.
"You have to agree to have no involvement in politics and do no actions that might damage the government," said Mr Kyaw, who is currently employed at a gold mine.
Nyo Ohn Myint, a member of Aung San Suu Kyi's National League for Democracy's (NLD) Thailand office, visited Burma a few weeks ago. He said he was also asked to sign the agreement but refused. He was only permitted to go after a government minister intervened. "If there had been any conditions I would not have accepted it," he said. He said he believed it was no longer the Burmese government's official policy to make people sign but that individual immigration officers were asking them to.
Others had no choice but to sign. U Zaw Myint, another overseas member of the NLD, who lived in Malaysia, was obliged to sign a similar document when he visited the country in June. According to a report in the Myanmar Times, the document was "a pledge not to directly or indirectly harm the dignity of the state and its constitution". Mr Myint said: "After I saw the invitation to come back home in each of the president's speeches, I went to the Myanmar embassy in Malaysia in January and informed them of my wish to go back home."
A copy of the agreement, obtained and translated by The Independent, says that to pay back the government's "generosity", exiles must agree to (1) avoid actions that would disrespect the government, (2) not to partake in actions that cause public instability, not to motivate people to partake in actions that cause public instability and not to publish anything critical of the government that could destroy the country's stability, (3) avoid contact with illegal organisations, (4) avoid actions that are against the government and (5) show gratitude to the government and live within the law.
The issue of exiles returning to Burma is set to be a major test for the government of Thein Sein. Many have skills the country badly needs after years of under-investment in training and education and with its population largely cut off from the outside world.
Yet many of those hundreds who have been returning in recent months are former activists and dissidents and represent a potential threat to a supposedly civilian government that is still backed and supported by the military. The numbers of those returning is likely to increase after the government in August announced it was removing the names of up to 2,000 people who had been on its visa blacklist, among them former US Secretary of State Madeleine Albright, Ms Suu Kyi's two sons and the veteran Australian reporter John Pilger.
Mark Farmaner of the Burma Campaign UK, claimed the document showed that reforms in Burma were "skin deep".
"Thein Sein faces a dilemma. Luring exiles home is important as they are one of the main sources of information about human rights abuses in the country. However, once home they will be dangerous as they will be effective advocates for change. This contract seems to be the way they are dealing with that dilemma," he said. "Political prisoners were released conditionally and now exiles are being told they can return conditionally. With all repressive laws still on the books, the threat of jail hangs over any returning exile who is critical of the government."
It is not clear what punishment would befall anyone who breaks the signed agreement. But campaigners say that despite the flurry of reforms enacted by Thein Sein since an election in November 2010 - the release of most political prisoners, the lifting of many restrictions on the media and the right to hold protests - there have been several incidents that might make exiles think twice before returning.
This summer, lawyer and activist Saw Kyaw Kyaw Min returned to Burma having fled in 2008 when he was charged with contempt of court after three clients he was representing turned their backs on judges during what they said was a politically-motivated case. Saw Kyaw Kyaw Min escaped to Thailand but returned to Rangoon this spring after hearing the offer from the government only to find the himself pursued again over the contempt charge. In August he was found guilty and jailed for six months.
Phone Kyaw, who was intending to visit to see if he and his family could return to Burma full-time, said he was prepared to sign the agreement and did so. But he said embassy officials in Australia denied him a visa after he posted the document on a social media website. "If you're in the top leadership you can say anything. There is no rule of law in Burma," he said.
Phone calls and an email to the Burmese embassy in Canberra were not answered.
Register for free to continue reading
Registration is a free and easy way to support our truly independent journalism
By registering, you will also enjoy limited access to Premium articles, exclusive newsletters, commenting, and virtual events with our leading journalists
Already have an account? sign in
Join our new commenting forum
Join thought-provoking conversations, follow other Independent readers and see their replies