Burma's monks call for Muslim community to be shunned
The Buddhists have reportedly tried to block humanitarian aid getting to ethnic group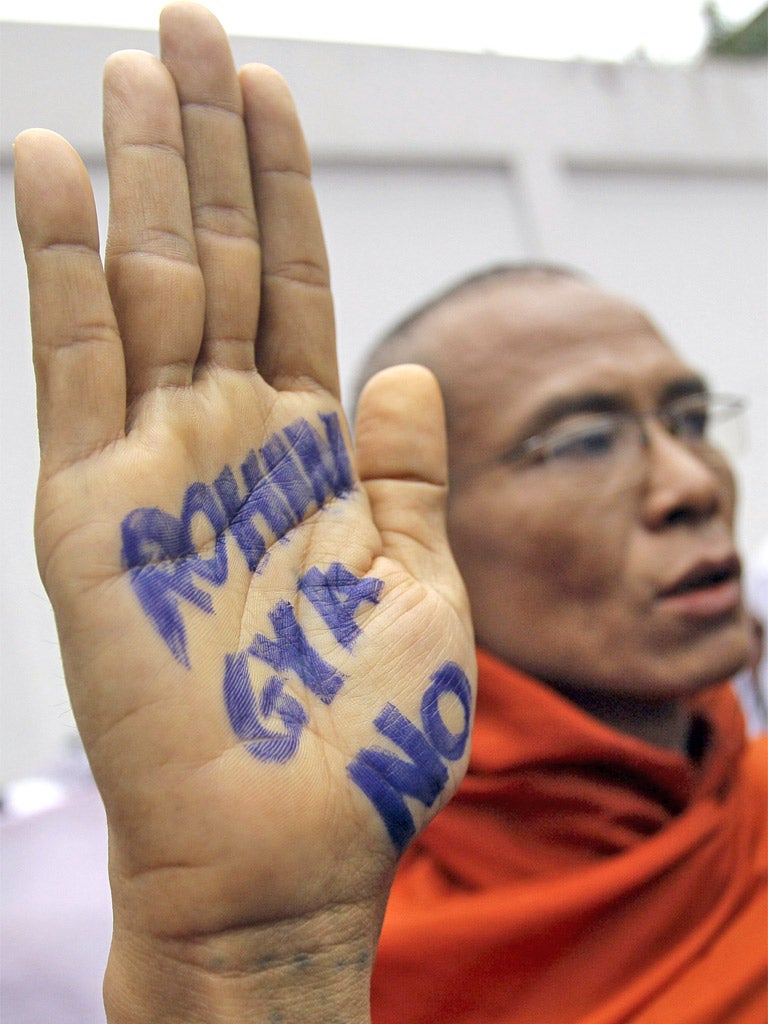 Monks who played a vital role in Burma's recent struggle for democracy have been accused of fuelling ethnic tensions in the country by calling on people to shun a Muslim community that has suffered decades of abuse.
In a move that has shocked many observers, some monks' organisations have issued pamphlets telling people not to associate with the Rohingya community, and have blocked humanitarian assistance from reaching them. One leaflet described the Rohingya as "cruel by nature" and claimed it had "plans to exterminate" other ethnic groups.
The outburst against the Rohingya, often described as one of the world's most oppressed groups, comes after weeks of ethnic violence in the Rakhine state in the west of Burma that has left more than 80 dead and up to 100,000 people living in a situation described as "desperate" by humanitarian organisations. As state-sanctioned abuses against the Muslim community continue, Burma's president Thein Sein – credited by the international community for ushering in a series of democratic reforms in the country and releasing political prisoners such as Aung San Suu Kyi – has urged neighbouring Bangladesh to take in the Rohingya.
"In recent days, monks have emerged in a leading role to enforce denial of humanitarian assistance to Muslims, in support of policy statements by politicians," said Chris Lewa, director of the Arakan project, a regional NGO. "A member of a humanitarian agency in Sittwe told me that some monks were posted near Muslim displacement camps, checking on and turning away people they suspected would visit for assistance."
The Young Monks' Association of Sittwe and Mrauk Oo Monks' Association have both released statements in recent days urging locals not to associate with the group. Displaced Rohingya have been housed in over-crowded camps away from the Rakhine population – where a health and malnutrition crisis is said to be escalating – as political leaders move to segregate and expel the 800,000-strong minority from Burma. Earlier this month, Thein Sein attempted to hand over the group to the UN refugee agency.
Aid workers report ongoing threats and interference by local nationalist and religious groups. Some monasteries in Maungdaw and Sittwe sheltering displaced Rakhine people have openly refused to accept international aid, alleging that it is "biased" in favour of the Rohingya. Monks have traditionally played a critical role in helping vulnerable citizens, stepping in to care for the victims of Cyclone Nargis in 2008 after the military junta rejected international assistance.
Many have been shocked by the response of the monks and members of the democracy movement to the recent violence, which erupted after the rape and murder of a Buddhist woman, allegedly by three Muslims, unleashed long-standing ethnic tensions.
Monks' leader Ashin Htawara recently encouraged the government to send the group "back to their native land" at an event in London hosted by the anti-Rohingya Burma Democratic Concern. Ko Ko Gyi, a democracy activist with the 88 Generation Students group and a former political prisoner, said: "The Rohingya are not a Burmese ethnic group. The root cause of the violence… comes from across the border." Mark Farmaner, director of Burma Campaign UK, said: "We were shocked to have [Ashin Htawara] propose to us that there should be what amounts to concentration camps for the Rohingya."
Ms Suu Kyi has also been criticised for failing to speak out. Amal de Chickera of the London-based Equal Rights Trust, said: "You have these moral figures, whose voices do matter. It's extremely disappointing and in the end it can be very damaging."
The Rohingya have lived in Burma for centuries, but in 1982, the then military ruler Ne Win stripped them of their citizenship. Thousands fled to Bangladesh where they live in pitiful camps. Foreign media are still denied access to the conflict region, where a state of emergency was declared last month, and ten aid workers were arrested without explanation.
Join our commenting forum
Join thought-provoking conversations, follow other Independent readers and see their replies