Cambodia threatens foreign news media citing Donald Trump's example
'Freedom of expression must respect the law and the authority of the state' spokesman warns
Samuel Osborne
Wednesday 01 March 2017 12:08 Comments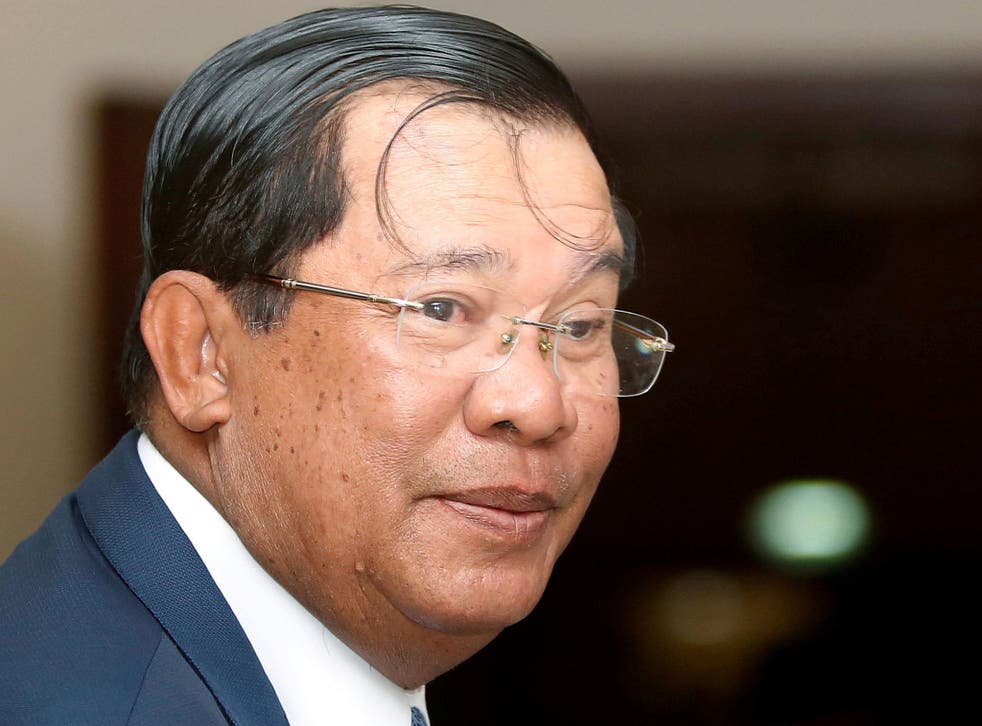 Cambodia's government has threatened to expel foreign news outlets, citing US President Donald Trump as an inspiration for his own country to observe limits on freedom of expression.
Cabinet spokesman Phay Siphan warned media companies, including specifically two radio outlets funded by the US government, that Cambodian authorities might have to act against them if their reporting threatens the country's stability.
Mr Siphan said foreign news organisations such as Voice of America and Radio Free Asia should "reconsider" how they broadcast.
In a Facebook post, he wrote: "Donald Trump's ban of international media giants… sends a clear message that President Trump sees that news published by those media institutions does not reflect the real situation."
Donald Trump doubles down on 'enemies of the people' attack on media
Mr Trump has attacked news he disagrees with as "fake news" and branded the media "the enemy of the people".
Mr Siphan added: "Freedom of expression must be located within the domain of the law and take into consideration national interests and peace.
"President Donald Trump thinks that the news reported by these organisations did not reflect the truth, which is the responsibility of the professional reporters.
"This means that freedom of expression must respect the law and the authority of the state."
In an interview with the Phnom Penh Post, Mr Siphan said any media outlet that did not follow the government's order would be expelled.
He said: "Shut it down, very simple. Expel them."
"We wish to see diversity of ideas, but we are one nation and must be all together," he added.
World news in pictures

Show all 50
Cambodia's authoritarian Prime Minister Hun Sen echoed his comments, saying both he and Mr Trump see the media as stirring anarchy.
Mr Hun Sen, whose rule of more than 30 years has been marked by accusations of human rights abuses and corruption, said Cambodian journalists who reported on human rights could undermine national security.
"Donald Trump understands that they are an anarchic group," he said of journalists, in comments later posted on his Facebook page.
He criticised what he said was the media's focus on human rights, which he said could endanger peace and security.
"Anarchic human rights are rights that destroy the nation. I hope foreign friends understand this," he said.
Political tension has been increasing in Cambodia in recent months as opponents of Mr Hun Sen, a former Khmer Rouge guerrilla, accuse him of unfair manoeuvring to maintain his grip on power in local elections in June and a general election next year.
Chak Sopheap, executive director of the Cambodia Center for Human Rights, an independent group funded by Western donor countries, noted the journalism advocacy group Reporters Without Borders ranked Cambodia 120 out of 180 countries for press freedom, underlining that it "is already not an easy place to work as a journalist."
She said: "Those who speak truth to power are regularly threatened or targeted, and this situation appears to be deteriorating. Trump's disdain for the media is likely to be noted with interest by autocrats across the world, and potentially felt by many journalists who report on sensitive issues.
"For democracy in Cambodia to have any substance, it is vital that the freedom of the press is respected."
Additional reporting by agencies
Register for free to continue reading
Registration is a free and easy way to support our truly independent journalism
By registering, you will also enjoy limited access to Premium articles, exclusive newsletters, commenting, and virtual events with our leading journalists
Already have an account? sign in
Join our new commenting forum
Join thought-provoking conversations, follow other Independent readers and see their replies