Cambodian security forces kill teenage girl during clash with villagers armed with axes and crossbows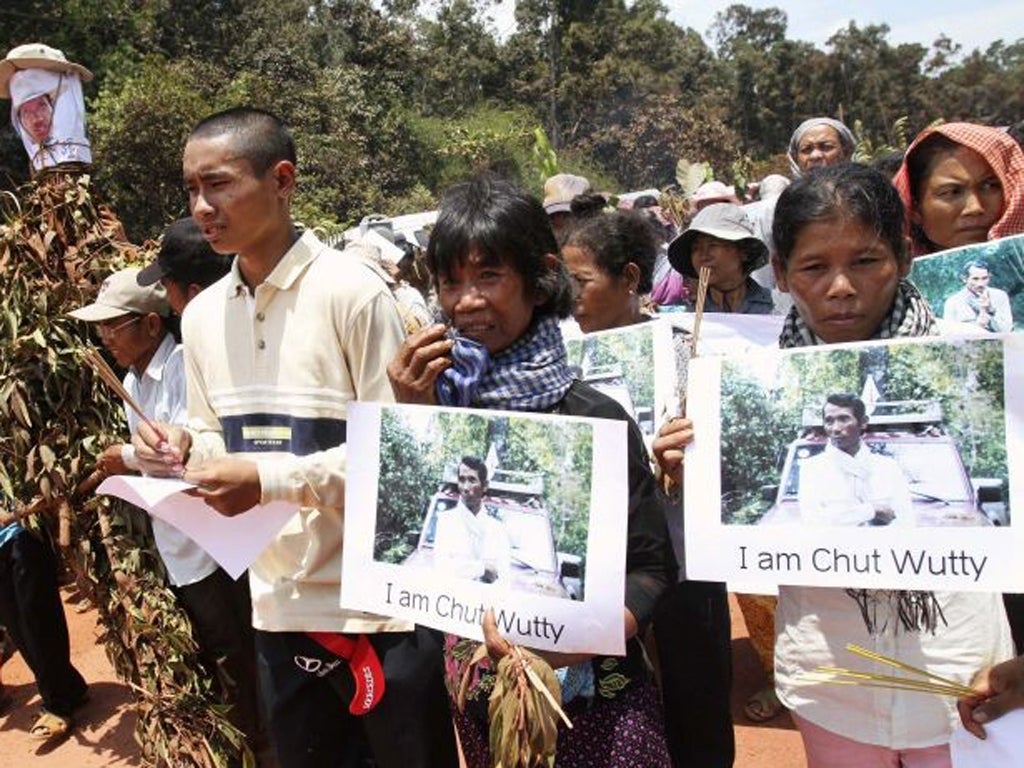 Security forces in Cambodia have killed a teenage girl during a clash with villagers armed with axes and crossbows in the latest of a series of violent evictions aimed at clearing land for development.
Reports said that during a clash between up to 400 soldiers and police and villagers in Kratie province in the east of the country, a 15-year-old girl was badly injured. She subsequently died of her injuries in hospital, according to the Associated Press.
Provincial official Sar Chamrong said government forces had secured the area and were hunting for five accused ringleaders who had escaped. He claimed the protesters were trying to set up a self-governing zone outside of the law. Authorities say the land is owned by the government, but villagers say the previously state-owned land already has been awarded to a Russian company.
Cambodia's system of land concessions, which campaigners say is riddled with corruption, became an international issue and the focus of a UN inquiry last month, following the killing of a high profile environmental activist. Under intense pressure, Prime Minister Hun Sen issued a directive a week ago suspending new concessions to private companies and ordering a review of existing ones. The move was announced during a visit by a UN human rights envoy.
The envoy's visit followed the killing last month of 46-year-old Chut Wutty, who headed the National Resources Protection Group and had exposed a series of logging scandals involving corrupt officials. He was shot dead by security forces as he escorted journalists from a local newspaper to investigate alleged illegal activities in Koh Kong province. After an altercation with military police, he was killed by an officer. Police initially claimed the officer subsequently shot himself in a fit of remorse.
The killing of the father-of-two stunned activists in Cambodia and beyond. Few believe the police's explanation for his death and as more details have emerged, the story has looked increasingly unlikely. The EU and UN have called for an independent inquiry.
Chut Wutty's wife, Sam Chanthy, told The Independent she did not believe what she had been told. "After my husband's death, I've had fear and worry about the safety of my children and myself," she said. "My husband used to be the main bread-winner for the family, but after he's gone I don't know what it'll be like. It'll be very difficult for me to bring up two daughters and one son alone."
She added: "On the day when I was told of my husband's death, I was very shocked as if something pierced through my chest and my heart was taken away from me. He died on his mission to save the country."
Chut Wutty was killed while travelling in the Cardamom Mountains in the country's south-west. He and the reporters from The Cambodia Daily had apparently stopped to take photographs when they were approached by armed men who demanded they delete their cameras' memory cards. A report subsequently published in the newspaper said that after a protracted argument, the activist was shot while sitting in his car.
The two female reporters who then ran for cover and say they did not see who did the shooting, said two shots were fired. When they returned to the vehicle they saw the body of a military policeman, later identified as In Rattana, sprawled next to the car. The women tried first-aid to save Mr Wutty but the armed men did nothing to help.
"Despite the lack of clarity about what exactly happened, we are very concerned that the killing of Mr Wutty marks the latest and most lethal in a series of gun attacks on human rights defenders in Cambodia," Rupert Colville, a spokesman for the UN human rights office, told reporters in Geneva. "We urge the royal government to ensure that a full civilian judicial investigation proceeds speedily and with the utmost probity and independence."
Campaigners in Cambodia have picked apart the explanations of the circumstances surrounding the shooting of Mr Wutty, on April 26. Police initially said the activist was killed in an exchange of gunfire but later said he had been killed by In Rattana, a military police officer who then shot himself.
But when campaigners pointed out that In Rattana had suffered two gunshot injuries – unlikely in a suicide – a third explanation was offered; namely that after In Rattana shot the activist, one of the other men, a guard employed by a private logging firm, Timbergreen, had rushed forward to try and take the gun from him. As he did so, it accidentally fired twice, striking In Rattana in the chest. According to police, the private guard, Ran Boroth, employed by the company Mr Wutty was investigating, has now been charged with involuntary homicide.
Police have since declared their investigation complete. Spokesman Tith Sothea told reporters in Phnom Penh: "We have shown the truth to the public. So our work is closed for now."
Campaigners, unimpressed with the pronouncements of the authorities, say the killing of Mr Wutty was the latest in a series of attacks, threats and killings of activists, among them labour-rights campaigner Chea Vichea, who was assassinated in 2004. Mr Wutty had himself received a number of death threats but refused to give up his work highlighting illegal logging, in particular in the Prey Lang forest in the centre of Cambodia. Private logging and agricultural companies, local and foreign, are said to control around 10m acres of land in the country.
Ou Virak, director of the Cambodian Centre for Human Rights, which has investigated Mr Wutty killing, said activists faced both physical and legal threats as they went about their work. "Illegal deforestation is very lucrative. There are huge interests at stake," he said. "There's no doubt that those involved [in illegal logging] have links to the government. These people are always connected."
A 2007 report by the group Global Witness highlighted what it said was a network that linked those involved in illegal logging with the police and military and senior politicians. "Cambodia is run by a kleptocratic elite that generates much of its wealth via the seizure of public assets, particularly natural resources," the report concluded.
Megan MacInnes of Global Witness said of Mr Wutty's death: "Sadly there is a long and well-documented history of activists trying to protect Cambodia's [resources] being attacked and dying. This is not the first."
The area in which Mr Wutty was killed is currently being cleared by Timbergreen, a private company registered in Cambodia, to make way for two dams to produce hydroelectricity. Construction of the Lower Russey Chrum dams is being carried out two Chinese state-owned firms. Mr Wutty had alleged the company was breaching its licence and cutting trees outside of the area it was permitted to do so.
Timbergreen owners have denied the allegations. The company's majority shareholder, Khieu Sarsileap, said that the firm only cleared a few logs in the areas it has been given permission to work in. "We are clearing logs only in the reservoir, and even in the reservoir itself, we can't finish it up; we have to do it fast because we have a contract," she said.
"In Chut Wutty's case, I am sorry that it happened to him, but my company wasn't in any way involved in that. Illegal logging is a problem happening throughout the country, and if anybody who is involved in illegal trading of woods or timber tells you that they are from Timbergreen, they are only lying to you."
Join our commenting forum
Join thought-provoking conversations, follow other Independent readers and see their replies