Hong Kong leader Carrie Lam dismisses freedom concerns and backs China security law
Chief executive insists Hong Kongers don't 'need to worry' about law that will ban 'sedition' and allow Chinese intelligence agencies to set up shop in the city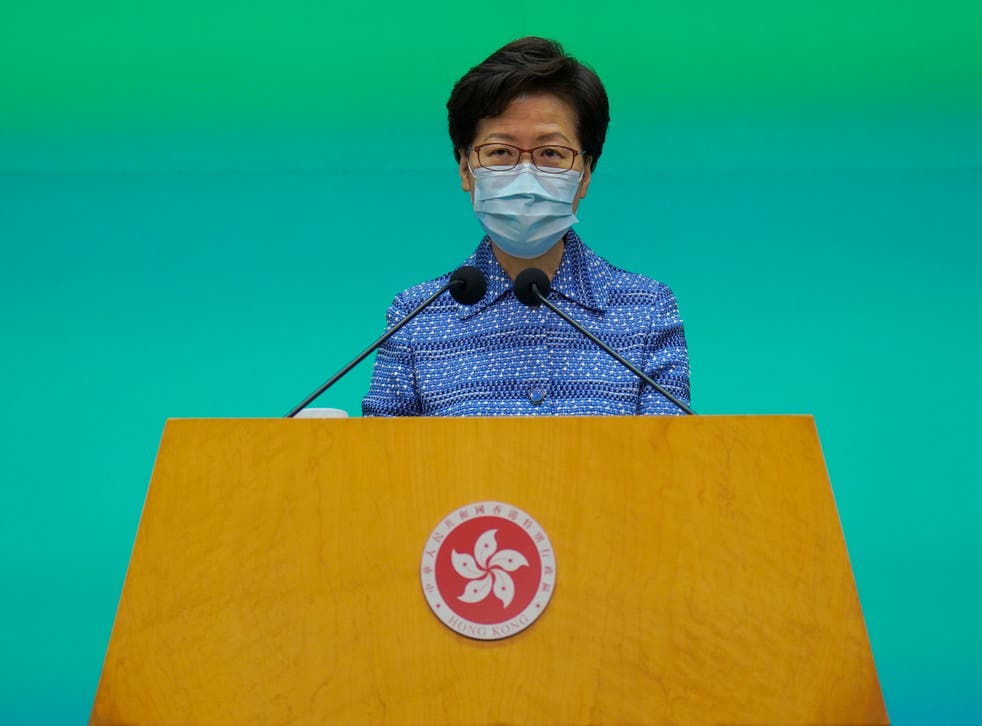 Hong Kong's leader, Carrie Lam, has spoken publicly for the first time in defence of China's controversial proposed new security law, saying there is "no need to worry" about preserving the city's freedoms.
Five days after it emerged that Beijing planned to impose the legislation upon the city, Ms Lam dismissed international concerns as the "untrue opinions" of "some foreign politicians". She said other countries had "no place in interfering with this arrangement".
The city's chief executive did not provide details to explain why citizens should not be concerned by the new law, instead urging them to wait for the full draft legislation to be released.
However, she told reporters that the initial proposal presented last Friday at the Chinese National People's Congress (NPC), which would ban treason, secession, sedition and subversion and allow Beijing to set up intelligence agency bureaux in Hong Kong, was reassuring.
"Hong Kong needs this piece of legislation for the bigger benefit of the great majority of Hong Kong people," she said.
Critics have said it is a major step for China to use its rubber-stamp national parliament to enforce a new security law in Hong Kong. Under the semi-autonomous city's Basic Law, a kind of miniature constitution, internal affairs are supposed to be handled by Hong Kong's own devolved legislature. Similar national security legislation was brought forward in the Hong Kong legislative council in 2003 but dropped amid mass protests.
Beijing now appears to have lost patience, with its anxiety to toughen up measures on security compounded by last year's major demonstrations. Separately, China has been trying to push through legislation that would ban displays of disrespect to the Chinese national flag or anthem – as has often been seen at football matches.
It has also replaced its key liaison officials for Hong Kong and Macau with hard-line enforcers of Xi Jinping's policy, and has pushed for more pro-Beijing elements to be included on syllabuses in Hong Kong schools.
Hong Kong's protests died down at the beginning of this year, in part because of success for anti-Beijing parties in the December local elections.
But Sunday saw the largest street action in months, in defiance of anti-coronavirus regulations. Thousands took to the streets and were met with teargas and water cannon fired by the police. At least 200 were arrested.
Despite the protests, Ms Lam insisted that the new law had received a "positive response" from most people in Hong Kong.
She said that the city's history since the handover from Britain in 1997 showed that Beijing respected and wanted to maintain the unique position enjoyed by its citizens, including the right to protest and freedom of expression.
"In the last 23 years, whenever people worried about Hong Kong's freedom of speech and freedom of expression and protest, time and again, Hong Kong has proven that we uphold and preserve those values," she said.
"The best thing is to see the legislation in front of us and to understand why at this point in time Hong Kong needs this piece of legislation."
The seven-article proposal presented at the NPC on Friday is actually what is known as a "draft decision" rather than a piece of legislation in its own right.
Once it is approved by the congress in a vote this week, it will be fleshed out into a full draft law by the Xi government and could be passed before the end of June.
Protests against it are expected to continue, with more demonstrations planned for Wednesday.
Register for free to continue reading
Registration is a free and easy way to support our truly independent journalism
By registering, you will also enjoy limited access to Premium articles, exclusive newsletters, commenting, and virtual events with our leading journalists
Already have an account? sign in
Register for free to continue reading
Registration is a free and easy way to support our truly independent journalism
By registering, you will also enjoy limited access to Premium articles, exclusive newsletters, commenting, and virtual events with our leading journalists
Already have an account? sign in
Join our new commenting forum
Join thought-provoking conversations, follow other Independent readers and see their replies